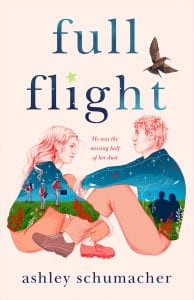 Schumacher, Ashley. Full Flight. Wednesday Books, 2022. 978-1-250-77978-6. $18.99. 309 p. Grades 9-12.
In the provincial town of Enfield, Texas, Weston Ryan seems a rebel with his leather jacket and motorcycle and his bad reputation for cutting down the sapling Memorial Tree on the high school campus. His vulnerability is what shy, curvy, sixteen-year old Anna James sees. Both are members of the school's marching band, and when they are paired for a duet, sparks fly. Perpetually obedient Anna tells lies to carve out time with Weston as their sweet romance builds. Her tight-knit family–strict but nurturing parents and 12 year old sister, Jenny–keep tabs on her every move and don't approve of Weston. While Weston, reeling from his parents' recent divorce, bounces back and forth between his depressed father and his distant mother. As the band competition approaches, Anna and Weston have ironed out the bumps in their duet and displayed their mutual love confidently to friends and classmates. Weston's joy in life is Anna, and Anna is an expert in plunging Weston's depths and revealing his goodness. Only the hurdle of Anna's parents needs to be vaulted. All seems in proper alignment for these star-crossed lovers until tragedy strikes. Told in alternating voices, this well-written love story offers two teens masking insecurities and depression who learn to understand each other and themselves. All characters seem to be white. 
THOUGHTS: Though no evidence is present, this book seems to be reflective of an experience in the author's life. Perhaps because of this, little diversity appears. It does deal with body image, judgment, and depression. The boyfriend dies in an accident in the end; but Anna lives through it, a stronger person for having been loved. The story may appeal to those longing for a romance; students who come from small towns may identify with having one's life in view of everyone. A strong Christian element runs through  this book: One example, one of Anna's and Weston's successful ruses is going to the Church youth group. Schumacher writes well and the dialogue between Anna and Weston is unique and meaningful, thus raising this novel to a higher level. After a long prelude, Anna and Weston eventually have intercourse, but with no graphic details. I did not like the cover. Though well-written, the story was not compelling to me, but may appeal to a niche audience. 
Realistic Fiction          Bernadette Cooke  School District of Philadelphia