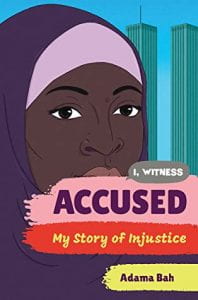 Bah, Adama. Accused: My Story of Injustice (I, Witness series). Norton Young Readers, 2021. 978-1-324-01663-2. 112 p. $16.95. Grades 5-8.
Adama Bah immigrated to the United States when she was two years old. Her father had come to work in the United States two years prior from Guinea. As a student she attended public school, until seventh grade when she went to an Islamic boarding school to learn more about her religion. Then, September 11, 2001, happened. Upon her return to New York City for Ramadan break, Adama experienced cruelty and hate from strangers because of her dress which identified her as Muslim; she was 13. On March 24, 2005, Adama's nightmare of hatred and cruelty reached a horrific level. She was ripped from her home and taken into custody, but she did not know why. She was identified as a terrorist and suicide bomber, but no one could share any evidence to these acts except that she was a practicing Muslim. She was stripped of her rights, her family, her pride, and her religion. At the age of 17, she was released back to New York City under the watch of a federal ankle bracelet. Her father, through all of this, was deported. She, as the eldest child, was now responsible for the well-being of her family in New York City and Guinea. She quit school to work but still faced daily hatred, cruelty, and bigotry.  Adama was granted asylum in 2007, but she still fights hatred and bigotry to this day. 
THOUGHTS: This is a fantastic addition to middle school biography collections. The cover is not the most appealing (it appears juvenile), but the book itself is eye-opening. I'm glad I gave it a chance. The print is large with lots of white space (again somewhat juvenile in appearance), but the content is engaging and a very quick read. This is a great text to teach perspective and current U.S. history. It is one of several titles currently available in the I, Witness series.
Biography          Erin Bechdel, Beaver Area SD