Hirsch, Andy. Varmints. New York: First Second, 2016. 978-1-62672-279-8. $16.99. 213 p. Gr. 3-7.
Varmints, set in the Wild Old West, details the journey of a brother and sister on a quest to find their Pa.  Opie and Ned are in for more adventures and skirmishes than they planned in the seven chapters. They come across horse thieves, work at the Silverfish Lodge, escape a fire, survive an eventful train ride, purchase a new donkey, and participate in a downright dangerous derby. The siblings don't always get along, but their emotional connection and love is clear through the danger and humor. THOUGHTS: This book provides an excellent combination of dialogue, plot, and full color artwork to hook readers. Readers will want more of the adventures of Opie and Ned!
Graphic Novel      Beth McGuire, Wendover Middle School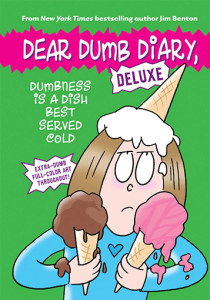 Benton, Jim.  Dear Dumb Diary, Deluxe: Dumbness is a Dish Best Served Cold. New York: Scholastic, 2016. 978-0-545-93228-8. 197 pp. $12.99. Gr. 3-6.
While the narrator, Jamie Kelly, warns the reader to stop reading her diary, they will continue to enjoy the tale filled with humor and full color artwork. In this diary, Jamie is trying to help make her friend feel better. Jamie's mother secretly tells Jamie that Angeline's father recently lost his job. This explains why Angeline has been so focused on personal finance and money. To make Angeline feel better, Jamie makes up a story that their handmade plates might make them some money. But, when Angeline learns the truth, she feels betrayed. The book allows reads to value honesty in friendship.  Unexpectedly, Jamie has an invention that will help add to both of their savings accounts. The end concludes with recipe suggestions to make your own "salad glamorizer" and "health-o-plate" allowing readers to continue the fun when the chapters end.
THOUGHTS: This is an ideal choice for fans of the Dork Diaries series.
Realistic Fiction     Beth McGuire, Wendover Middle School
Cabot, Meg. Royal Wedding Disaster (From the Notebooks of a Middle School Princess Bk. 2). New York: Feiwel and Friends, 2016.  978-1-250-06604-6. 283 p. $16.99  Gr. 4-7.
Helping with the her half-sister Mia's wedding is consuming for middle schooler Olivia. Finding time to go to school is exhausting. Will she be able to make friends at her new royal school and withstand the teasing of not being a true royal since she is from a mixed family? Grandmother is still a task master and training Olivia to be the best royal possible. Olivia's best friend will fly in for the wedding from New Jersey, and she misses seeing her since Genovia is far away. A problem on the royal ground is an influx of iguana. PK, passionate about Genovian Herpetology Rescue Society, is able to help with the iguana situation. The wedding turns out to be successful and the purple dresses are a surprise for Mia.  THOUGHTS: This book demonstrates that you don't have to be locked into a stereotype. You can be royal and have other hobbies like swimming, art, fashion, or reptiles! Mia and Michael's wedding introduces Lilly, Lana, Boris, and hair dresser, Paolo, into the story.  If readers are new to Meg Cabot, they can read this series and then continue to The Princess Diaries novels.
Realistic Fiction     Beth McGuire, Wendover Middle School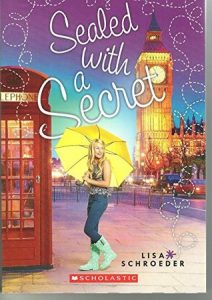 Schroeder, Lisa. Sealed with a Secret. New York: Scholastic, 2016. 978-0-545-90734-7. 217 p. Gr. 3-6.
Phoebe keeps the Cartier makeup compact that she purchased at the flea market a secret even though it could be worth a lot of money that her family could use to help with expenses.  The compact has a unique photograph and a letter behind. The letter helps her learn history from 1941 and the ARP (air raid precautions.)  Ned agrees to help her find places in the letter if she helps find a gift for his mum's 40th birthday. Their travels take them to locations including the Peter Pan Statue, Kensington Gardens, London Music Hall, Trafalgar Square, and a historic crypt! With all of the adventures, will she help find the best gift for Ned's mum, and what happens when her family learns about the compact? THOUGHTS: This book could be tied to Kate Messner's The Fourteenth Goldfish (Bloomsbury, 2016) as both books feature a younger sister drifting from their older sister.  Adventure and historical elements make this book come alive.
Realistic Fiction     Beth McGuire, Wendover Middle School