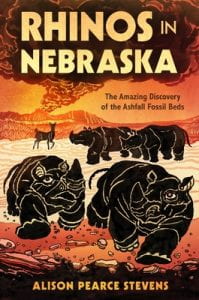 Stevents, Alison Pearce. Rhinos in Nebraska: The Amazing Discovery of the Ashfall Fossil Beds. Godwin Books, 2021. 978-1-250-26657-6. 135 p. $19.99 Grades 4-7.
The wildlife living in the heart of the North American continent looked very different 12 million years ago! Large herds of rhinos and three-toed horses roamed the plains, and a variety of other predators, birds, and lizards made up just part of the diverse ecosystem. Then, the lives of those creatures were destroyed by a supervolcano eruption that sent clouds of deadly ash as far east as the Atlantic Ocean. Many animals, including large herds of ancient rhinos, died from breathing the ash and were buried in the Ashfall Fossil Beds of Nebraska. In 1953, scientists discovered hundreds of fossils in those ashbeds and began the decades-long process of discovering, studying, and preserving the rhino fossils, as well as fossils of many other plants and animals preserved in the ash. Since then, these ashfall beds have been used as a way to piece together a picture of prehistoric life during that time and gain a greater understanding of life on earth today.
THOUGHTS: This book would be a wonderful read for students interested in paleontology, dinosaurs, and the scientific process of discovery. It provides a fascinating timeline for the development of a discovery that eventually became a National Natural Landmark and State Park. It would be a great curriculum tie-in for classes studying volcanic eruptions and pyrotechnic effects on an ecosystem, and also for students studying fossils and paleontology. The black and white illustrations are sometimes difficult to interpret, but the captions, text, and back matter all provide good support for readers.
560.9782 Paleontology          Erin Faulkner, Cumberland Valley SD