Sands, Kevin. The Assassin's Curse (The Blackthorn Key series #3). Aladdin, 2017. 978-153440-5233. $18.99. 544 pp. Gr. 5-9.
This third installment of The Blackthorn Key series keeps the danger, mystery and humor alive.  Christopher Rowe, apothecary's apprentice, has managed (in Book 2) with his two friends Tom and Sally to hasten the end of the Plague in London, earning the King's favor and an invitation (via trustworthy Lord Ashcombe) to a royal party to meet King Charles II himself.  But at that party, Christopher thwarts an assassination and decodes a plot to kill the King's sister Minette. Apparently an old curse states that if certain nobles are killed, the treasure of the Knights of the Templar will be opened. Minette and others are those nobles in the way of the treasure.  The King sends Christopher and his friends undercover to France, hoping to protect Minette but not arouse courtly suspicion. Christopher takes on the role of Lord Ashcombe's grandson, with Tom as his servant and Sally as a servant to Minette. The cultural and class differences (including clothing and cleanliness), the lauding of King Louis IV (he's waking!), and learning to swordfight are perfect backdrops for humorous situations for the three. Christopher visits an old friend of his master Benedict Blackthorn—and learns again and again that his master was more widely known and respected than Christopher realized and that he trusted Christopher to follow in his footsteps.  Sands continues to weave intricate codes into mysteries of greater depth and meaning for Christopher and his friends, while drawing the three closer together in courage, loyalty and friendship. A fantastic closing letter makes clear that their adventures are not over, and Book 4: Call of the Wraith will be published in September 2018.  THOUGHTS: This is a fine example of middle grade suspense fiction and a 2018 Edgar Award nominee.  Highly recommended.
Mystery; Historical Fiction                Melissa Scott, Shenango School District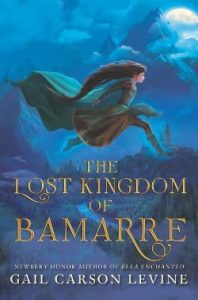 Levine, Gail Carson. The Lost Kingdom of Bamarre. Harper, 2017. 978-0-06-207467-6  384p. $17.89. Gr. 5-8.
Peregrine lives in a world where the brave and noble Lakti have conquered the quiet, gentle people of the Bamarre, who need to be taken care of.  Well, that is what she was told. When a fairy tells Perry that she was actually born a Bamarre and was stolen away from her family by her adoptive mother, her world is upended.  The fairy challenges her to save the Bamarre, but what can one girl do? With some help from some magical objects and some friends and family, Perry discovers that she can make a difference.  THOUGHTS: This fantasy has a strong female character who can save herself.  Middle-grade fantasy readers, especially girls, will enjoy this book.
Fantasy          Toni Vahlsing, Abington Friends School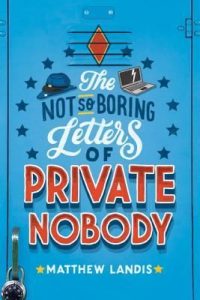 Landis, Matthew. The Not-so-Boring Letters of Private Nobody. Dial, 2018. 978-0735227989 304p. $16.99.  Gr. 3-7.
Oliver loves the Civil War. So much so that he cannot help sharing facts about it with his classmates, none of whom share his passion. All of them find him annoying, to say the least. Now his social studies class is about to study the Civil War, and Oliver cannot wait. What? A group project? His partner is sure to mess it up and does so immediately by picking a private's name out of the hat rather than anyone important. Ella and Oliver investigate the life of the local private, spending time at historical societies and meeting a cast of interesting characters, some in historical documents, but most of whom are living.   Their friendship challenges both of them to become better people. THOUGHTS: I thoroughly enjoyed reading this ARC.  Get this for your fans of realistic fiction.  You will not regret it.
Realistic Fiction         Toni Vahlsing, Abington Friends School