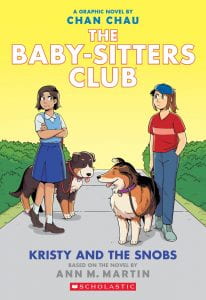 Chau, Chen. Kristy and the Snobs (The Baby-Sitters Club). Graphix, 2021. 978-1-713-77076-3. 158 p. $19.16. Grades 3-6. 
The tenth installment of graphic novel adaptations in Ann M. Martin's original series sees Kristy adjusting to life across town in her new stepfather's fancy neighborhood. Family life is going fine, but Kristy's not thrilled with her new surroundings: the neighborhood kids are snobby, and everything about them is fancy, from their clothes to their schools to their purebred, expensive pets. Kristy and the BSC start to get baby-sitting jobs in the neighborhood, and while they work their magic on the kids, it's harder for Kristy to make progress with Shannon Kilbourne, another eighth grader in the neighborhood. Kristy thinks Shannon is a total snob! After some baby-sitting misadventures, Kristy realizes that Shannon is jealous and misses her old baby-sitting jobs and kids. The two finally see eye to eye and the BSC invites Shannon to be an association member of the club. Meanwhile, Kristy's trusty old dog Louie is showing his age, and his health progressively declines through the story. The family makes the tough decision to put Louie to sleep, and Kristy and her little brother David Michael have an especially tough time with the loss. Shannon and her Bernese Mountain Dog Astrid help ease the family's sadness by giving them a new puppy to love and honor in Louie's memory. Chen Chau's adaptation is excellent. While pacing is a bit choppy, the art is lovely and will evoke big emotions in readers who feel Kristy's sadness in a major way. 
THOUGHTS: Chan Chau brings the best Baby-Sitters Club since Raina Telgemeier's four series beginners. Grab the tissues for this one! 
Graphic Novel          Lindsey Long, Lower Dauphin SD