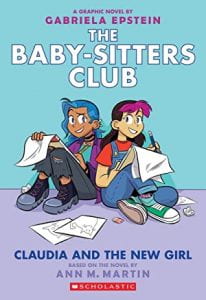 Epstein, Gabriela. The Baby-Sitters Club: Claudia and the New Girl. Graphix, 2021. 978-1-338-30458-9. 165p. $24.99. Grades 5-8.
In the ninth volume of the Baby-Sitters Club, Claudia and the crew are back to setting up babysitting jobs and meeting at Claudia's house. When a new student named Ashley arrives, Claudia is instantly intrigued with her blue hair, eclectic style, piercings, and outstanding art. Ashley is an amazing artist, even better than Claudia! But when Ashley starts paying attention to Claudia and complimenting her artistic abilities, Claudia starts spending more time with Ashley than with her friends. Claudia starts to forget her responsibilities to the club and ends up turning into someone even she hardly recognizes. As with other titles in the series, the Baby-Sitters Club comes together to support one another and help Claudia realize that you can balance art and the club while making new friends.
THOUGHTS: The 9th volume in the graphic novel of the Baby-Sitters Club does not disappoint! The story is relatable to anyone who has wanted to befriend a new student at school. Another hit!
Graphic Novel            Jillian Gasper, Northwestern Lehigh Middle School