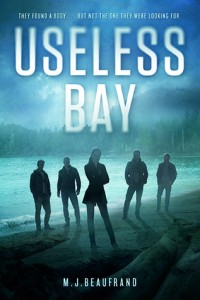 Beaufrand, M. J. Useless Bay. New York: Amulet Books, 2016. 978-1-4197-2138-0. 229pp. $17.95. Grades 7 and up.
The Gray quintuplets are a remarkable force on the isolated and windswept island they call home.  Pixie Gray and her four brothers are "born of the island itself"; strong and tall, independent and mischievous, and fiercely united .  The Grays and Pixie's bloodhound, Patience, are the ones the residents of the island turn to in times of trouble; they serve as the official search team for any accidents or missing persons. When Grant Shepard, the 10-year-old son of a millionaire vacation home owner, disappears on a stormy night the Grays are called in for the search, but they are also under suspicion since they may have been the last people to see him.  The story is told through alternating perspectives of Pixie and Grant's older brother, Henry. The  novel pieces together the events leading to Grant's disappearance and provides insight into the family dramas in the Gray and Shepard clans.  The Gray search party finds the body of Grant's mother, and strange and unsettling coincidences begin to pile up.  The realization that a killer is on the loose, and Grant is still missing sets everyone on edge, and the Grays and Henry struggle to find answers before it's too late.  Paranormal elements mix with gothic intrigue; Whidbey Island is almost a character itself.  Pixie has an unusual connection with her home; she hears voices and has visions from her dreams and the sea which offer warning and clues as the evening's events unfold   Confusing and complicated at times, but ultimately a satisfying read. THOUGHTS: An atmospheric, brooding mystery with a paranormal twist and a hint of romance.
Paranormal Mystery          Nancy Summers, Abington SHS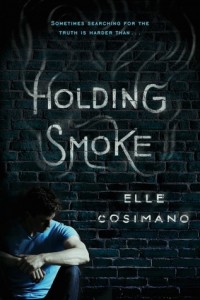 Cosimano, Elle.  Holding Smoke. Los Angeles: Disney-Hyperion, 2016. 978-1484725979. 336pp. $17.99. Gr 7 and up.
Weeks after nearly being killed by his own father, John "Smoke" Conlan is convicted of murdering his teacher and a student at his high school.  Now he lives on the toughest block in "The Y", the Denver Detention Center with the most hardened juvenile offenders. But Smoke stands apart; he has a secret, the ability to leave his body and travel outside the walls.  The knowledge he gets on the street is valuable to his cellmates though no one knows how he gets his information. While tracking down info for a friend he happens upon a former classmate, a girl named Pink who has the ability to see his spirit as he walks outside. With her help, he has the chance to clear his name, but someone is trying to stop anyone from finding out the truth. Pink, Smoke, and the warden's daughter are now in danger as they each try to find out more about the  circumstances of the double murder. John himself is a compelling and believable character, a damaged individual with a past that may be impossible to escape.  Good character development for each of the boys in juvie, both friends and foes of Smoke, with believable interactions and relationships between the kids on the block. THOUGHTS: A solid mystery with paranormal elements in a gritty and realistic setting that would appeal to fans of Lisa McMann's Wake trilogy. An interesting author's note at the end reveals the similarities between Cosimano's experiences as the daugher of a warden and the details in her novel.
Paranormal Mystery       Nancy Summers, Abington SHS
Hendrix, Grady. My Best Friend's Exorcism. Philadelphia: Quirk Books, 2016. 978-1-59474-862-2. 330 pp. $19.99. Gr. 9 and up.
Grady Hendrix's 2014 novel, Horrorstör, was packaged to resemble an IKEA catalog. His latest, My Best Friend's Exorcism, simulates a 1989 Albemarle Academy yearbook, complete with heartfelt inscriptions inside the covers. It's the story of sophomores and lifelong besties Abby and Gretchen, who take LSD on a whim after a day of boating with pals. Gretchen disappears into the woods, and when she reappears the next morning, something is a little off. She has strange symptoms and outbursts and feels invisible hands touching her incessantly, and that is just the beginning. Though Abby is determined to help her friend, she's met with resistance at every turn. Help finally arrives during a school assembly when Christian, a member of the Lemon Brothers Faith and Fitness Show, perceives the demon within Gretchen and challenges it to emerge, and an exorcism is born! THOUGHTS: With 1980s song titles setting the tone for each chapter, and a tip of the hat to Stephen King's Thinner, this is Grady Hendrix at his humorously horrific (and sometimes just horrifying) best!
Horror (Adult Crossover)       Amy V. Pickett, Ridley High School Library
YouTube has a playlist of all 27 chapter titles!  Playlist: My Best Friend's Exorcism by Grady Hendrix