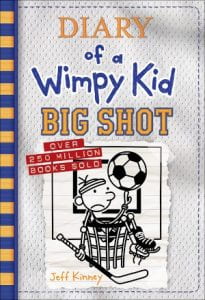 Kinney, Jeff. Big Shot (Diary of a Wimpy Kid). Amulet Books, 2021. 978-1-419-74915-5. 217 p. $13.99. Grades 3-6. 
Greg Heffley's never been much of a joiner or a kid who enjoys hard work and exercise, but his middle school field day earns the winning homeroom a day off school! Student trading, super pumped lunch ladies, and disastrous trips to the gym with his dad are all part of Greg's field day, but his mom decides afterwards that Greg could use some experience as part of a real team and encourages him to choose a sport to try. Greg, sensing he'll easily be cut from the team, chooses basketball. Greg's worst nightmare happens when another team is formed from all the kids who were cut, and Greg is forced to live out the rest of the basketball season on a series of teams doomed for failure. Somehow, Jeff Kinney continues to make hilarious Greg Heffley adventures.
THOUGHTS: Venturing into the sports world with Greg will be sure to give your readers some good laughs. 
Humor          Lindsey Long, Lower Dauphin SD