Miller, Pat. The Hole Story of the Doughnut. Boston: Houghton Mifflin Harcourt, 2016. 978-544-31961-5. Unpaged. $17.99. Gr. K-3.
Captain Hanson Crockett Gregory lived a full life as a ship's captain, mining engineer, and family man, but that's not the "hole" story of his life…he's also credited as inventor of the doughnut! This might seem like an unlikely combination, but it was Gregory's young years working as a cook's assistant on the ship Ivanhoe that gave him the chance opportunity to invent a new breakfast pastry. Gregory fried up a batch of the ship's normal breakfast. "They were sweet and crisp—at least around the edges. Their raw centers, heavy with grease, made them drop like cannonballs in the stomach. Sailors called them sinkers" (Miller). Struck by inspiration, Gregory grabbed the lid from a pepper can and put a hole in the center of each pastry. When they emerged from the hot lard, doughnuts were born! Although Gregory went on to become a respected ship's captain, even earning a medal for bravery from Queen Isabella II for saving the lives of seven Spanish sailors, he's most known for his delicious invention. While readers learn the true story, "…sailors like their stories bold" (Miller). The book details several of the legends around Gregory's creation. It also includes an author's note, timeline, and selected bibliography. Illustrator Vincent X. Kirsch takes the doughnut concept to a new level, including colorful doughnut patterned endpapers, cover art with Captain Gregory peeking through a doughnut life preserver, and back cover art showing an octopus holding a doughnut with each tentacle. The illustrations are beautifully colored, evoke an old-fashioned marine setting, and are full of funny details that readers will enjoy spotting. In addition, each two-page spread actually features one illustration which has been made into a mock doughnut. THOUGHTS: An interesting, visually-appealing addition for most collections.
641.8; Doughnut History     Lindsey Long, Nye & Conewago Elementary Schools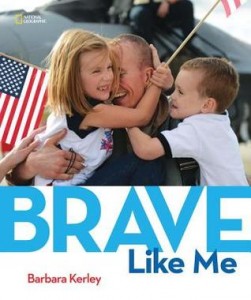 Kerley, Barbara. Brave Like Me. Washington, DC: National Geographic, 2016. 978-1-4263-2360-7. Unpaged. $17.99. Gr. K-3.
When a parent is serving in the military and away from home, the family left behind has to face the challenges and emotions that remains. In Brave Like Me, the reader can see a wide variety of families on both sides of that relationship. The text is short but honest and straightforward. There will be times that they struggle, and moments that they feel joy. The best part should be the reassurance that they are not alone. The full color photographs that live up to National Geographic standards help reinforce the variety and viewpoints. With support pages at the end for dealing with separation, caregiver notes, and descriptions of those who serve, all children can read and appreciate the sacrifice that takes place all over the world every day.  THOUGHTS: There have been plenty of fiction books about losing parents and military service, and there are plenty of military books in my collection about the vehicles and branches, but this book fills a super important niche of how it really feels to have a serviceman or woman away from their family. It does not, however, cover how to handle the death of a soldier as a family, or the impact of the returning soldier with PTSD. Those would also be brave new books to add to a collection.
Nonfiction Picture Book     Dustin Brackbill, State College Area
Barnett, Mac, and Adam Rex. How This Book Was Made: Based on a True Story. Los Angeles: Disney Hyperion, 2016. 978-142315220-0. Unpaged. $17.99. Gr. K-4.
I have tried many times to explain the process of how a book is made and which roles it takes to get published. This book makes those conversations irrelevant and unnecessary. Mac and Adam are a quirky, hilarious team (see their work in Guess Again or Chloe and the Lion) who bring truthiness and humor to the writing process. Hear Mac explain his editing process, then wait for that pesky illustrator, and finally get through the printing and publishing; all so he can show us How This Book Was Made! The journey is more than just point A to point B, as tigers, pirates, astronauts, fish and more help to affect the story, and ultimately the most important character to the book may be… YOU (the reader!)! Enjoy and discuss and try explaining what's truth from fiction in this unusual adventure.  THOUGHTS: This would also make a great book to study book design and the relationship between text and pictures. The tiger skin on the inside cover and the red map marks are two interesting examples. There is much to look at for multiple readings, though some are more relevant to adults than kids. I like this genre of books about books, and Mac & Adam meet the meta at just the right moment.
Nonfiction Picture Book    Dustin Brackbill, State College Area