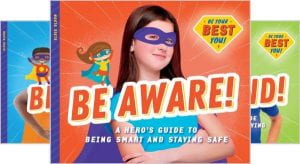 Olsen, Elsie. Be Your Best You (series). Abdo, 2020. $20 ea. $120 set of 6. 24 p. PreK-2.
Be Aware! A Hero's Guide to Being Smart and Staying Safe. 978-1-532-11964-4.
Be Bold! A Hero's Guide to Being Brave. 978-1-532-11965-1.
Be Kind! A Hero's Guide to Beating Bullying. 978-1-532-11966-8.
Be Respectful! A Hero's Guide to Being Courteous. 978-1-532-11967-5.
Be Strong! A Hero's Guide to Being Resilient. 978-1-532-11968-2.
Be Well! A Hero's Guide to a Healthy Mind and Body. 978-1-532-11969-9.
Designed for a preschool and early elementary audience, this series encourages readers to be heroes by becoming the very best version of themselves they can be. This involves actions like being brave, standing up to bullies, being respectful, exercising, eating healthy, and more. By including tips, examples, and real-life scenarios, these straightforward books are very easy to understand and perfect for very young readers.
THOUGHTS: I personally read Be Bold! A Hero's Guide to Being Brave and was impressed with the simplicity of the book and the importance of its message. I especially liked the scenarios at the end, which provide readers with an opportunity to think critically and decide how they might display bravery in specific situations. I could absolutely see this being used with preschool and early elementary students to supplement a character education curriculum, or even in a life skills classroom to teach valuable social skills and fundamental health and wellness concepts.
302 Social Interaction          Julie Ritter, PSLA Member
613 Personal Health & Safety