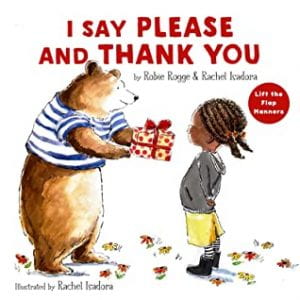 Rogge, Robie. I Say Please and Thank You. Holiday House, 2021. 978-0-823-44919-4. 28 p. $17.99. Grades PK-1. 
An interactive and imaginative book with human, animal, and make believe characters all doing their best to practice their manners. Each page has a situational phrase, followed by the appropriate response under the flap. Unicorns are waving hello, gorillas are new friends, mermaids are pointing fingers at farters. The colorful and silly illustrations are engaging. The pages are extra thick to minimize ripping for those eager flap lifters. 
THOUGHTS: A fun book to gift, to use for reading aloud, and for the littles to practice what manners they might already know as well as fine motor skills of opening flaps and turning pages. A fresh addition for libraries that serve the littlest minds!
Picture Book         Samantha Hull, Ephrata Area SD