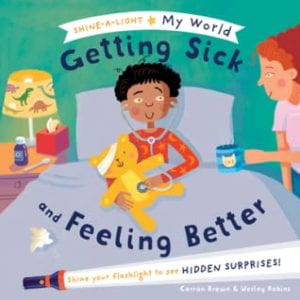 Brown, Carron. Getting Sick and Feeling Better. Kane Miller, 2022. 978-1-684-64282-3. Unpaged. $12.99. Grades PreK-1.
A new addition to Kane Miller's Shine-A-Light series, this book covers the basics of germs, illness, hygiene, and staying healthy. These concepts are broken down for young children through the use of simple questions and answers. Readers are able to use a flashlight to see through the pages and find the answer to each question that is posed. This interactive feature, along with the uncomplicated explanations, make this book very relatable and child-friendly. 
THOUGHTS: My kids (ages 6 and 4) LOVE the Shine-A-Light books! They enjoy shining the flashlight through the page to make images magically appear. The educational aspect of the book is an added bonus. This would be a welcome addition to any health or science collection that serves young children.
Picture Book          Julie Ritter, PSLA Member