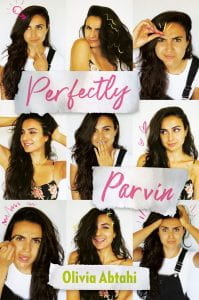 Abtahi, Olivia. Perfectly Parvin. G.P. Putnam's Sons, 2021. 978-0-593-10942-7. 310 p. $17.99. Grades 7-10.
On the cusp of starting ninth grade, Iranian-American Parvin Mohammadi has a lot going for her: her BFFs Ruth and Fabián, an aunt (Ameh Sara) in Iran who helps her apply make-up via video chat, and a cute boy who has just asked her to be his girlfriend. But days later, Wesley unceremoniously dumps her at their high school orientation. His reason? She's just "too much." After (literally) peeling herself off the linoleum to binge-watch her favorite romantic comedies, Parvin hatches a plan to secure a date to Homecoming. By modeling her behavior after the demure leading ladies of The Princess Bride, The Little Mermaid, and My Big Fat Greek Wedding, Parvin is sure she can get a new boy to like her. No more outlandish outfits, pranks, Hot Cheetos, or being too loud. In other words, none of the things that make her (yes) perfectly Parvin. But can she lock down a real relationship with a fake personality? A compelling subplot about Ameh Sara securing a visa to visit the States (and deliver make-up tutorials in person) adds timeliness and tension.
THOUGHTS: This effervescent, laugh-out-loud debut perfectly captures Parvin's humor, hijinks, and occasional humiliations. It matches the tone and depth of Netflix's Never Have I Ever and Sandhya Menon's Dimple and Rishi series. 
Realistic Fiction          Amy V. Pickett, Ridley SD
Parvin is determined to enter ninth grade with a boyfriend and relish in all of the new high school experiences. She's never felt quite perfect in a family that doesn't look like those in mainstream media. Her mom is white, and her dad is Iranian, so she doesn't feel like she fits with either, despite their support and weekly Farsi lessons. Video chat makeup tutorials from Ameh Sara (who is in Iran) are a highlight, as Ameh Sara gets Parvin and can help her with things her mom doesn't understand. After a perfect summer of pranks at the beach with Wesley leads to him asking her out, Parvin can't wait for school to begin. Nothing possibly could go wrong with best friends Ruth and Fabián at her side. Then at high school orientation Parvin is rejected by Wesley, who explains that she's "too much." What does that even mean? While her friends and Ameh Sara try to tell her she's better off, Parvin is determined to make Wesley jealous by finding a date to Homecoming. She can tamp down her "too much" side by acting like the leading ladies in some of her favorite romances. Becoming obsessed with impressing a potential date (and hiding her real self), Parvin also neglects her friends who start to feel abandoned. But she's so close to being asked to Homecoming; can't they understand? When Parvin loses control of the situation and her aunt's long planned visit to the States is put in jeopardy, she has to find a way to resolve everything.
THOUGHTS: The audiobook of this title is outstanding, and Parvin's voice truly is brought to life by Mitra Jouhari. Readers will root for Parvin to give up on Wesley (who couldn't even be bothered to pronounce her name right) and figure out who she is. Highly recommended for middle and high school collections.