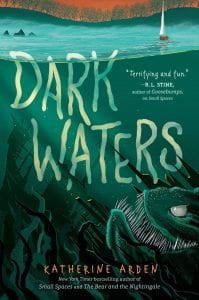 Arden, Katherine. Dark Waters. G. P. Putnam's Sons, 2021. 978-0-593-10915-1. $16.99. 198 p. Grades 4-7.
Best friends Brian, Ollie and Coco are back in this third book of Katherine Arden's spooky Small Spaces series. This time, the three friends, Ollie's dad, Coco's mom, and school acquaintance Phil are on a quest to find Champ, the legendary monster that supposedly lives in Lake Champlain. The group sets sail on the tour boat Cassandra with Phil's uncle, Dane Dimmonds, so that Coco's mom can write an article about Champ for the local paper, but the trip quickly turns deadly when a real lake monster sinks the boat, kills a member of the tour group, and strands the survivors on a remote island on Lake Champlain. Brian recognizes similarities in their plight to a story he read about a smuggler's ship that disappeared over 200 years ago on the same lake, and he also worries that The Smiling Man that tried to trap the friends during previous adventures is involved in this newest disaster as well. Phil, Ollie, Coco, and Brian must work together with their knowledge of the Smiling Man and his evil tricks if they want to get off the island alive!
THOUGHTS: This book would appeal to a wide range of middle school readers; it combines ghost stories, paranormal activities, adventure, and survival into one thrilling story! The dynamics of this friend group are realistic and engaging, and the chilling presence of The Smiling Man provides a consistent thread throughout this series that will keep readers coming back for many future adventures.
Horror Fiction          Erin Faulkner, Cumberland Valley SD