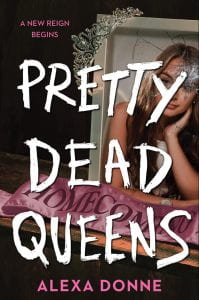 Donne, Alexa. Pretty Dead Queens. Crown, 2022. 978-0-593-47982-7. 336 p. $18.99. Grades 9-12.
Moving to a new town to live with her estranged grandmother is not the senior year Cecelia Ellis had in mind. Her mother's cancer diagnosis and subsequent passing have forced Cecelia on a new path, but her plan is to graduate and get out of town just like her mom did. In the meantime, she's living at the top of creepy Victorian mansion with Maura Weston, her famous mystery writing grandmother. Though a small California coastal town, Seaview was put on the map years ago with Maura's first book, a fictionalized version about the of death of one of Maura's classmates. Later turned into a movie which was filmed in Seaview, the town now has its own unique traditions, like a murder tour given by two of Cecelia's classmates and Weston-Con, a weekend retreat for fans of Maura's thriller books. When one of Cecelia's classmates is found dead under eerily similar circumstances to one of Maura's books, Cecelia distracts herself from her grief by trying to solve the murder and determine if a copycat killer is loose in Seaview – or if someone was wrongly convicted years ago. As Cecelia learns about the history of Seaview and about animosity among her new friends, she's convinced there's more to the story. Will Cecelia make a connection before the police solve the case, or will she be the killer's next victim?
THOUGHTS: Knowing all that Cecelia has overcome, readers will root for her to uncover the truth behind two crimes that are decades apart. Fans of fast-paced mystery/thrillers (like Donne's The Ivies and Henry's Two Truths and a Lie) will enjoy this whodunit.  
Mystery          Maryalice Bond, South Middleton SD