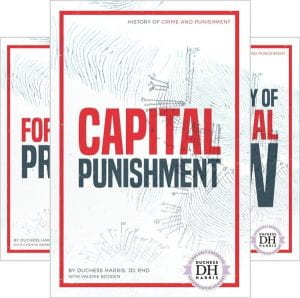 Harris, Duchess. History of Crime and Punishment. Abdo Publishing, 2020. $26.00 ea. $156.00 set of 6. 112 p. Grades 8-12.
Capital Punishment. 978-1-532-11917-0.
For-Profit Prisons. 978-1-532-11918-7.
The History of Criminal Law. 978-1-532-11919-4.
The History of Law Enforcement. 978-1-532-11920-0.
The Juvenile Justice System. 978-1-532-11921-7.
The US Prison System and Prison Life. 978-1-532-11922-4.

This reviewer had the opportunity to read For-Profit Prisons. Concise and to the point, this title is broken into eight chapters on the major topics of for-profit prisons. The chapters highlight youth incarceration, prison labor, private and publicly funded prisons, inmate care, the politics of prisons, immigration detention centers, and the future of for-profit prisons. Additionally, the book includes essential facts, a glossary and index, source notes, additional resources and information about the authors. This title is part of the History of Crime and Punishment collection.
THOUGHTS: Complete with discussion starters in each chapter, color photos, and easy to read text, this book is recommended for high school libraries who do not have any sources on for-profit prisons.
300s          Samantha Hull, Ephrata Area SD