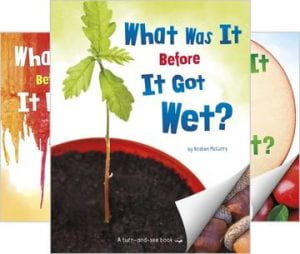 McCurry, Kristen. What Was It? Pebble, 2020. Unpaged (32). $21.99 ea. Pre-K.
What Was It Before It Got Wet? 978-1-9771-1334-4.
What Was It Before Melted? 978-1-9771-1332-0.
What Was It Before It Was Cut? 978-1-9771-1331-3.
What Was It Before It Was Smashed? 978-1-9771-1333-7.
These "turn and see" books encourage critical thinking in the very young. What Was It Before It Got Wet presents readers with vibrant close-up photographs of a wet substance, and challenges them to identify what the substance was in its dry state. Many of the illustrations are of familiar items – soapy lather, hot chocolate – but some are more challenging to recognize, including a drenched koala. A photo of a seedling may really stretch young minds to determine the answer. The graphic design of the volume is gorgeous, with bright "what was it?" photos set off by wide margins, and answer photos on the reverse side full-page images.
THOUGHTS: This book begs to be read one-to-one, with enthusiastic discussion to ensue. 
530.02 Physics and Matter          Nancy Nadig, Penn Manor SD