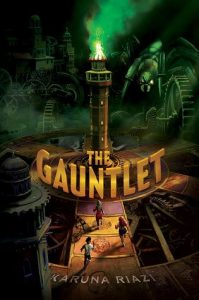 Raizi, Karuna. The Gauntlet. New York: Simon & Schuster Books for Young Readers, 2017. 978-1-4814-8696-5. $16.99.  Gr. 5-8.
Twelve year old Farah Mirza recently moved from Queens to the Upper East Side in New York City. Though she never had any problems in her last school, the kids here don't understand her hijaab or her younger brother Ahmad's issues. At her birthday party, Farah is excited to see her two closest friends from Queens, Essie and Alex. They decide to open a mysterious gift from Farah's aunt and are elated to see it's a board game called The Gauntlet. What they don't know is that Farah's aunt did not mean to gift this game – and that the game is alive! Soon they are sucked into the world of The Gauntlet, and must work against a game that doesn't play fair. When Farah sees that Ahmad is in the game, too, she is determined to find him and free herself and her friends. THOUGHTS:  It's refreshing to see a strong Muslim lead character in a middle grade novel! Farah is a clever and fierce protagonist whose faith in her friends and family never waivers. While the book is an adventure, Riazi also adds in some subtle social commentary that reflects the world outside the book.
Fantasy    Vicki Schwoebel, Friends' Central School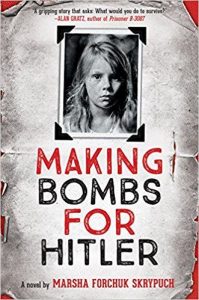 Skrypuch, Marsha Forchuck. Making Bombs for Hitler. Scholastic, 2017. 9781338170757. 232 pp.  $6.99. Gr. 6-8.
In this absorbing novel, Skrypuch makes the reader aware of a lesser known aspect of World War II – that of the enslavement of Ukrainian and other Eastern Europeans by Nazi Germany.  Lida is a 10 year old Ukrainian girl who has known tragedy in her short life.  First, her mother is killed by German soldiers, and then Lida and her younger sister Larissa are captured by the Nazis.  Separated from her sister, Lida is sent on a train to an abysmal work camp in Germany.  The author does not shy away for describing the horrors of the train ride and life in the camp.  While not discussed in detail, the author leaves no doubt about the fate of the younger children in the camp, who are taken to the "hospital" for medical experimentation   At first, she works with the laundress and has a relatively clean and safe job.  This changes as the Allies continue to push forward into Germany. Lida is taken to factory to fit together bombs, a place where one wrong move or a tiny piece of metal will cause the factory to explode. Facing meager rations and lice-ridden condition, Lida and her friends know what they need to do in order to survive.   THOUGHTS: This text provides another perspective of the war and is a valuable addition to World War II juvenile literature.
Historical Fiction            Denise Medwick, West Allegheny School District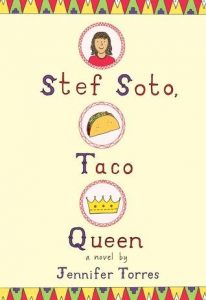 Torres, Jennifer. Stef Soto, Taco Queen. Little, Brown, 2017. 978-0-316-30686-7 166 p. $16.99. Gr. 4-7.
Mexican-American Stef Soto is the daughter of immigrants, and while she loves her parents and is proud of their success, she wishes they would leave her alone sometimes. She's horrified when her father comes to pick her up at school in his taco food truck, especially when she overhears popular girl Julia refer to her as the "Taco Queen."  Stef decides to show her parents how responsible she is so they give her more freedom, a plan that doesn't work out the way she hopes it will. Meanwhile, she gets involved in a school fundraiser, finds herself paired up with Julia, and winds up alienating her two best friends.  Spanish words are skillfully woven throughout the book, either defined or easily understood in context. THOUGHTS:  This debut novel is a light-hearted, fun read, and Stef is a likeable, relatable heroine.  Highly recommended for elementary and middle school libraries.
Realistic Fiction        Maggie Bokelman, Cumberland Valley SD
Stef Soto is embarrassed. She just wants to be an average seventh grader. But it's hard to be anonymous when your dad picks you up after school every day driving the family's taco food truck, Tia Perla. Her immigrant parents are working hard to make a good life for the Soto family, and they're a little too protective of their only child (at least that's how Stef feels). When Stef wins concert tickets, she tries to convince her parents to let her attend, but she knows it will ultimately prove unsuccessful. A talented artist, Stef is also working with her classmates to try and raise funds for art supplies for their school. When proposed changes to city regulations threaten the future of her family's food truck business, Stef must reevaluate her feelings for Tia Perla. Maybe the food truck is worth standing up and fighting for, after all. THOUGHTS: This family-centric story is a solid addition to upper elementary/middle school shelves. Readers will find themselves rooting for the Stef and her friends as well as the Soto family. Spanish words and phrases are integrated within the storyline; non-Spanish speakers will have no trouble understanding their meaning.
Realistic Fiction    Elizabeth Henry, Lampeter-Strasburg SD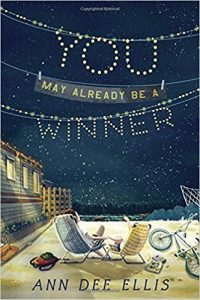 Ellis, Ann Dee. You May Already Be a Winner. Dial Books, 2017. 978-1-101-99385-9. 352 p. $19.99. Gr. 5-8.
Twelve year old Olivia has the responsibility of someone much older. With her mom working overtime to make ends meet and her dad "away" in Bryce Canyon, Liv tries to keep her little sister, Berkeley, entertained. Since Berk can't go to daycare anymore, Liv stays home from school and looks after her, making sure they take time to practice various subjects in their workbooks.  Life in Sunny Pines Trailer Park isn't always sunny and happy. Olivia's former best friend has moved on, and Olivia begins to wonder about feelings she might have for a boy. Trying to distract Berk from their misfortune further, Olivia comes up with a circus spectacular, so they have something to plan and look forward to. As her mother's resolve begins to crack, Liv has to take on even more responsibility. Determined to change their luck, Olivia follows a very strict routine of entering online contests, that is until their computer dies and the librarian asks questions about why the girls aren't in school.  THOUGHTS: This is a heartbreaking look at family dynamics and being honest with oneself and each other. With Olivia's wild imagination, there are parts of her story that are fabricated, and those may confuse young readers, but it is a beautiful story of sisterhood, hope, and not giving up on those you love.
Realistic Fiction       Maryalice Bond, South Middleton School District