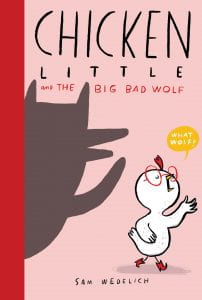 Wedelich, Sam. Chicken Little and the Big Bad Wolf. Scholastic Press, 2021. 978-1-338-35900-8. 40 p. $17.99. Grades PreK-3.
Chicken Little is known for his exaggerations, so when he meets the Big Bad Wolf and learns that he isn't so big and bad, just misunderstood, roles change as the other chickens in the coop fear the big, bad wolf.  The chickens argue about defending their coop or flying away and decide the best thing to do is flee, but Chicken Little convinces them to stay and look at the facts.  The chickens learn about the wolf and decide to stay and welcome him to their coop instead of judging him. 
THOUGHTS:  This is an adorable fractured fairytale combination of Chicken Little and The Three Little Pigs (albeit without the pigs). The story focuses on not judging something one does not understand, but instead, learn about it, and then make a decision about what to do. This is a welcome story and lesson for all ages on kindness and misjudgement. The words and illustrations are very cartoonish with lots of white space. Speech balloons are used throughout to add banter and snarkiness from the chickens (and laughter from the reader). This is a great addition to character education lessons and fairytale units.
Picture Book        Erin Bechdel, Beaver Area SD