Now that we're back to school, it's time to get back to blogging.  We hope everyone had a relaxing summer full of great books; we know we did!
Now, onto the important stuff…reviews!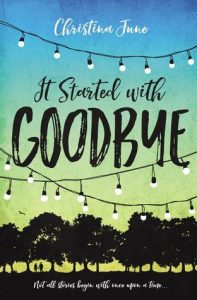 June, Christina. It Started with Goodbye. Blink, 2017. 978-0-310-75866-2. 304 p. Gr. 9 and up.
Tatum is such a likeable character who, through circumstances she couldn't predict, ends up in quite a bit of trouble (involving the police). With her father leaving on business for the summer, he defers to her "stepmonster" to oversee Tatum's discipline. Basically, this leaves her working through hard labor, outdoor (in the hot summer sun) community service and no life to speak of. The novel is an interesting play on the Cinderella story; however, because of Tatum's step-Abeula, she comes to understand, if not appreciate, the strict discipline her stepmother Belén dishes out. The novel has a wonderful flow and a nice variety of characters that would interest many different readers. THOUGHTS: Overall, It Started with Goodbye has a neat and tidy end, but with the summer Tatum had, she deserves it!      
Realistic Fiction   Maryalice Bond, South Middleton School District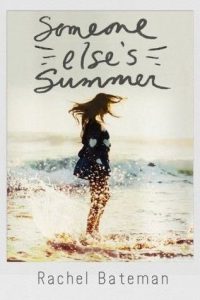 Bateman, Rachel. Someone Else's Summer. Running Press, 2017. 978-0-762-46219-3. 320 p. Gr. 9 and up.
Anna is the little sister who has always idolized Irish twin, big sister Storm. It isn't until Storm is gone, dead after a tragic, graduation night car crash, that Anna sets off to figure out who she is without Storm. I knew this one would pull at my heartstrings, but there were still unexpected twists and turns as Anna comes to terms with her grief. Bateman packs a lot into one summer including grief stricken families torn apart by the death of a child, friends leaving for college, and teenage friendship and love. THOUGHTS: You won't find a lighthearted summer read in this book, but you will find a compelling adventure of self-discovery!
Realistic Fiction     Maryalice Bond, South Middleton School District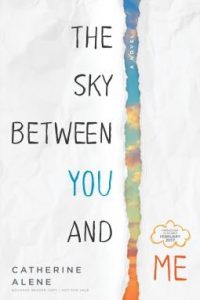 Alene, Catherine. The Sky Between You and Me. Sourcebooks Fire, 2017. 978-1-492-63853-7. 352 p. Gr. 9 and up.
Alene does a great job of showing how one simple comment – you may want to consider a larger saddle – can change someone's life. Still dealing with the grief over her mother's death years ago, Raesha uses her mother's saddle, and when her best friend suggests she's outgrown it lighter, leaner, faster becomes Rae's mantra. Though her lack of eating is clearly spiraling out of control, no one – her boyfriend, best friend, or father – broach the subject until it's almost too late. THOUGHTS: Rae's anorexic thoughts as she loses control are very powerful in this verse-style novel.
Realistic; Novel in Verse    Maryalice Bond, South Middleton School District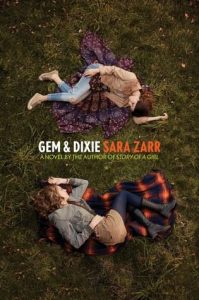 Zarr, Sara.  Gem & Dixie.  Balzer + Bray, 2017.  978-0-06-243459-3. 282 p.  $17.99.  Gr. 9-12.
For as long as she can remember, the only constant in Gem's life has been her younger sister, Dixie.  Their father left when Gem was only 14 years old, and their mother is unreliable, often coming home drunk or on drugs.  Now, 17-year-old Gem's father suddenly reappears and wants to be a part of their lives again.  Gem, however, has had enough.  When she and Dixie find a bag of cash that their dad hid in their bedroom, Gem sees an opportunity to leave for good.  What she doesn't realize though, is that she will ultimately have to choose between Dixie and starting anew.  A touching portrait of the lasting bond between sisters, this title will be a hit with fans of Sarah Dessen, Jandy Nelson, and Jenny Han.  THOUGHTS: Sara Zarr definitely pulls at the heartstrings in her newest release; the entire time I was reading the book, I just wanted for Gem's parents to magically change and give her the kind of loving home every child deserves.  Beautifully written, but probably best suited for mature audiences, as the f-word was used a handful of times, and there was plenty of discussion about drug use as well as a scene with underage drinking.
Realistic Fiction     Julie Ritter, Montoursville Area High School​