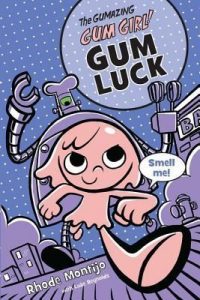 Montijo, Rhoda with Luke Reynolds.  Gum Luck. Disney Hyperion, 2017. 9781423161172. 152 pp.
$14.99.  Gr. 1-3.
This is the second book in the illustrated novel series The Gumazing Gum Girl!  Gabby Gomez turns into Gum Girl by chewing bubble gum.  As Gum Girl, Gabby possesses superpowers and performs feats like stopping a car from careening into her school and helping a plane with a damaged wing to land. Unknown to Gabby, she has an archenemy named Robo Chef, who is determined to defeat her.  He robs a bank, and it is up to Gum Girl to save the town. This is a slight story with a limited word count, but has the humor and word play that will appeal to young and struggling readers. The characters are Hispanic and a few Spanish words are contained within the text. Robo Chef, hiding in a spatula factory, is an evil hapless character who cannot seem to catch a break.  The illustrations by Luke Reynolds are done in a cartoon style. The characters are drawn on a large scale and there is heavy use of the color pink. As if there is not enough silliness, the book has a bubble gum smell and the font style is Grilled Cheese BTN Condensed. THOUGHTS:  Even though Gum Luck is not a Newbery contender, its off the wall style will make it likely to fly off the shelves.  A suggested purchase for elementary libraries, especially if the first book is popular.
Humor, Fantasy              Denise Medwick, West Allegheny SD
Angleberger, Tom and Cece Bell.  Inspector Flytrap in the Goat Who Chewed Too Much.  Amulet Books, 2017. 978-1-4197-0967-8. $5.99. 101 p. Gr. 1-3.
Inspector Flytrap seeks to become the World's Greatest Detective, so he will only take the world's Greatest Mysteries. However, detective work can be challenging when you're a potted plant. After a multi-million dollar golden pickle paperweight is stolen, the inspector is on the case, aided by his trusty assistant Nina the Goat. But when Nina is arrested for the crime, Inspector Flytrap (movement-challenged now that Nina is in jail) must find the true criminal in order to free Nina. THOUGHTS:  Typical silliness from Origami Yoda Master Angleberger with plentiful illustrations by Bell (El Deafo). A satisfying mystery for the emerging reader.
Mystery     Nancy Nadig, Penn Manor School District
Lysiak, Hilde and Matthew Lysiak. Hero Dog! Scholastic: 2017. 978-1-338-14155-9. $4.99. 89 p. Gr. 2-3.
Lysiak, Hilde and Matthew Lysiak. Bear on the Loose! Scholastic: 2017. 978-1-338-14158-0. $4.99. 87 p. Gr. 2-3.
Hilde, the pint-sized editor of the Orange Street News, is always on the lookout for a breaking story. In Hero Dog! she finds herself involved in a series of thefts or sabotage to entrants of the Bake-Off Bonanza. Next, Bear on the Loose! finds Hilde trying to verify reports of a bear in her hometown of Selinsgrove, PA. In both instances, Hilde's reporting skills lead her to asking the questions that solve the mysteries. Written by the real-life reporting team of Matthew Lysiak and his daughter Hilde (who really does write the Orange Street News for Selinsgrove, PA) these entertaining Hilde Cracks the Case mysteries are both a satisfying detective story and an introduction to reporting skills and techniques. Plentiful illustrations by Joanne Lew-Vriethoff (and a cute faux spiral bound notebook cover) add to the appeal of the books. THOUGHTS: Show student the website for the Orange Street News and you will quickly create reporters-in-training. A good addition to the early chapter book collection.  
Mystery     Nancy Nadig, Penn Manor School District