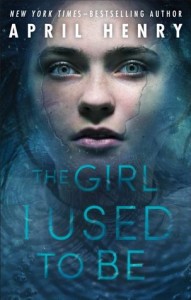 Henry, April. The Girl I Used to Be. New York: Henry Holt and Company, 2016. 978-1-62779-332-2. 229 pp.  $16.99.  Gr. 7 and up.
Seventeen-year-old Ariel Benson, who now goes by Olivia Reinhart, grew up in foster care believing that her father murdered her mother and ran off, abandoning her when she was only three years old.  When authorities find a piece of her father's jawbone, however, Olivia learns that her father was likely murdered on the same day her mother died.  Now she is back in her hometown of Medford, determined to uncover the truth behind her parents' murders.  But will she be able to solve the mystery before the murderer realizes who the curious new girl in town is and comes after her?  THOUGHTS:  The short chapters and fast moving, suspenseful plot make this an excellent choice for reluctant readers.  Fans of mystery writers like Mary Higgins Clark, John Grisham, Sara Shepard, James Patterson, and Barry Lyga will also enjoy this title.
Mystery Fiction              Julie Ritter, Montoursville Area High School​
Barnes, Jennifer Lynn. The Long Game (The Fixer Bk. 2). New York: Bloomsbury, 2016. 978-61963-596-8. $17.99. 358 pp. Gr. 8-11.
Tess Kendrick is back in this sequel to The Fixer (2015).  Finally accepting her position as Ivy Kendrick's daughter (D.C.'s best fixer) and William Keyes' granddaughter (a D.C. heavy-weight), Tess has become the Hardwicke School's "fixer".  Usually "fixing" school issues or "family" problems, Tess is faced with a more personal "fix" when she takes on a frenemies' student council campaign against the school bully, who also happens to the the minority whip's son.  When politics mix with politicians' children, anything can happen.  Meanwhile, Ivy has taken on a serious case that puts everyone's lives in jeopardy.  When the Hardwicke School is taken over by a terrorist organization, Tess realizes that Ivy's case is more than a fix, and it's up to her to figure out how to save her family, her school, her friends, and hopefully, herself.  THOUGHTS:  The Long Game is another fabulous, fast-paced mystery from Jennifer Lynn Barnes.  If your collection doesn't include her series, The Fixer and The Naturals get them.  These Scandal-esque and Criminal Minds style series are sure to please all readers.  
Mystery/Suspense      Erin Parkinson, Beaver Area MS/HS