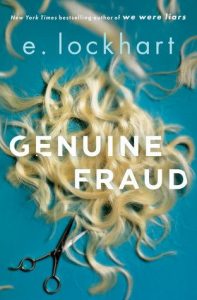 Lockhart, e. Genuine Fraud. Delacorte Press, 2017. 978-0-385-74477-5. 262pp. $18.99. Gr. 9 and up.
In her follow-up to We Were Liars, e. Lockhart masterfully creates a world of lies and deceit.  Told from the end backward, readers are introduced to Jule West Williams, a young woman living a life of luxury after the death of her best friend Imogen Sokoloff.  Imogen left Jule her trust fund after killing herself in London.  She also left Jule a mess to clean up, a flat, and an ex-boyfriend who wants answers.  As Jule explores her relationship with Imogen and her own existence, more questions about the truth arise.  What was the truth behind Jule's and Imogen's friendship?  What happened to Jule's family?  How did Jule infiltrate Imogen's life?  Is Imogen actually dead?  It's hard to decipher the truth amongst all of the lies.  THOUGHTS:  Once again, e. Lockhart has created a masterpiece.  Her storytelling and writing is beyond match.  The use of the third-person limited narrator keeps the reader guessing as to the truth behind the lies. I couldn't put this one down.  Lockhart certainly earned her many starred reviews with this one.
Mystery       Erin Bechdel, Beaver Area SD
Imogen leads the charmed life, but it doesn't always feel so charming. She's decided to leave it behind and live off her trust fund, traveling wherever she pleases for a while. Jule works hard and fights to fit in – to be what people want her to be. Connecting with Imogen and being invited to go along on her travels seems like the break she deserves. Jule isn't what she seems, though, and together she and Imogen have a toxic friendship. Jule is willing to go great lengths to protect her friendship with Imogen, even if it means not playing nicely. With her suitcase tightly in her grip, and several wigs and passports at the ready, Jule is on the run, but from whom or what readers won't know until the end.   THOUGHTS: Beginning at chapter 18 and told in reverse order then ending with chapter 19, Genuine Fraud is an intricately woven tale. Readers will rely on this unreliable narrator to figure out the details. Profoundly confusing and fast-paced at the start, readers will page through this story, determined to learn its beginning. Fans of Lockhart's We Were Liars might also like this story. Violence and mature content make this novel suitable to older readers.       
Realistic Fiction, Mystery   Maryalice Bond, South Middleton SD
Thomas, Kara. Little Monsters. Delacorte Press, 2017. 978-0-553-52149-8. 322pp. $17.99. Gr. 9 and up.
Kacey Young recently moved to Wisconsin to live with her father, step-mother, step-brother, and half-sister, all people she didn't know until last year.  Now a senior in high school, Kacey has a "normal" life, a job, friends, and a decent chance at art school.  That is until Bailey, one of Kacey's best friends, goes missing after a midnight visit to the Leed's barn, a haunted site in Broken Falls, and Kacey becomes a prime suspect in her disappearance.  As Jade, Kacey's other best friend, and Lauren, Kacey's half-sister, both of which were at the Leed's barn too, begin to become distant, Kacey is determined to figure out what happened to Bailey and clear her own name while fighting her own demons, the same demons that brought her to Broken Falls in the first place.  THOUGHTS: Kara Thomas does it again with a suspenseful mystery that looks deep into the raw emotions of humans and the breakdown of the human psyche.  Little Monsters is an excellent follow-up to The Darkest Corners.  Although there are some holes in the text, leaving readers wondering a bit about Kacey's family, this novel doesn't disappoint.  Recommend to mystery/suspense lovers who enjoy the criminal mind over the action-packed mystery.
Mystery      Erin Bechdel, Beaver Area SD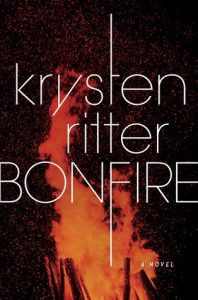 Ritter, Krysten. Bonfire. Crown Books, 2017. 978-1524759841. 277 pp. $26.00. Gr. 10 and up.
Erin Brokovich meets All the Missing Girls in this debut novel of psychological suspense from actress Krysten Ritter. Ten years after graduating from high school and ditching her small-town past, Abby Williams is back in her hometown of Barrens, Indiana. Now a lawyer with the Center for Environmental Advocacy Work, Abby is leading an investigation into water pollution and illegal waste disposal by Optimal Plastics. As the team uncovers a trail of corruption and cover-ups, Abby is pulled back into a decade-old mystery: the unusual illness and subsequent disappearance of her one-time friend, Kaycee Mitchell. Now Abby herself is experiencing mysterious symptoms. In Ritter's deft hands all of the old rivalries, romances, and cruel games from the past repeat themselves on a collision course with the present. Readers will enjoy some truly harrowing moments along the way.  THOUGHTS: Teen readers who are familiar with Krysten Ritter from her starring role on the Netflix series Marvel's Jessica Jones will be thrilled to discover her talents as an author!
Mystery/Thriller; Crossover     Amy V. Pickett, Ridley School District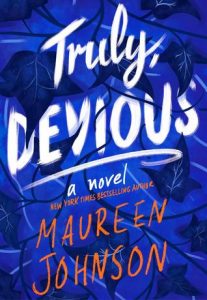 Johnson, Maureen. Truly Devious. Katherine Tegen Books, 2018. 978-0-062-33805-1. 320 p. $17.99. Gr. 8 and up.
Private school Ellingham Academy is tucked into a remote Vermont mountainside. The school is known for encouraging some of the greatest minds – both academic and creative. Founded in the mid-1930s by wealthy philanthropist Albert Ellingham, a man fond of riddles and games, the school is free for those who attend, and the resources available to them are endless. Ellingham, his wife, and their young daughter live in the main house at the center of the school's campus. When Mrs. Ellingham and Alice go out on a drive and  disappear, the only clue is a gruesome letter signed Truly Devious. Ransom calls come in, and Ellingham desperately does everything he can to rescue them to.  Nearly a century later, true-crime fan Stevie Bell is moving into Ellingham Academy, determined to succeed where all others have failed. Stevie feels like she has something to prove, though. While everyone else at school seems to have some incredible talent or skill, Stevie's fascination with crime-solving, specifically her obsession over the unsolved Ellingham case, is what she was admitted on. When past and present collide, it seems Truly Devious may be closer than Stevie thinks.  THOUGHTS: Mystery fiction fans will love the blending of two stories, and be desperate to puzzle the clues together. While Stevie deals with being away from home; the pressures of a new, competitive school; and her anxiety, readers will watch her grow and come into her own. Underage drinking takes place, but consequences are also discussed. Initially, I was disappointed not to have all of the answers in book one, but I will anxiously await them in books two and three!
Mystery Fiction      Maryalice Bond, South Middleton SD