Gurevich, Margaret.  Chloe by Design. North Mankato: Stone Arch, 2016. $18.49ea. $73.96 set of 4. 96p. Gr. 5-8.
Back to Basics. 978-1-49653261-9.
Made to Measure. 978-1-4965-3262-6.
All or Nothing. 978-1-4965-3263-3.
The Final Cut. 978-1-4965-3264-0.
Margaret Gurevich expands her Chloe by Design series featuring aspiring teen designer Chloe Montgomery with these four volumes (vols. 9-12 in the series). Chloe has returned home to California following a successful summer internship with a New York designer. As she starts her senior year of high school, she finds it's more stressful than she ever imagined. Her best friend gained a boyfriend and new friends while Chloe was away over the summer, and Chloe must find where she fits in within this new dynamic. In addition, college application season is quickly approaching and she must arrange visits and begin designing portfolios for the fashion schools on each coast where she plans to apply. Chloe also finds herself working with Nina, her former fashion design rival, designing dresses for their school's upcoming Winter Formal. Will Chloe be able to successfully balance all these obligations and relationships? THOUGHTS: A perfect choice for middle school fashionistas, this series is an engaging, quick read. The plot not only features fashion-related storylines, but also storylines involving evolving friendships, as well as the complexities of applying to and choosing a college. The series is greatly enhanced by the presence of color illustrations throughout the text meant to depict Chloe's sketches and designs.
Realistic Fiction      Elizabeth Henry, Lampeter-Strasburg HS/MS
O'Brien, Cynthia, Michael Bright & Donald Summerville. Best and Buzzworthy 2017: World Records, Trending Topics, and Viral Moments. New York: Scholastic, 2016. 978-1-338-03912-2. $12.99. 319 p. Gr. 3-8.
The Scholastic Book of World Records has been redesigned and rebranded as Best and Buzzworthy. However, the basic concept of the series remains the same: to share high-interest trivia tidbits and world records facts/lists with readers. With facts on topics such as music, technology, animals, sports, and other pop culture topics, this title is designed to appeal to a broad range of readers. The text is greatly enhanced by inclusion of photos, charts and diagrams on every page.  THOUGHTS: Trivia and world records books remain in constant circulation in most school libraries. The the wide-ranging trivia topics in this title are sure to capture the the interest of students. Recommended for purchase in elementary and middle school libraries (high schools with trivia fans may wish to pick up a copy as well).
031.02; Trivia    Elizabeth Henry, Lampeter-Strasburg HS/MS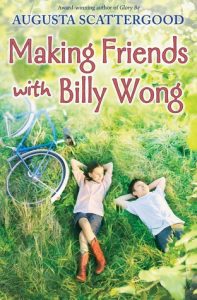 Scattergood, Augusta. Making Friends with Billy Wong. New York: Scholastic, 2016. 978-0-545-92425-2. $16.00. 209 p. Gr. 4-7.
Azalea was looking forward to the summer of 1952. She was going to spend time with her best friend and her family was talking about taking a trip to the Grand Canyon. Her plans are upended, however, when Grandma Clark hurts her foot. Azalea now finds herself in rural Paris Junction, Arkansas, for the entire summer helping her grandmother out. Her bossy grandmother has Azalea working in the garden and running errands, one of which is to the Wong family grocery store. It is there that Azalea meets Billy Wong, a boy her age who is staying with relatives in order to attend a better school. At first, Azalea is wary of Billy; would she and a Chinese-American boy really have much in common? As the summer progresses, the two develop a friendship, and Azalea also interacts with others in town, including Willis, a bully who doesn't like Billy. Azalea learns more about her family history and develops a closer relationship with her grandmother. As the novel closes, she is looking forward to visiting again the following summer. THOUGHTS: This novel is both sensitively told and historically illuminating. While most of the story is told from Azalea's perspective, occasional chapters feature verse from Billy's perspective, in which he shares his enthusiasm for education and also relates the prejudice and bullying he and his family sometimes face as Chinese-Americans in the segregated south. An Author's Note at the end of the novel shares historical information about the history of Chinese-Americans in the southern United States.
Historical Fiction (1950s)      Elizabeth Henry, Lampeter-Strasburg HS/MS