Owen, Ruth. Werewolves and Other Shape-Shifters (Not Near Normal: The Paranormal). New York: Bearport Publishing, 2013.    978-1-61772-695-8. 32 p.          $20.00. Gr. 3-6.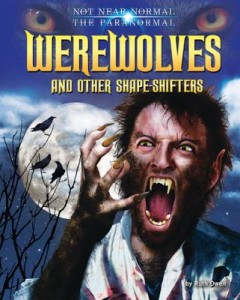 This series is sure to be popular with the older elementary crowd. It includes Aliens and Other Visitors, Ghosts and Other Spirits of the Dead, Half-Human Monsters and Other Fiends, Vampires and Other Bloodsuckers, Werewolves and Other Shape-Shifters, and Zombies and Other Walking Dead.
Werewolves and Other Shape-Shifters explores werewolf folklore from different countries, such as France's Beast of Gévaudan and Myanmar's Taw creature, and combines it with interesting stories and pop culture references (like werewolf Jacob Black from Twilight).  There's also a two-page spread showing werewolves and other shape-shifters around the world.
The spooky, colorful illustrations will definitely thrill your students. I know this one will fly off the shelf!
This title includes a table of contents, glossary, index, bibliography, and "Read More" section.
398.24                                  Lindsey Long, Nye Elementary School