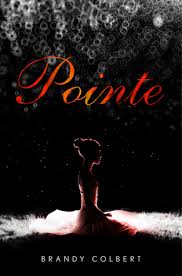 Colbert, Brandy. Pointe. New York: G.P. Putnam's Sons, 2014. 978-0-399-16034-9. 333 p. $17.99. Gr. 9 and up.
At age 13, Theo was focused on ballet, her best friend Donovan, and her secret older boyfriend, Trent. But then Trent dumped her, Donovan vanished, and Theo developed a severe eating disorder. Four years later, she's healthier and steadily pursuing her dream of being one of only a few African-American ballerinas to dance with a professional company. When Donovan is found and returned home, Theo is shocked to discover that the "person of interest" in Donovan's abduction is none other than Trent. Now Theo is torn between her dark secret and her loyalty to Donovan, who isn't speaking to anyone. As one of the last people to see Donovan before his disappearance, Theo is expected to testify, and she battles with herself over how much to reveal about her history with the man on trial. Will it impact her opportunities in the dance world?  Will it change how a new love interest sees her? Meanwhile, the more she worries, the less she eats. The reader will clearly see the abusive nature of Trent's relationship with Theo before she herself does, which makes her awakening to the truth all the more poignant. The author includes information on pertinent support services such as RAINN.org in a Resources section. This beautifully creative debut novel is realistic YA fiction at its best.
Realistic Fiction            Amy V. Pickett, Ridley High School
I thought Pointe was a strong contender for a Morris Award nomination, but sadly it was overlooked! I cannot wait to read whatever Brandy Colbert writes next.