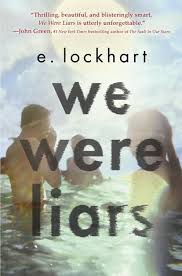 Lockhart, E. We Were Liars. New York: Delacorte, 2014. 978-0-385-74126-2. 227p. $17.99. Gr. 9 and up.
Seventeen year old, Cadence Sinclair Easton, is the eldest grandchild of the Sinclair family, a wealthy, Massachusetts family driven by perfection, wealth, and material goods but holding many secrets.  Vacationing together on their private island, Beechwood, for as long as she can remember, Candace spends her summers with the "liars"; her cousins Johnny and Mirren and Gat, the nephew of her Aunt Carrie's boyfriend.  Since Summer 8, the year Gat first visited Beecchwood, the liars have been inseparable.  That is until Cadence is injured in an accident during Summer 15, the summer she falls in love with Gat and he with her.  After two years, Cadence returns to the island during Summer 17 and tries to remember what happened to her during Summer 15.  As her memories come back, in between debilitating headaches, her remaining reminder of the accident, she learns the secrets hidden away by her family that she lost after the accident.  We Were Liars is a haunting tale of familial bonds and the lengths loved-ones will go to to protect reputation, expectation, secrets, lies, and the innocent (or not-so-innocent).
I listened to We Were Liars, and it was brilliant.  It is read by Ariadne Meyers, the actress who played Emma McArdle on the television show Kate and Allie (one of my favorites).  Her voice is mesmerizing and only intensified the experience that is We Were Liars.  That being said, I don't know how I feel about the novel itself (it received starred reviews from pretty much every review journal: Booklist, Horn Book, Kirkus, Publishers Weekly, School Library Journal…to name a few).  I loved the audio of it, but I'm not sure that I would have had the same experience reading it for myself.  E. Lockhart's language is beautiful, and I loved her use of symbolism and how she weaves fairytales into the novel to add depth to the reader's understanding of Cadence and the Sinclair family, but I still don't know how I feel.  I struggled to connect with any of the characters.  For the most part, I just thought they were spoiled brats who couldn't appreciated the lives they were handed.  I was not expecting the ending, and I loved it because of that; my jaw truly dropped as I listened to Cadence remember Summer 15.  E. Lockhart wrote a beautifully, haunting novel that resonates for its literary components more than its characters or plot.  This is a different side to current YA novels, and one that I like…even though I still can't decide if I enjoyed this novel or not.
Realistic Fiction  Erin Parkinson, Lincoln JSHS, Ellwood City