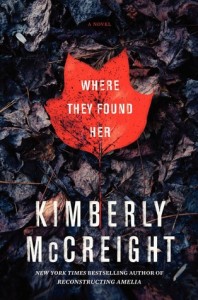 McCreight, Kimberly. Where They Found Her. New York: Harper, 2015. 978-0-06-222546-7. 326 p. $26.99. Gr. 10 and up.
When the body of a newborn is discovered in a shallow grave, residents of the posh college town of Ridgedale, New Jersey, quickly turn suspicious eyes on friends, neighbors, and newcomers alike. Reporter Molly Sanderson, who is still grieving the loss of her own stillborn child, tries to tease out facts without stepping on toes. Supermom Barbara, married to the chief of police, is sure it all circles back to one of her son's classmates and his single-and-proud-of-it mother. And teenager Sandy, whose own mother has just gone missing, may hold at least one of the missing puzzle pieces. This is a fast-paced, juicy whodunit with lots of crossover appeal thanks to the character of Sandy. It's a great choice for high school students who are ready to try an adult mystery, but may struggle to relate to Gillian Flynn's Gone Girl or Paula Hawkins' The Girl on the Train.
Mystery            Amy V. Pickett, Ridley High School
McCreight's debut novel, Reconstructing Amelia (Harper, 2013), has been popular with students and teachers alike at my school. Her latest would be a great choice for a mother-daughter book club, an independent read for Journalism or Criminal Justice electives, or a fiction/nonfiction pair with Missoula by Jon Krakauer (Doubleday, 2015).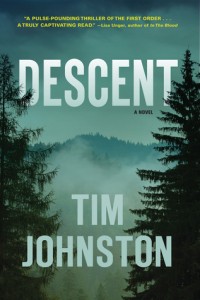 Johnston, Tim. Descent. Chapel Hill: Algonquin Books of Chapel Hill, 2015. 978-1-61620-304-7. 384 p. $25.95. Gr. 10 and up.
The Courtland family is on vacation in the Rocky Mountains for some bonding time before daughter Caitlin heads off to college on a track scholarship. But when Caitlin and her younger brother Sean go out for a morning run in the mountains, only Sean comes back. How can the Courtlands return home to Wisconsin without their daughter? How can they stay in Colorado when Sean needs to go back to high school in a matter of weeks? And how can a vibrant young athlete just vanish into the thin air of the Rockies? This spellbinding mystery rotates between the perspectives of the four family members. Jumps in time (indicated by italics) occasionally get confusing, but as the narrative picks up steam the suspense is almost unbearable. Grant Courtland's love for his lost daughter is exquisitely rendered: "In his dreams she was running – always running. Her heart strong and her feet sure, never stumbling, never tiring, mile upon mile, coming down like water." This novel would be an excellent choice for fans of Michael Koryta's Those Who Wish Me Dead (Little, Brown, 2014). Some violent scenes, particularly a rape scene, make this adult mystery appropriate for mature teen readers. I'd recommend it to students in grades 11 and up.
Mystery           Amy V. Pickett, Ridley High School
The disappearance of Caitlin Courtland brings to mind a real-life mystery: Amy Wroe Bechtel, 24 at the time, vanished while jogging in Wyoming's Wind River Mountains in 1997. Though she has never been found, there are some recent developments in her case.