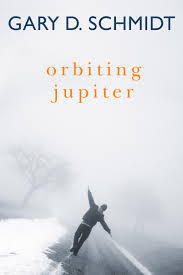 Schmidt, Gary D. Orbiting Jupiter. New York: Clarion, 2015. 978-0-544-46222-9. 192 p. $17.99. Gr. 7 and up.
Jack is a typical 6th grade boy. He lives on a farm in rural Maine, is responsible for daily chores, and is a good student at his school. One day his world changes when his parents tell him they are taking in a foster child. Jack meets his foster brother, Joseph, a dark, brooding, 8th grader who exhibits signs of abuse and neglect. As the two get to know each other, Joseph reveals a secret that he has been hiding. He has a daughter named Jupiter, and he will stop at nothing to find her in the foster system, even if it means risking his own life in the process.
The author shares a strong connection to the foster system and how family isn't always made up of blood relatives. He presents a balanced view of the struggles facing social workers as they fight for the rights of the children and families they serve. The author also addresses difficult issues such as child abuse, bullying, and teenage pregnancy, in a way that is honest and fair.
This book is an excellent resource to share with students who may be struggling with some of the same things that Joseph is dealing with, particularly the death of a loved one, abuse, or bullying. It would be a great addition to a "survival" or "overcomer" unit.
Realistic Fiction    Corey Hall, Elizabethtown Area School District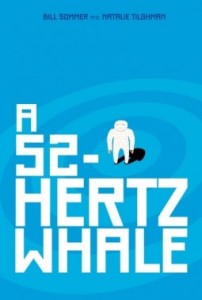 Sommer, Bill., & Tilghman, Natalie. A 52-Hertz Whale. Minneapolis: Carolrhoda Lab, 2015. 978-1-4677-7917-3. 200p. $18.99. Grades 8 to 12.
You never know where you will find a friend. James is a 14-year old who struggles with social skills and feels like his only friend is a humpback whale named Salt that he follows online. When Salt separates from his pod and is beached, James contacts a very unlikely ally. He emails Darren, a 20-something "wannabe" filmmaker who once volunteered as a tutor in James's classroom. The two strike an unlikely friendship, and although Darren knows nothing about whales, he provides wacky advice on everything from girls to friends to jobs.
The story is told through a series of emails that pass between not only James and Darren, but also a host of supporting characters that connect and strengthen the story. This book is a unique look at friendship in the technology age, along with love, loss, and yeti suits (yes, yeti suits). Even though much of the interaction is silly and funny, there are some serious interactions that would be excellent for book group or small group discussion. Students who appreciate Eleanor & Park and Winger will enjoy the strange and eccentric world of A 52-Hertz Whale.
Realistic Fiction     Corey Hall, Elizabethtown Area MS/HS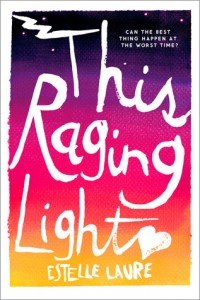 Laure, Estelle. This Raging Light. Boston: Houghton Mifflin Harcourt, 2016. 978054453429-2. 288 p. $17.99. Gr 8 to 12.
Lucille is an ordinary 17-year old girl. She hangs out with her best friend Eden. She has a secret crush on Eden's brother, Digby. Everything looks normal on the outside, but what Lucille is hiding is that her mother took off, and her father was committed to a psychiatric ward, so Lucille is raising her 10-year old sister, Wren. Alone, scared, and out of money, Lucille has to find a job and childcare in order to keep her little family together. In this sweet story, Lucille learns that she is not alone, that she has a community that surrounds her and watches out for her.
Highly recommended for late middle school or high school students. Themes of family, loss, friendship, and independence permeate the book. This is a great option for discussion starters or book club.
Realistic Fiction    Corey Hall, Elizabethtown Area MS/HS