Cotugno, Katie.  99 Days.  New York: Balzer + Bray, 2015.  978-0-06-221638-0. 372 p.  $17.99.  Gr. 9 and up.
After her mother wrote a best-selling novel about her tragic love life, Molly Barlow ran off to boarding school in another state to avoid the backlash.  Now, however, she is back in her hometown for 99 days of summer before her freshman year of college.  Unfortunately, her year-long absence didn't seem to help matters; she is still despised by everyone in town.  Julia Donnelly, the sister of the two boys whose hearts she broke, eggs Molly's house and leaves her nasty letters.  She can't talk to her mom, as she doesn't want her pathetic life to end up being the subject of another novel.  Even her former best friend doesn't seem to want anything to do with her.  The only person who seems happy to see her is Gabe, Julia's oldest brother.  As she tries to mend broken relationships, Molly begins a tentative relationship with Gabe.  Things become complicated, however, when Patrick – Gabe's brother and Molly's first love – returns home.  Caught in a steamy love triangle, Molly finds herself right back where she started when she left town in the first place and looks forward to starting over again with a clean slate in college.
Realistic Fiction          Julie Ritter, Montoursville Area High School
Despite her transgressions, Molly is a very likeable protagonist, and I found myself rooting for her throughout the course of the novel.  I was disappointed, though, that while she​ grew emotionally and became more thick-skinned as the novel progressed, she did not seem to learn from her mistakes.  There are definitely themes in the book that will resonate with young readers, including sibling rivalry, adolescent love, and unfair double sexual standards.  I would give this book to anyone looking for a dramatic summer romance.  Be forewarned, however: the book does contain off-page sex, swear words, and instances of underage drinking.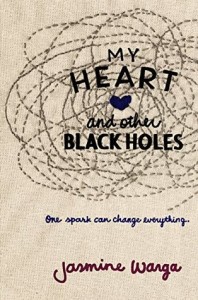 Warga, Jasmine. My Heart and Other Black Holes. New York: Balzer + Bray, 2015. 978-0-06-232467-2. 302 p. $17.99. Gr. 9 & up.
The only way Aysel can be sure she doesn't end up like her mentally ill father is to kill herself — or so she thinks.  Ever since her dad murdered her town's star athlete, she's been ostracized and depressed.  She spends her days surfing a suicide website, looking for a partner to help her commit the act.  She finds one in Roman, who on the surface seems to have everything going for him — athleticism, friends, good looks — but carries an enormous amount of guilt from a heartbreaking loss.  As they plan their deaths, a slow shift in perspective causes Aysel to begin to waver on carrying out their pact.  Readers will hang onto Warga's honest and graceful narrative to find out whether Roman can be saved, too.  Teens struggling with depression can relate to the "black slug" devouring Aysel, whose dark humor makes her an endearing narrator.  The list of resources in the back for depressed and suicidal teens is essential.  Suggest to teens who couldn't put down Jay Asher's immensely popular Thirteen Reasons Why.
Realistic Fiction     Kristen Rowe, Plum Senior High School