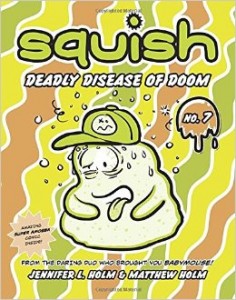 Holm, Jennifer L. & Holm, Matthew.  Squish Deadly Disease of Doom (#7)   New York:  Random House, 2015. 978-0-307-98305-3. 91p. $7.99. Gr. 2-6.
A deadly disease is spreading through Small Pond, and it looks like Squish is next.  Will this terrible disease be the end of Squish, the amoeba?  Read this hilarious graphic novel to find out.  This book also includes a "Fun Science" spread with ideas for science experiments, and a "How to draw Squish" section.  THOUGHTS:  Squish is a big hit in my library.  The graphic novel sensation has really taken off.  Hand this book to those reluctant readers.  All readers will enjoy the humorous antics of Squish.
Graphic Novel        Anastasia Hanneken, School Lane Charter School
McElligott, Matthew. Mad Scientist Academy: The Dinosaur Disaster. New York: Crown Books For Young Readers, 2015. 978-0-553-52374-4. Unpaged. $17.99. Gr. K-5.
When a group of kid monsters meet their teacher, Dr. Cosmic, on their first day at Mad Scientist Academy, the adventure begins and never stops!  They spend the day learning about fossils, extinction, dinosaurs in the Mesozoic periods, and the pterosaurs.  They are able to avoid a flaming meteor, oozing lava, and a moving group of robotic dinosaurs. The students are helped by their "Mad Scientist Handbooks" which fold out as helpful screens, touchpads, tools and gadgets.  THOUGHTS:  McElliott provides brilliant illustrations.  The comical characters and entertaining plot are sure to fascinate even the most reluctant reader.  
Graphic Novel          Anastasia Hanneken, School Lane Charter School