Gaughen, A.C. Lion Heart. New York: Bloomsbury, 2015. 978-0-8027-3616-1. 346 p. $17.99. Gr. 8 and up.
The third and concluding novel in Gaughen's Scarlet series, Lion Heart follows Scarlet (aka Marian, aka Lady Huntingdon, aka Scar per Robin Hood) from narrowly escaping her execution as ordered by Prince John, through a variety of close calls in which she displays her leadership and fighting skills. Rather than flee the country to ensure not only her own safety but also Robin Hood's, Scarlet returns to Robin, defies Prince John, and makes the world safe for the peasants over whom she now reigns. The plot is predictable, the characters formulaic, and the romance melodramatic. THOUGHTS: Perhaps I am not the best person to review this novel as I found it tedious, a teenage romance novel with seemingly repetitive sequences. (What exactly does it mean when the author describes several characters at different points in the story as having their "throats working"? Does this imply anger, frustration, sorrow, lust, what? And why use the exact same undefinable description, so much so that the reader anticipates its usage whenever a male character is upset? Just one of the many objections I have with regard to this novel's composition.) Although this series received positive reviews, I would not recommend it as an essential purchase.
Action/Adventure       Annette Sirio, Pittsburgh Obama Academy of International Studies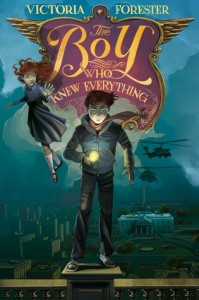 Forester, Victoria. The Boy Who Knew Everything. New York: Feiwel and Friends, 2015. 404p. 978-0312 626006 $16.99 Grades 5-9.
In this sequel to Forester's The Girl Who Could Fly, young Piper McCloud (the girl who could fly) is back home with her wonderful parents, this time with a friend: Conrad Harrington, the boy who knew everything. Soon they are joined by others with special abilities, and they hone their gifts to work together to provide "miracles" of sorts, locally and worldwide. Conrad believes he's seeing a pattern in the mayhem of natural disasters, and he's curious to find out. Conrad has been deeply hurt by his father's rages and dismissal of him, and still more by his mother's blind eye to it all. Conrad's identity—as the son of the President of the United States—is revealed by the First Lady herself, when she arrives to request Conrad's help in locating the four-year-old sister he's never known, but who has disappeared. Despite his mother's untrustworthiness, Conrad agrees. But, the cohesive gifted group they've built is split by design, and Conrad and Piper find themselves in a secret, nearly parallel world, Xanthia, while two of their friends have disappeared. Conrad relentlessly pursues his father, and both Piper and Conrad relentlessly encourage and save each other. Recommended for the description of Xanthia alone, and the strong friendship between Piper and Conrad, sans romance.  THOUGHTS: While it's Piper holding this novel together, it always comes back to Conrad and his father and the longing of a son for his father's blessing, and what a son will do in return. The story arc sags when the team (and the novel) splits. Readers do not need to have read The Girl Who Could Fly, though, meeting Piper for the first time would make a reader curious about "her" story in that book. The ending leaves substantial base for still a third book in the series.
Fantasy    Melissa Scott, Shenango High School