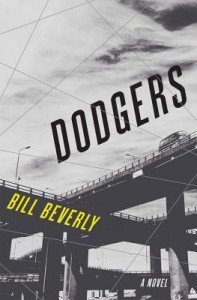 Beverly, Bill. Dodgers. New York: Crown Publishers, 2016. 978-1-101-90373-5. 290pp. $26.00. Grades 10 and up.
At fifteen years old, East has never left Los Angeles. He works as a lookout in his Uncle Fin's drug organization in a neighborhood known as "The Boxes." But, after failing to warn his crew about a police raid, East is called up to redeem himself by running a special favor for Fin. East and three other boys, including his younger brother Ty, are tasked with driving to Wisconsin to murder a key witness. Beginning with a quick, but complicated stop in Las Vegas, the plans go tragically awry as the boys barrel headlong into the heartland in search of their mark. Along the way East realizes that maybe, just maybe, a different kind of life awaits him somewhere down the road. In depicting East's cross-country journey, debut novelist Bill Beverly incorporates elements of crime fiction, travelogue, and classic coming-of-age stories. THOUGHTS: With a teen protagonist, Dodgers is an excellent crossover selection for readers looking to experience a poetically austere new voice in fiction. With frank depictions of drug dealing, violence, and urban survival, it is strongly reminiscent of the brilliant TV series The Wire.
Realistic Fiction      Amy V. Pickett, Ridly High School Library
Federle, Tim. The Great American Whatever. New York: Simon & Schuster BFYR, 2016. 978-1-4814-0409-9. 278 pp. $17.99. Gr. 8 and up.
It's fair to say that Pittsburgh teen Quinn Roberts is not having a great junior year. His mom's on disability, his father has unceremoniously ditched the family, and worst of all Quinn's beloved older sister, Annabeth, died in a car crash on the day before Christmas break. Quinn has essentially suspended all contact with the outside world, until summer hits and record-breaking highs interrupt his personal record-breaking lows. Bolstered by his best friend Geoff, Quinn emerges from both his room and his shell. At a party, he meets cute, college boy Amir, who genuinely likes him back. Quinn, however, is less than forthcoming about his deeply sad back story; he'd rather "imagine how the ideal screenplay version of events would play out." A cinematic thread runs throughout the novel; movie buffs Quinn and Annabeth were amateur filmmakers, with Quinn writing and Annabeth directing his scripts for "Q&A Production," and an abandoned application for a student filmmakers' competition brings the narrative full circle. This winning LGBT coming-of-age novel has just the right balance of tragedy, comedy, and reality. THOUGHTS: Tim Federle's first YA novel, The Great American Whatever, is 2016's answer to Simon vs. the Homo Sapiens Agenda by Becky Albertalli. References to Pittsburgh locales such as Squirrel Hill and Kennywood will especially delight Pennsylvania readers!
Realistic Fiction    Amy V. Pickett, Ridley High School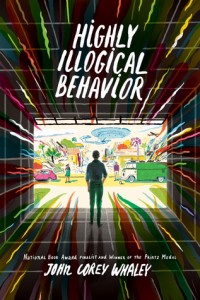 Whaley, John Corey. Highly Illogical Behavior. New York: Dial Books, 2016. 978-0-525042818-3. 249 pp. $17.99. Gr. 9 and up.
Solomon Reed, age 16, hasn't left his house in over three years. He suffers from agoraphobia and debilitating panic attacks, but he's managed to build a safe and comfortable life for himself in his parents' home. Enter Lisa Praytor, who remembers Solomon's all-too-public 7th grade meltdown and takes a keen interest in befriending him. Lisa also has a keen interest in receiving a full ride to a prestigious psychology program. Her essay prompt: "My personal experience with mental illness." Once Solomon allows Lisa into his life he enjoys the companionship, even coming out to her during one of their visits. Lisa values his friendship, too, ignoring the pangs of guilt she feels over quietly manipulating him for essay material. When Lisa invites her boyfriend Clark to join her daily visits with Solomon, everyone gets along swimmingly until unexpectedly complicated feelings arise. With humor balancing the more serious plot lines, Highly Illogical Behavior is a fresh spin on the tried-and-true formula of a staged relationship leading to real feelings. THOUGHTS: Although this endearing novel doesn't have quite the literary gravitas of Whaley's debut, Where Things Come Back, or the creative chutzpah of Noggin's head transplant, it will leave readers thinking about and feeling for Solomon, Lisa, and Grant.
Realistic Fiction     Amy V. Pickett, Ridley High School Library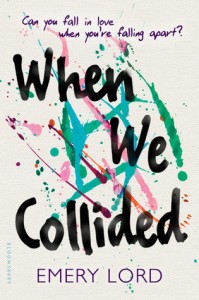 Lord, Emery. When We Collided. New York: Bloomsbury, 2016. Print.  978-1619638457. 352p. $17.99. Gr. 9+
I had never heard of Emery Lord before, but after absorbing the drama and characters in When We Collided, I am eager to read her other titles. Free spirit Vivian has moved to Verona Cove for the summer with her artist mother. The idyllic beach town enchants Vivi from the start, and she quickly begins making friends, including five year old Leah Daniels, who happens to have a handsome older brother. Jonah and Vivi strike up a romance quickly, but they both have pasts that haunt them. Jonah, along with his older brother and sister, is trying to keep his family afloat after the death of their father. Their mother is present, but so severely depressed that she can hardly take care of herself, let alone her three youngest children. Readers slowly learn that Vivi is battling her own inner demons, and her relationship with Jonah is tried when she begins to lose the battle. Told in the alternating perspectives of Vivi and Jonah, the book is reminiscent of Eleanor and Park by Rainbow Rowell. The perspective of Vivi is powerful, and gives the reader a hint of the jumbled thoughts in her mind. The author concludes with a powerful note to her readers and resources for further reading on mental health. THOUGHTS: This is an excellent addition to the growing novels about mental health, and can help spark a good discussion among teens about various issues they face.
Realistic Fiction       Lindsey Myers, Shady Side Academy Senior School
Though this book is a hard read, it is also an important read.  Mental health issues still carry a negative stigma, especially in high school or a teenage setting. It can be hard for some students to grapple with these issues, including students going through them as well as their friends who simply want to help. Having books like this, that highlight depression and other mental problems, are great ways to spark conversations and discussions, and to lead teens to more resources. This is definitely a book that warrants more thought and discussion upon finishing, so make sure to suggest it to more mature teens who are ready for the subject matter, or a book club willing to tackle issues that might be uncomfortable to discuss.