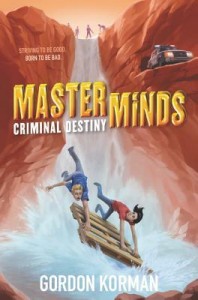 Korman, Gordon. Masterminds: Criminal Destiny. New York: Balzer & Bray, 2016. 978-0-06-230002-7. 311 p. $16.99. Gr. 4-8.
The kids of Serenity, New Mexico, are back and determined to find out the truth out the experiment that gave them life. Their "parents"—really scientists who cloned several children from criminal masterminds and then raised them in an idyllic community to settle the nature vs. nurture debate once and for all—have been lying to them their whole lives, and now they want answers. They set off on a cross-country adventure that finds them stealing vans, breaking into homes, and doing whatever they need to do to survive and stay off the grid. Eventually, they end up back in Serenity which is oddly abandoned…and a few familiar faces give them the biggest surprise yet. This is the second book of at least three (Korman tweeted that book 3 will be out in spring 2017). The first book was a bit better, but the second book keeps readers guessing and anticipating the next step in the adventure. THOUGHTS: Fans of Korman's other adventure sets (the Titanic trilogy, the Everest triology) will enjoy this new offering.
Action/Adventure           Lindsey Long, Nye & Conewago Elementary Schools
Salamon, Julie. Mutt's Promise. New York: Dial Books for Young Readers, 2016. 978-0-525-42778-0. 231 p. $16.99. Gr. 3-6.
Mutt thinks that she's found a safe home for her and her puppies. Mr. Thomas, the farmer, is nice enough and his foreman's son, Gilbert, is a loving, wonderful friend. Life is great until the weather turns cold in Pennsylvania and Gilbert's family must follow the farm work and move to Florida. Mr. Thomas decides he can't take care of a whole dog family and finds homes for Mutt's puppies. Happy and Alegre go to live with a little girl and her family, and Luna and Chief are taken by Raymond, a mean man who runs a puppy mill. There, Luna and Chief meet a whole group of new dogs who are dirty, hungry, and depressed, except for new pal Charlie who still has some of his old spunk left in him. The three of them hatch a plan to escape and bravely run away one day. Eventually, weeks later, they are rescued by a local animal society and adopted by Marty "the magician" who gives them a warm bed, lots of food, training, and most of all…hope and love. Gilbert's family reappears in the end and everyone has a happy ending, although Salamon is clear to include information in an author's note that not all puppy mill dogs have happy endings and that dogs are best served when we "adopt, not shop." Living in PA, most of us are likely familiar with puppy mills and this would be a great book to open discussions with children about adopting animals. THOUGHTS: Give this heart-warming book to dog lovers or teachers who are looking for a new read-aloud.
Action/Adventure          Lindsey Long, Nye & Conewago Elementary Schools