Weing, Drew. The Creepy Casefiles of Margo Maloo. New York: First Second, 2016. 978-1-62672-339-9. $15.99. Gr. 3-7.
Charles and his family just moved to Echo City. While his dad is busy fixing up their apartment building and his mom is writing grant applications, Charles begins to explore their run-down, drafty building. When he encounters a monster in his closet, he's not sure what to do until his neighbor Kevin gives him a card for Margo Maloo, monster mediator.  Margo and Charles track down the troll in Charles' closet, and it seems that Margo is very knowledgeable about all of the monsters in Echo City, trolls, ghosts, goblins, and ogres. As an aspiring blogger, Charles jumps at the opportunity to blog about these underground monsters, but Margo begs him to keep quiet; no one can know that monsters are real. As Charles and Margo work together, it turns out that they're a really good team, and now they must work to rescue a boy from a ghost and find a missing ogre baby. Weing's illustrations are excellent and readers of any age will fall in love with Charles and Margo. THOUGHTS: A wonderful addition to any library where comics and graphic novels fly off the shelves.
Graphic Novel; Fiction      Vicki Schwoebel, Friends' Central School
Sturm, James. Ogres Awake! New York: First Second, 2016. 978-1-59643-653-4. Unpaged. $14.99. Gr. K-2.
When Edward the horse and his knight spot some napping ogres outside the kingdom walls, they know they must alert the king. Luckily, the king isn't worried; there's a plan in place for ogres. The little knight is ready for battle, but the king's plan doesn't involve swords and armies; it involves using the king's garden harvest to create a delicious sweet potato stew. The hungry ogres storm the castle after their naps and find a wonderful smell awaiting them. With satisfied bellies, the ogres leave the castle to head home and the little knight wishes to use super powers in his next adventure. Ogres Awake! is the newest creation from the authors of Adventures in Cartooning!, and it doesn't disappoint.  The graphic novel styling is a great introduction to the genre and infuses subtle humor into the story through the plucky knight and hungry ogres. The endpapers include how-to guides on drawing the main characters. THOUGHTS: A delicious, fun graphic novel for young readers who want a good adventure and don't mind a unique ending.
741.5 Graphic Novel      Lindsey Long, Nye & Conewago Elementary Schools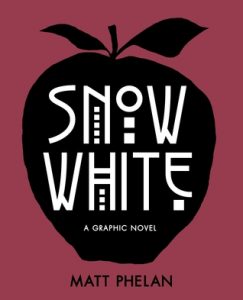 Phelan, Matt. Snow White. Somerville, MA: Candlewick Press, 2016. 978-0-7636-7233-1. 235 pp. $19.99. Gr. 3-6.
Snow White has been transplanted to the Great Depression in Matt Phelan's mesmerizing new graphic novel retelling of the classic fairy tale. Life is hard for Snow once her mother dies, and her wealthy father finds a ruthless diva of the stage who banishes the beautiful daughter. Once alone in the dark city, a group of street urchins come to Snow's rescue, and they quickly bond. Tragedy, drama, action, and romance all play out around the cruel Queen of the Follies and her jealous rage. Phelan's strength comes in the sparse text mixed with emotional illustrations that capture both the story elements (huntsman, apple) with the 20's city life (ticker tape, Macy's and Follies). While not everything runs parallel to the fairy tale origin, this unique new take will draw in a wide range of ages to appreciate the skill of Phelan's graphic design and artistic interpretation.  THOUGHTS: The many references to Great Depression terms like Hooverville will be lost on younger readers, but the opportunity to connect any of Phelan's graphic novels to history make them an educational incentive. As a collection, they would make for a great course on graphic storytelling and historical fiction alike.   
Graphic Novel; Fractured Fairytale      Dustin Brackbill, State College Area School District