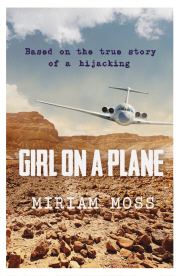 Moss, Miriam. Girl on a Plane. Boston: Houghton, Mifflin, Harcourt, 2016. 978-0544783997. $17.99. 288 p. Gr. 8 and up.
Miriam Moss's fictional account of her own experience as a hostage is truly captivating. Set in 1970, the plot centers around teenager Anna's flight to her boarding school in England after visiting her family in Bahrain. Due to recent events involving planes being taken hostage by the Popular Front for the Liberation of Palestine (PFLP), Anna worries that her plane could face the same fate. Sadly, her premonition comes to pass and her plane is taken hostage and rerouted to an airstrip in Jordan. Passengers are kept on the plane with limited food and water, used for propaganda photos, and told that their plane will be blown up if the British government does not release a Palestinian hostage. Anna's friendship with another teen and a younger child are sweet and realistic, and Moss gives Anna strength but also moments of vulnerability. The story moves quickly and will easily keep the attention of young teens looking for an exciting read, but it has the added bonus of highlighting and describing a period in history that might not be well-known to today's teens. THOUGHTS: Highly recommend this title for middle school and high school libraries as an engaging and memorable historical fiction.
Historical Fiction  (1970s Middle East)   Lindsey Myers, Shady Side Academy Senior School
This was a fast and interesting read, and did make me want to research more about this time period and what was going on with Palestine and Israel in the early 1970s. This is an excellent title to pair with a nonfiction piece or account of the hostage situations. Miriam Moss includes a short chapter at the end describing her own personal memories of her time as a hostage, and this adds an important layer to a student's understanding of the story. This is also a good read for reluctant readers, as it is short and plot-driven.
Pink, Randi. Into White. New York: Feiwel and Friends, 2016. 978-1-250-07021-0. $17.99. Gr. 9-12.
Latoya Williams is one of the few black students in her Montgomery, Alabama, high school. After a bullying incident with another black student, devout Toya prays to be white, assuming it will fix all of her problems. As she says, "Black skin was filled with so many barriers, so many restrictions…" (77).  The next day, Toya wakes up changed with glittering blonde hair and ivory skin. With a new attitude, Toya is ready to conquer everything from the popular crowd to her bickering parents. With the help of her gifted brother Alex, Toya enters school as Katarina and begins living day to day as a white girl. At first she feels powerful in her new skin, but soon she learns that the life she desires is far from perfect. Soon, Toya finds that the time she's focused on herself has alienated her from the people that matter most to  her, especially Alex. THOUGHTS: While at times somewhat predictable and generalized, Into White explores very important themes on race, gender, and consent that could lead to larger important discussions in the classroom.
Contemporary Fantasy      Vicki Schwoebel, Friends' Central School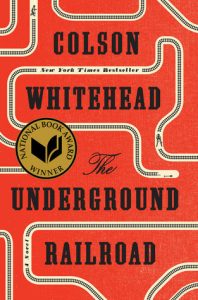 Whitehead, Colson. The Underground Railroad. New York: Doubleday, 2016.  978-0385542364. 320 p. $26.95. Gr. 11 and up.
Colson Whitehead's latest novel is a dramatic and innovative reimagining of the underground railroad system in place in the American South, leading to the North, in the 1800s. In Whitehead's world, the underground railroad was not only an elaborate communication system between abolitionists and slavery opponents; it was an actual railroad, a mishmash of cars and locomotives rushing slaves to new points along the route and safe havens for runaways. The novel follows Cora, who escapes along with a male slave from her plantation. The novel is graphic and raw, and Cora's story is fraught with peril and setbacks. Cora eventually comes in contact with Ridgeway, an infamous slave catcher, intent on returning as many runaways as possible. This novel will haunt readers, but hopefully also assist with understanding the many ideologies and structures in place during this awful period in American history. THOUGHTS: Give this to mature students seeking to understand more about slavery and racism in America's past.
Historical Fiction    Lindsey Myers, Shady Side Academy Senior School
Though this is marketed as a book for adults, I thought it important to include the title in our list of books reviewed for young adults. Not only will it attract interest because it is a National Book Award Winner, but it is also a great counterpart to the much-often read and discussed book in high schools, The Adventures of Huckleberry Finn by Mark Twain. Some might find it a better representation of the black experience in America, much above that of the hapless Jim.  Indeed, many of the characters in Whitehead's novel portray attitudes still in place in our society today, and can spark great conversation or discussion about race and racism in order for students to draw parallels to today's world and events.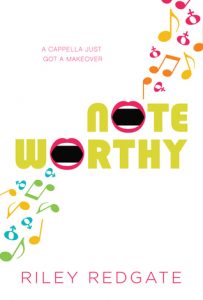 Redgate, Riley. Noteworthy. New York: Amulet Books, 2017. 978-1419723735. 400 p. $17.95. Gr. 9 and up.
After reading and loving Seven Ways We Lie, I was excited to receive an advanced copy of Riley Redgate's newest novel, Noteworthy. While a strong follow-up, it is not nearly as captivating and lacks some of the spark and uniqueness of her first novel. The story follows Jordan Sun, a scholarship student attending the prestigious Kensington-Blaine boarding school for the performing arts. Her focus is theatre, but after three years she still has yet to earn a part in the musical, mainly due to her lower, more masculine range. At the beginning of her junior year she's recovering from a breakup and again fails to get a musical spot. When she learns that the legendary Sharpshooters, an all-male acappela group, is looking for a new member, she decides that she has nothing to lose by dressing up as a boy and trying out for the group. "Julian" earns a spot, and begins rehearsals, masquerading as a boy whenever she is around the group members. Jordan is an interesting character, and her inner monologues are valuable and thought provoking (if a little too frequent towards the end of the story). Some willing suspension of disbelief is necessary (how is Jordan continually able to sneak out of her dorm room and into a boys' dorm, how do more teachers not notice what is going on, etc.), but her relationships with the boys highlight and question numerous gender stereotypes. Redgate also does a commendable job of incorporating the musical side of things into her story; it would have been awesome to have a soundtrack with this one! THOUGHTS: Musically-inclined students as well as those interested in pushing gender stereotypes and boundaries will enjoy this title. Recommended for all high schools.
Realistic Fiction    Lindsey Myers, Shady Side Academy Senior School
As noted in the review above, this was a title that I was looking forward to reading and did, for the most part, enjoy. It does drag a bit at the end, but the climax is exciting and will keep readers on the edge of their seats. I did expect Redgate to bust out of the typical boy-girl relationship, and I feel like she failed a bit on this front. Following the general format of YA romances does, however, make this title more approachable for a greater number of teens. I look forward to having my students read this and hear their responses to it.