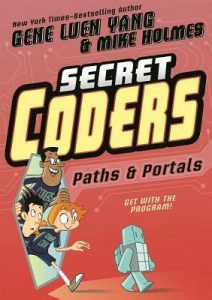 Yang, Gene Luen and Mike Holmes. Secret Coders: Paths and Portals. New York: First Second, 2016.978-1-62672-340-5. $18.99. 94 p. Gr. 3-6.
Readers have a chance to write the programming codes throughout the book and take delight in a programmed turtle.  Eni, Josh, and Hopper look forward to working with the school janitor, Mr. Bee, and learning more about technology. In the past Mr. Bee was a professor and in charge of The Bee School. When Hooper doesn't answer what helped her with her homework, the principal has the rugby team closely watch them. The trio doesn't want to upset Mr. Bee that they lost the turtle known as Little One. At the end of the novel, Mr. Bee is captured by the rugby team and principal. The artwork throughout the novel is in shades of green and black. THOUGHTS: This is the second book in the series and will be continued with Secret Coders: Secrets and Sequences. There is a website to visit as well: www.secret-coders.com. The website includes a video lesson on coding and downloadable activities.
Graphic Novel     Beth McGuire, Wendover Middle School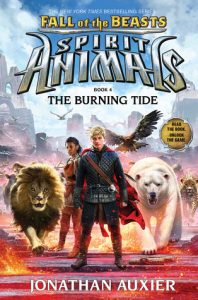 Auxier, Jonathan. Spirit Animals: Fall of the Beasts: Book 4 The Burning Tide. New York: Scholastic, 2016. 978-0-545-83214-4. $12.99. 181 p. Gr. 3-8.
Meilin is caused great pain when the dark Wyrm infection controls close friend and fellow Greencloaks, Conor. Conor rallies "The Many" to fight against Meilin and the others trying to save the universe. Meilin continues to distrust Kovo since she had troubling experiences with him in the past. Abeke like Meilin is battling matters of trust while struggling with the capture and betrayal of her Spirit Animal. Are the Redcloaks to be trusted during this final battle? The book allows for unlikely heroes and even at times an opening for readers to cheer for those thought to be on the dark side.  THOUGHTS– There is a happy moment in the return of a character missing for quite some time in the series. It is impressive how character from books ago weave into the story. The series continues to deliver action and adventure for readers.
Fantasy; Action/Adventure   Beth McGuire, Wendover Middle School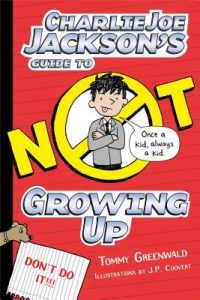 Greenwald, Tommy. Charlie Joe Jackson's Guide to Not Growing Up. Illustrated by J.P. Coovert. New York: Roaring Books Press,  2016. 978-1-62672-169-2. $13.99. 173 p. Gr. 5-8.
Charlie Joe is not thrilled to share his birthday with middle school graduation. In fact, Charlie Joe is not happy getting older and having more responsibilities. This book is told in chapter format going back to the start of the day and sprinkled with flashbacks to other milestone events.  The book is peppered with humor at a pool party, air hockey championship, baseball game, and dog tricks. Charlie Joe has a few bonus tips for the readers before the book concludes.
THOUGHTS– This is the sixth and final book in the Charlie Joe Jackson series. Fans of Janet Tashjian's The My Life Series (Henry Holt)  series are sure to like this series as well.
Realistic Fiction   Beth McGuire, Wendover Middle School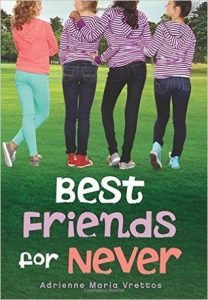 Vrettos, Adrienne Maria. Best Friends for Never. New York: Scholastic, 2016. 978-0-545-56149-5. $16.99. 229 p. Gr. 3-6.
Hattie was perfectly content  living in Brooklyn, NY, and spending time with her best friend, but now her father has an opportunity to take over a dentist office in Trepan's Grove, Massachusetts. Hattie has made new friends over the summer, but she feels like she can't wear the clothes she really likes or share her reading interests. Hattie is warned not to fall into a jinx at her first fall harvest. After seeing a classmate face betrayal from friends at school, Hattie is inspired to write a friendship pact. Her new trio of friends sign the pact, but something very odd happens shortly making them forget Hattie. At school she is assigned to be partners with Zooey, the girl who was betrayed by friends at school. While Hattie would like their history project to focus on the local lore of the Harvest Jinx, but Zooey sees the topic of colonial women to be more important. Through research and the help of  Maude, an 18 year old of town prodigy now already a  professor, will the jinx be broken?  THOUGHTS– The book celebrates acceptance of the individual. Since writing adds an element of magic, another good book to partner with Best Friends Never is All the Answers by Kate Messner (Bloomsbury, 2015).
Realistic Fiction    Beth McGuire, Wendover Middle School