Brockenbrough, Martha. Shark Week: Everything You Need to Know. New York: Feiwel and Friends, 2016. 978-1-250-09777-4. $19.99. 149 pp. Gr. 5-8.
Shark Week is one of the Discovery Channel's highest rated programs each year, so it only makes sense that they would want to draw in younger viewers.  Shark Week: Everything You Need to Know will not only draw out the shark lovers, but may also create shark enthusiasts.  With life-like color photographs, Shark Week aims to please the middle school (and older/younger) reader.  Sectioned into chapters about life, predatory nature, types of sharks, "Shark Fight[s]", and survivor stories, each topic is further explored in detail through general overviews and bold sections (a great text for textual analysis and reading for information).  Some fun shark facts include the fact that sharks don't chew; in clear water sharks can see further than their prey; great whites enjoy death metal, and sharks can't move if flipped over.  THOUGHTS:  This is a perfect addition to middle school nonfiction collections.  The text is easy to read and includes amazing photography and images throughout.  The information is accessible and not overwhelming for readers and will definitely spark further investigation.  
597.3; Sharks     Erin Parkinson, Beaver Area MS-HS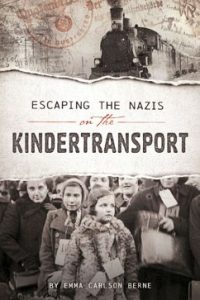 Berne, Emma Carlson. Escaping the Nazis on the Kindertransport. North Mankato, MN: Capstone Press, 2017. 978-1-5157-4545-7. $22.49. 112pp. Gr. 3-6.
The Kindertransport is perhaps the most famous children's refugee program.  From December 1938 until May 1940, Jewish children were brought from Germany, German occupied countries, and the Netherlands to Great Britain to be cared for until the fall of Hitler when they could return home to their families.  With the onset of World War II in 1940, many of the children ended the war with no home or family to return to and limited memories of what had been.  This narrative nonfiction text intertwines the experiences of seven Kindertransport survivors with the history leading up to and during World War II.  Each chapter includes primary source text and images exploring both the individual refugee experience and the universal World War II experience.  This text ends with a timeline, glossary, information section, and bibliography for further exploration.  THOUGHTS:  Although recommended for grades 3-6, this text could easily extend into middle school, especially for reluctant or struggling readers.  The text is large with lots of white space on the page.  Any schools reading The Diary of Anne Frank or Boy in the Striped Pajamas or a similar World War II or Holocaust book would benefit from this purchase.  Even if World War II research is not completed, students would gain great knowledge just by flipping through this text.
940.53; World War II; Holocaust      Erin Parkinson, Beaver Area MS-HS
Lassieur, Allison. Courageous Spies and International Intrigue of World War I. North Mankato, MN: Compass Point Books, 2017. 978-0-7565-5499-6. $25.49. 64pp. Gr. 4-8.
Courageous Spies and International Intrigue of World War I is the first title in a new series from Compass Point Books that focuses on spies during war times.  This text begins with the story of the Black Hand, a Serbian national group solely focused on bringing Bosnia back to Serbia.  The Black Hand's goal was to assassinate Archduke Franz Ferdinand, which, as history shows, was successful and ignited World War I.  Since most Black Hand members were teenagers, they were arrested, served prison sentences, and were later released.  Only those twenty and over were sentenced to death for their conspiracy and assassination crimes. This is just the first chapter of Courageous Spies and International Intrigue of World War I.  Later chapters explore the code breakers of Room 40, London (who cracked the Zimmerman telegram, the greatest code at the time, and then went back to normal lives at the end of WWI, but returned to Room 40 with the start of World War II); female spy, British nurse Edith Cavell; "Ace of Spies" Sidney Reilly, a Russian trying to overthrow Vladimir Lenin (Reilly was Ian Fleming's inspiration for James Bond); Mata Hari, a famous dancer who is believed to have been a German spy, double agent, both, or nothing at all, and La Dame Blanche, a network of Belgium spies working for the Allied forces.  In addition to the intriguing stories, primary sources are scattered throughout the text, with a timeline, glossary, resources, and bibliography at the end. Additional titles in this series include Fearless Spies and Daring Deeds of World War II; Deep-Cover Spies and Double-Crossers of the Cold War, and Cyber Spies and Secret Agents of Modern Times, all set to release later this year.  THOUGHTS:  This is an excellent purchase for middle schools.  The excitement of spies has great appeal, and why not include some of the most famous spies from history.  If nothing else, this is a fun, quick read, especially for reluctant readers and conspiracy theorists :-), and it'll help with Jeopardy answers!
World War I; Spies      Erin Parkinson, Beaver Area MS-HS