McGoran, Jon.  Spliced.  Holiday House, 2017.  978-0-8234-3855-6. 368 p.  $18.95.  Gr. 8 and up.
Jimi lives in Philadelphia, sometime in the future when the "zurbs" no longer have power and and much of North America has flooded.  Her next-door neighbor and best friend, Del, makes her miss the bus to school one day, so they walk to school.  On the way they witness a police officer becoming overly violent while he is apprehending some chimeras.  (Chimeras are humans who have voluntarily spliced their genes with animal genes.)  Jimi and her friend get involved in the melee which leads them on a path filled with danger and adventure.   Woven into the story are parallels to our political climate and current events, such as police brutality, hate groups, environmental warnings, as well as some cautionary tales about technological advances. McGoran stretches the dystopian genre and makes this well-worn genre seem fresh again with this book.  THOUGHTS:  Students who enjoy action-packed dystopian stories will enjoy this, but you could also hand this to someone concerned about the environment or hate groups.
Dystopian, Action/Adventure     Toni Vahlsing, Abington Friends School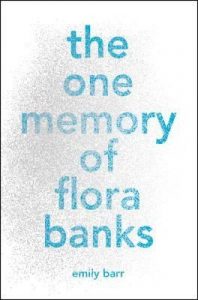 Barr, Emily. The One Memory of Flora Banks. Philomel, 2017. 978-0-399-54701-0. 290 p. $15.99. Gr. 9-12.
Seventeen-year-old Flora Banks suffers from anterograde amnesia. While she can remember events from her early childhood, she has been unable to create new memories since she was ten years old. This all changes, however, when she kisses Drake, her best friend's boyfriend. She remembers everything about their kiss. Thinking that perhaps Drake is the key to curing her condition, she sets off to find him in Svalbard, Norway, where he has gone to study abroad. Throughout her journey, Flora makes discoveries about herself, about her past, and about Drake that lead her to question everything she thought was real.  A touching story of bravery, self-discovery and independence, this book will speak to any teen who desires the freedom to make his/her own decisions which is pretty much every teen. THOUGHTS: At the heart of this book is a great amount of repetition: Flora must constantly read her notes to herself about who she is and what she has done in order to figure out why she is doing what she is doing. Her thoughts are often jumbled and bounce back and forth between memories of her childhood and reminders about who she is now.  Obviously, the purpose of this is for the reader to be able to relate to her condition, although this could potentially bore and/or confuse some readers.  In Flora's conversations with Drake, there are some sexual references which makes this book more appropriate for high school audiences. While there are not many young adult books on the market that deal with this particular type of amnesia, the 2004 movie 50 First Dates, starring Drew Barrymore and Adam Sandler, focuses on anterograde amnesia.  Therefore, this movie and Barr's book could possibly be paired for a unit on amnesia in a psychology course.
Realistic Fiction      Julie Ritter, Montoursville Area SD
Barr, Melissa. The One Memory of Flora Banks. Philomel Books, 2017.  978-039954710. 304p. $15.99.  Gr. 7 and up.
Flora Banks has been unable to form a new memory since she was ten years old.  Every day when she wakes up, and sometimes in the middle of the day, she doesn't know who or where she is.  Flora's coping mechanisms for this are impressive; notes to herself, writing on her arms, a notebook that re-explains her condition to herself.  It is fascinating to imagine what that would feel like, but this book is so much more that that.  The story becomes very complex, and the reader does not know what the truth is.  Which of the characters in the book are reliable?  THOUGHTS: This is a compelling read that fans who have outgrown Wonder and Out of My Mind will enjoy. Fans of e. Lockhart's We Were Liars will also enjoy this.
Realistic Fiction     Toni Vahlsing, Abington Friends School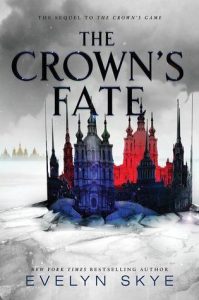 Skye, Evelyn. The Crown's Fate. Balzar + Bray, 2017. 978-0-06-242261-3. $17.99. 417 p. Gr. 8 and up.
In this sequel to The Crown's Game, Imperial Russia is teetering on the brink of chaos. Pasha must convince his countrymen he is the legitimate heir to the throne. Vika, the Imperial Enchanter after Nikolai sacrificed himself for her, pines for her former companion, resents Pasha for causing his death, and chafes under the authority of Yuliana, Pasha's sister. But Vika becomes aware that Nikolai is not fully dead but living in a land of shadows. As he becomes stronger and more corporeal, Nikolai also becomes more evil, exposing magic to the unsuspecting populace and challenging Pasha for the throne.  Can Vika save herself, let alone her dearest friends and the empire? THOUGHTS : A thoroughly satisfying sequel filled with magic, well-developed characters and a fascinating alternate history of Imperial Russia.  The ending leaves the possibility of further books.
Fantasy, Romance     Nancy Nadig, Penn Manor SD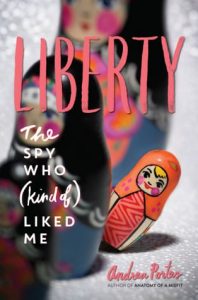 Portes, Andrea. Liberty. HarperTeen, 2017. 978-0-06-242199-9. $17.99. 388p. Gr. 9 and up.
Paige's parents have been missing for two years, and no one is telling Paige if they are dead or alive. Journalists, the pair was grabbed on their way to Damascus. Now Paige is in college, attempting to live in a state of suspended animation. But Paige, who speaks five languages and is an expert in several forms of martial arts, captures the attention of a super-secret government agency (after taking out two guys with AK-47s at the Altoona Applebee's restaurant), and they have a deal for her. If she helps them learn what information a government hacker currently stranded in Russia possesses, they will reopen her parents' case. Hard for a girl to say no, so off to Russia she goes, where she meets the mysterious Katerina and is befriended (a new experience for Paige) by the son of a Russian mob boss. THOUGHTS: The funniest book I have read in years, Liberty covers many headline issues – ISIS, Putin, Edward Snowden – with a scathing, snarky voice. Paige continuously addresses the reader, frequently advising her to google a particular topic, then come back to the book. Some readers may need to do that, to comprehend every nuance of the plot, but it is worth the time it takes. A totally delightful book, with implied sequels to come.
Mystery     Nancy Nadig, Penn Manor SD