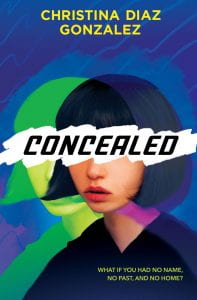 Gonzalez, Christina Diaz. Concealed. Scholastic, 2021. 320 pp. 978-1-338-64720-4 $17.99 Grades 5-8.
Katrina has been on the move with her parents for the past three years, and those three years are the extent of her memories. She cannot remember her early years or even her real name. Her amnesia after an accident convinced her parents of the danger and led them to flee. Her parents, who call themselves "B" and "L," have explained that it is better she doesn't remember, and their task now is to keep her safe. With the help of their contact, Agent X, her family has moved at least eleven times in the Witness Protection Program because Katrina's father angered some influential business partners. But since Katrina is pressing for more answers, her father makes a choice to get passports without Agent X's help, in an effort for more freedom to tell Katrina the truth.  Their latest location is fairly remote, and Katrina tentatively becomes friends with Parker, a foster kid with few personal connections but exceptional hacking skills. Soon, Katrina's father and mother are captured separately, and Parker willingly accompanies Katrina to the safe house in Atlanta. And all the facts that don't add up really begin to topple down. At the safe house, Agent X whisks them to Miami (en route to safety?) as Katrina and Parker doubt him and her parents. The surprising truth comes out as X retrieves Katrina's father, everyone is in grave danger, and everyone is saved.
THOUGHTS: While not predictable, the surprises are life-changing and resolved too easily, resulting in a lost opportunity to examine major themes of genetic engineering, twins, memory loss, trauma, and the effects of secrecy and lies. Supplemental purchase.
Realistic Fiction            Melissa Scott, Shenango Area SD