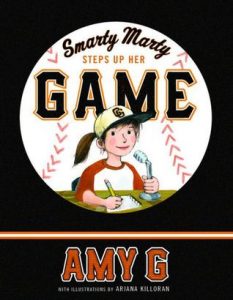 Gutierrez, Amy. Smarty Marty Steps up Her Game. Cameron Kids, 2017. 978-1944903084. $13.95. Gr. 2-4.
Marty, who loves baseball, is the score-keeper for her younger brother's little-league team. Having taught him all she knows (which is more than most grown-ups) about her favorite sport, Marty is there to cheer him on! At one game the announcer doesn't show up, and Marty has the chance to make her announcing dream come true. Some people don't like the fact that a girl is announcing the game.  What will Marty do?  THOUGHTS: This book is written by The San Francisco Giants in-game reporter Amy Gutierrez. The author knows what she's talking about both in terms of baseball lingo, and what it's like to be a woman expert in a male-dominated sport.
Sports              Emily Woodward, The Baldwin School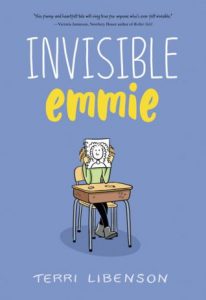 Libenson, Terri. Invisible Emmie. Harper Collins, 2017. 978-0-06-248494-9. 185 p. $22.99. Gr. 4-8.
Thirteen-year-old Emmie used to be quite the chatterbox, but lately she's been pretty quiet. The only person Emmie feels she can talk to is her best friend, Brianna. But since middle school started, Emmie and Brianna aren't in many of the same classes, so Emmie just keeps to herself, spending as much time as she can drawing in her journal. Emmie wishes she could pluck up the courage to talk more, especially to her crush, Tyler Ross. One day Emmie and Brianna are joking around and writing love poems to their crushes, and in a rush to get to next period, Emmie drops hers on the ground. The poem is picked up by the class bully/clown, and soon everyone in school knows that Emmie wrote a love poem about Tyler! To make matters worse, Brianna is frustrated that Emmie would be so careless with their top-secret notes. Emmie begins to feel like a puddle of slime, and finds that the only way to move forward is to speak up for herself. THOUGHTS: Invisible Emmie is a cute and funny story that upper elementary and lower middle school grades will enjoy. Libenson mixes images and text in a unique novel that will appeal to graphic novel fans, but delight parents or teachers who are looking for more text heavy titles.
Realistic Fiction    Vicki Schwoebel, Friends' Central School
Horvath, Polly. The Night Garden. Farrar Straus Giroux Books for Young Readers, 2017. 978-0-374-30452-2. $16.99. 292 pp. Gr. 3-6.
Franny is a twelve-year-old aspiring writer who lives with her two independent, adopted parents. Life is in balance on their large shorefront property filled with many old gardens, even though WWII is at their doorstep. However, that balance is disturbed when Crying Alice drops off her three kids and leaves to stop Fixing Bob from making a huge mistake. Soon, each character is facing some dilemmas, and the unusual option to have a wish come true through the magical powers of the night garden.  THOUGHTS: Horvath will have young readers laughing and delighted while moved and wondering the true question, "What is a wish worth?"
Historical Fantasy     Dustin Brackbill, State College Area SD
Clements, Andrew.  The Losers Club. Random House, 2017. 978-0-399-55755-2. $16.99.  230 p. Gr. 4-7.
Alec loves to read. All the time. Even during class, when he should be paying attention to the teacher. So when the principal threatens Alec with summer school if he doesn't stop reading during class, he is in a panic. Suddenly, having to attend the after-school program seems like a boon: three hours of uninterrupted reading time. Only, Alec learns he is required to join an established activity, like the programming club or, worse, kickball, dominated by his arch-nemesis, Kent.  Undaunted, Alec petitions to form his own club, the perfect front to sit by himself and read. When he convinces a fellow bookworm to sign on, the Losers Club is formed – the name designed to keep others from joining. However, students slowly migrate to the club, kindred spirits who would rather read than be bullied by Kent. But now Alec finds he spends more time managing the club than reading!  THOUGHTS:  Another delightful Clements offering, an ode to books and reading. Bibliophiles will enjoy finding all the titles mentioned in the book, and many quiet students are sure to identify with Alec.
Realistic Fiction     Nancy Nadig, Penn Manor SD