Blake, Ashley Herring. Girl Made of Stars. HMH Books for Young Readers, 2018. 978-1-328-77823-9. 304 p. $17.99. Gr. 9 and up.
Though they each have their own lives, twins Mara and Owen have always been close. Never having any reason to doubt each other, their happy family is shattered when Hannah, Owen's girlfriend and one of Mara's best friends, accuses Owen of rape. Being close with both, Mara is torn. While she wants nothing more than to believe her twin, Mara has a nagging feeling that Hannah would never lie about something like this. While their parents support and defend "golden boy" Owen (clearly Hannah must be exaggerating), Mara grapples with her unique position.
Meanwhile, Mara has been dealing with her own breakup with Charlie – her best friend turned girlfriend – and feels lost without her two voices of reason. She can't even find solace in the feminist magazine she founded at school, since she's "too close" to the issue of consent they're now discussing. Mara has buried demons of her own that she must face in order to move forward.
THOUGHTS: Girl Made of Stars packs a powerful punch and will grab readers from the onset, forcing them to think about a variety of issues including consent. Charlie's status as genderqueer, not yet out to her parents, is also discussed in regards to her relationship with Mara. Readers of Speak by Laurie Halse Anderson and The Way I Used to Be by Amber Smith will appreciate how Ashley Herring Blake emphasizes the lasting impact of sexual assault. This is an essential addition for high school/young adult collections where realistic, intense, character driven books are popular.
Realistic Fiction          Maryalice Bond, South Middleton SD
---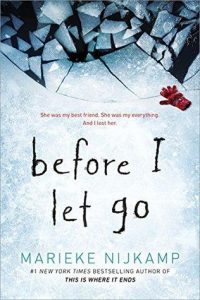 Nijkamp, Marieke. Before I Let Go. Sourcebooks Fire, 2018. 978-1-492-64228-2. 368 p. $17.15. Gr. 10 and up.
Returning to Lost Creek, Alaska for her best friend's funeral after moving away several months ago, Corey is devastated. She never found the words to tell Kyra that there was a great big world outside of Lost, and now she'll never have the opportunity. Guilt-ridden over never responding to Kyra's letters, Corey doesn't know what to expect in Lost.
Lost isn't what she remembers, and neither are the people that live there. The town that she once loved and that loved her seems like it's hiding something. Determined to uncover the truth about Kyra's death, Corey sets out on her own. Desperate to find answers before her return to Winnipeg and terrified for her safety, Corey races against the clock before her flight departs. Told in present tense, letters sent and unsent, and flashback narratives written in play format, Corey's and Kyra's stories unfold as Lost fights to keep its secrets.
THOUGHTS: The remote Alaskan wilderness amps up the creepy factor in this mystery. Through the emphasis on Kyra's storytelling, readers will be compelled to learn what actually happened to her, but they may not feel fully invested in the novel, as the characters lack depth. Though identity and mental health issues are addressed, they are not at the center of the story. Before I Let Go is a good read for mystery fans and those interested in exploring the ways mental illness affects one's life and experiences.
Realistic Fiction          Maryalice Bond, South Middleton SD
---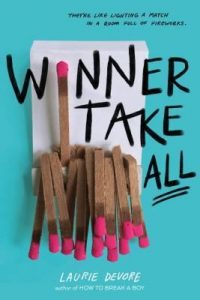 Devore, Laurie. Winner Take All. Imprint, 2018. 978-1-250-08288-6. 336 p. $17.99. Gr. 10 and up.
Nell is determined to be the best. Being a scholarship student, she's always felt like she has something to prove. She is at the top of her school, the top of her volleyball game, and she's going to be one of few "top girls" in her long standing, male dominated prep school.
Jackson Hart epitomizes everything Nell hates. He's wealthy, has the teachers wrapped around his finger, and gets everything he wants, especially a rise out of annoying Nell. No matter how much he bothers her, Jackson Hart will not stand in Nell's way.
Bitter rivalry brings them together, and Nell and Jackson's relationship is toxic in everyone else's eyes. Can two opposites make it work, or will winning be everything?
THOUGHTS: Taking on societal stereotypes about male vs. female treatment, Devore gives readers two very unlikable characters. At times, though, readers will feel sorry for both Nell and Jackson. They will be compelled to read through the mess that becomes their lives and desperate to see if their situation resolves without catastrophic disaster. Mature relationships, underage drinking, and drug use make this suitable for older readers.
Realistic Fiction          Maryalice Bond, South Middleton SD
---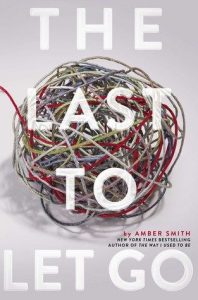 Smith, Amber. The Last to Let Go. Margaret K. McElderry Books, 2018. 978-1-481-48073-4. 384 p. $17.99. Gr. 10 and up.
Brooke does not live the idyllic life she portrays on the outside. At home, her family has been plagued by an abusive husband/father. Brooke's older brother Aaron couldn't take it and moved out. While Brooke does her best to shield her younger sister Callie, she's also planning her own way out by transferring schools. Brooke doesn't count on her mom being on trial for killing Brooke's father. Of course it was self defense, right?
Brooke's plan to transfer schools gives her the opportunity to take more advanced placement classes, thus getting a jump start on college. On the outside Brooke seems to have figured things out, but on the inside her shell is cracking, and Brooke isn't holding things together as well as she used to. As Brooke struggles to keep her siblings and life together, her demanding course schedule is catching up with her, and Brooke can only keep her secrets for so long.
THOUGHTS: Right from the beginning, readers know that Brooke's dad is dead, and her mom is responsible. Readers will root for Brooke as she bravely navigates this year without her parents, experiences her first love, and struggles to hold everything together. A must read for those who like intense, character-driven novels.
Realistic Fiction          Maryalice Bond, South Middleton SD
---
Purcell, Kim. This Is Not a Love Letter. Disney-Hyperion, 2018. 978-1-484-79834-8. 368 p. $17.99. Gr. 10 and up.
All Jesse wanted was a one week break to figure out where her life is going. Chris is pressuring her to follow him and his ticket out with a baseball full-scholarship, but Jesse knows Chris is too good for her. After all, it's why they've been fighting so much recently.
After Chris goes missing while out for a run, Jesse desperately tries to prove something is amiss. Being one of the only black kids in their prejudice-filled small town, Jesse fears someone was out to get Chris. When she makes these claims publicly, Jesse becomes a target herself. The police seem to think Chris ran away or worse, but Jesse knows Chris, and knows that's not possible.
While the search seems to give few clues, Jesse faces many of her own demons and her guilt over how she treated Chris. His love for her was always obvious through the weekly notes he wrote and his small gestures, but maybe Chris doesn't know how much Jesse loves him. Determined to tell him, Jesse writes Chris letters, updating him on what he's been missing, and begging for her love to be enough to bring him home safely.
THOUGHTS: This love story/mystery dragged a bit in the middle, but readers who stick with it will be rewarded with the truth about Chris and Jesse's love story. Things aren't always as they seem, and Jesse didn't know everything she thought she did about Chris. Family dynamics, personal/relationship insecurities, and mature teen relationships are all issues approached in this novel.
Realistic Fiction          Maryalice Bond, South Middleton SD