Garber, Stephanie. Legendary. New York: Flatiron, 2018. 978-1-2500-9531-2. 464 p. $18.99. Gr. 7-12.
Welcome, welcome to Caraval, the grandest show by land or by sea… Sisters Tella and Scarlett barely survived the last Caraval, an extravagant, surreal show that blurred the lines between fantasy and reality. After Tella plunged to her death, Scarlett used her winning wish to bring her back to life. And the two should live happily ever after, free of their abusive father and Scarlett's disastrous arranged marriage. But Tella's initial deal with Caraval's mysterious Master Legend comes with a few strings attached, and she ended up making a seemingly impossible deal with a criminal in order to find the whereabouts of her missing mother. Tella is given the five nights of the next Caraval to discover Legend's real name, and if she doesn't, she could lose everything – and everyone – she loves. Before Caraval, Tella is warned that this time, the game is real, and with death courting her once more, she soon finds herself falling deeply into a twisted game, and maybe even deeply into love.
THOUGHTS: An excellent follow-up to last year's Caraval, this series is a unique blend of mystery, fantasy and folklore. Recommend this series to readers too young for The Night Circus or Water for Elephants.
Fantasy          Vicki Schwoebel, Friends' Central School
---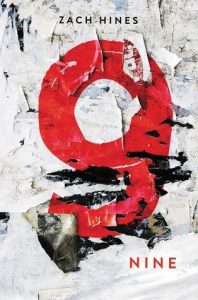 Hines, Zach. Nine. HarperTeen, 2018. 978-0-062-56726-0. 352 p. $17.99. Gr. 9 and up.
Enter a futuristic world that is eerily similar to our own except for one major difference – humans have nine lives. As they burn through their lives on a government sanctioned schedule, humans are reborn into new bodies with physical and mental upgrades. Burning through lives too quickly, though, can cause rebirth sickness (most similar to dementia). After seeing his own mother become unrecognizable with rebirth sickness, Julian is not interested in burning; in fact, he's one of the oldest ones in his school. With pressures from his peers and a desire to help his family, Julian joins the Burners, the schools secret suicide club that makes a mockery of burning through lives in an ostentatious manner. Not all is as it seems, though, and as Julian advances through lives, he begins to question the society in which he lives, determined to protect his family and find answers about what happened to his mom.
THOUGHTS: This standalone will be great for fans of dystopians, looking at a unique new approach. Trigger warning: Group suicide is explicitly described (and encouraged) throughout this book. Specific, often graphic, and attention-getting methods are used, making this a mature high school read.
Dystopian          Maryalice Bond, South Middleton SD
---
Altebrando, Tara. The Opposite of Here. Bloomsbury YA, 2018. 978-1-681-19706-7. 256 p. $17.99. Gr. 9 and up.
After losing her boyfriend to a tragic accident, Natalie's parents take her and her three best friends on a "sail-a-bration" cruise to distract her and help her move on. Not feeling the party vibe, Natalie takes a break on deck and meets someone, but she doesn't catch his name before losing track of him. When rumors about someone going overboard surface, Natalie worries she knows who it was. Caught up in her feelings and what happened to the mystery guy, Natalie can't enjoy herself until she knows the truth.
THOUGHTS: Readers will want to know the outcome and find out who Natalie's mystery guy is and if he's okay. The premise of the "sail-a-bration" cruise and the lack of transparency with the passengers seems far-fetched. An additional purchase where mysteries are popular.
Realistic Fiction          Maryalice Bond, South Middleton SD
---
Kiely, Brendan. Tradition. Margaret K. McElderry Books, 2018. 978-1-481-48034-5. 352 p. $18.99. Gr. 9 and up.
Fed up with Fullbrook Academy, legacy student Jules just wants to finish her senior year and move on from her ex and her ex friends. Transfer student Jamie doesn't feel like he belongs right from the start. A fresh chance to play ice hockey where nobody knows his past is the break his family has been waiting for.
Through a mutual distaste for Fullbrook's traditions and a shared desire to stay somewhat under the radar, Jules and Jamie become friends. Living with the pressure to perform in an intense academic environment isn't always easy. When school traditions hit close to home, Jules and Jamie have to decide where they stand and in what they believe.
THOUGHTS: With unique perspectives on double standards in our society (and how they're encouraged at a young age), Kiely challenges traditions, whether at a private prep school or in society in general. Having read several prep school and assault books recently, Tradition is a powerful addition with strong characters – both male and female – who take a stand. Casual sex, assault, drinking, and drug use make this suitable for mature readers.
Realistic Fiction          Maryalice Bond, South Middleton SD
---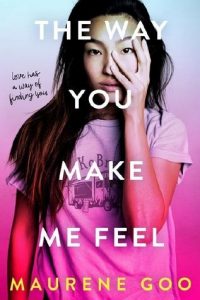 Goo, Maurene. The Way You Make Me Feel. Farrar, Straus and Giroux Books, 2018. 978-0-374-30408-9. 352 p. $17.99. Gr. 9 and up.
With a young father who feels very chill and never follows through on punishments, Clara is known for pulling off epic pranks. When one goes too far and Adrian is called into the principal's office with other parents, he's ready to lay down the law. Instead of roaming free for the summer, Clara will spend it working on the KoBra, Adrian's food truck. To make matters worse, Clara's arch nemesis Rose will be joining her. If things don't go well, Clara can kiss her end of summer trip to visit her mom in Tulum, Mexico goodbye.
Forced to work together in a confined space, Clara begins to see that Rose might not be so bad. Does being friendly with Rose mean she can't be friends with Felix and Patrick, and what about the coffee cart guy Hamlet? He's not Clara's type – at all!
THOUGHTS: Readers will be hungry for LA's food truck cuisine after devouring this one. The Way You Make Me Feel is a fun and lighthearted summer read about growing up and features a great father-daughter relationship. With older characters and references to prom, it will be a hit in high schools, but it could be appropriate for younger readers too.
Realistic Fiction          Maryalice Bond, South Middleton SD