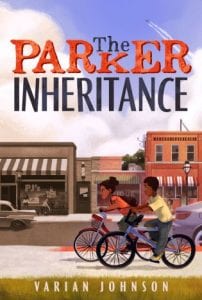 Johnson, Varian. The Parker Inheritance.  Arthur A. Levine Books, 2018. 978-0-545-94617-9.  352 p.  $16.99  Gr. 5-8.
When Candice's parents divorce, she has to leave Atlanta to spend what she assumes will be a boring and lonely summer in her mother's tiny hometown of Lambert, South Carolina. Instead, Candice meets Brandon, a bookish boy who lives across the street, and the two are soon caught up in a Westing Game-inspired puzzle that's launched by a letter Candice finds in her grandmother's attic. The mystery leads the preteens, who are both African-American, deep into the history of Lambert's racially segregated past.  As they uncover clues, the point of view shifts back and forth from the present to the past, following the story of another African-American Lambert family, the Washingtons. In addition to trying to solve the puzzle, Candice struggles with her family's changing dynamics, and Brandon deals with bullying issues stemming from his unwillingness to conform to traditional models of male behavior.  
THOUGHTS:  The Parker Inheritance is a well-written and entertaining mystery that includes a lot of historical background. Johnson shines a light on racism, enabling readers to see for themselves that while great strides have been made, the battle for social justice is far from over. LGBTQ issues are also woven naturally into the story in a completely age-appropriate way.     
Mystery          Maggie Bokelman, Cumberland Valley SD
Candice isn't happy about spending the summer away from Atlanta and her father. The family home is a victim of her parents' divorce, and Candice and her mom are temporarily living in the home of her deceased grandmother. When she meets Brandon, a fellow bookworm living across the street, things start looking up. Going through a box of books her grandmother left her, Candace finds a letter outlining a mysterious fortune left to the town, in memory of an African American family forced to leave, if anyone can find it. Candace knows her grandmother ruined her reputation in the town trying to find the money, so she and Brandon set out to right the wrong, and find the money. A mystery worthy of The Westing Game, a book integral to the plot, The Parker Inheritance covers a variety of issues along the way, from discrimination to bullying to homosexuality, with age-appropriate sensitivity and without ever becoming so didactic as to spoil the story. This book will leave readers ready to research the history as well as pick up the many books mentioned. (Any readers who love The Dark is Rising and The Westing Game are friends of mine!).
THOUGHTS: This book is a must purchase.It excels as a mystery, let alone as an eye-opener to shameful discrimination past and present.  
Realistic Fiction/Mystery          Nancy Nadig, Penn Manor SD
---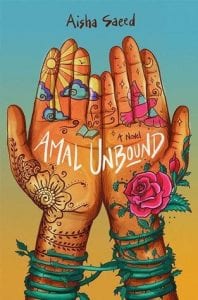 Saeed, Aisha. Amal Unbound. Nancy Paulsen Books, 2018. 978-0-399-54468-2. 226 p. $17.99. Gr. 5-8.
Amal, a young Pakistani girl, is one of the top students in her village school and dreams of going to college and becoming a teacher.  Her confidence and dreams begin to shatter when her mother falls into a deep depression after giving birth to the family's fifth daughter.  Amal learns for the first time how deeply entrenched gender roles are etched into the fabric of her local culture when she finds out she must leave school and take over as her family's primary caretaker.  Then, an even more devastating turn of events leads to Amal being forced to leave home and become an indentured servant of the village's feudal landlord. Amal, stuck in a system that could potentially keep her–and others like her– trapped for life, is willing to risk everything for freedom and justice. The ending is upbeat and highly satisfying.  
THOUGHTS:  This story shines a light on the gender discrimination, antiquated feudal systems, and horrific indentured servitude practices that still exist around the globe (including in dark corners of the United States). The novel is well written, and the pacing is perfect. Amal is a likeable and relatable protagonist who young readers will root for all the way to the end as she fights to return to her family, attend school, and follow her dreams. A highly recommended title for middle schools.
Realistic Fiction          Maggie Bokelman, Cumberland Valley SD
---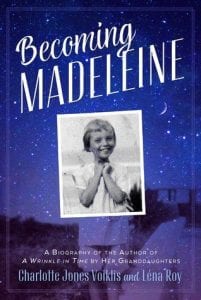 Voiklis, Charlotte Jones, and Lena Roy. Becoming Madeleine: A Biography of the Author of A Wrinkle in Time by Her Grandaughters. Farrar, 2018. 978-0-374-30764-6. 176 p. $19.99. Gr. 5-9.
This biography of the author of one of the most celebrated works of children's literature of the 20th century begins with the story of L'Engle's parents and ends just after the publication of A Wrinkle in Time. The portrait the authors paint of their famous grandmother is intimate and detailed, and includes extensive selections from the journals L'Engle kept as an adolescent and young adult. As the title suggests, L'Engle is portrayed as always striving, always changing, and always eager to learn and grow. However, the authors do not glorify or glamorize.  For instance, the authors explain that some family members–including their own mother–were hurt by the way L'Engle fictionalized their real-life experiences without giving any thought to how this might make them feel. Photographs are also included.
THOUGHTS:  L'Engle's own words are what really make this biography special, and the authors do an excellent job weaving them smoothly into the text.  Highly recommended for middle school biography collections, and a possible purchase for elementary and high schools as well.
Biography          Maggie Bokelman, Cumberland Valley
---
Rhodes, Jewell Parker. Ghost Boys. Little, Brown, 2018. 978-0-316-26228-6. 214 p. $16.99. Gr. 4-8.
In this stunning novel by Rhodes (Towers Falling), 12-year-old Jerome Rogers is killed by a police officer who mistakes his toy gun for the real thing. The story takes readers through two timelines:  Jerome's life before his death, and after. The "before" story reads like a well-written school story, in which Jerome, a quiet, studious, boy, is bullied, yet dares to reach out and make a friend who is even more of an outsider than he is.  The tension mounts, however, as the reader already knows that the story has an ending that is beyond dreadful. In the "after" story, Jerome is a ghost. At first he is alone, trapped in his family's apartment but unable to comfort them as they grieve.  However, at the trial of the white policeman who shot him, he discovers that his murderer's daughter, Sarah, can see and hear him. Sarah gets to know Jerome and starts to gain a new perspective about race and privilege, and begins questioning her father's side of the story.  Meanwhile, Jerome meets the ghost of Emmett Till and learns his horrific story. Emmett introduces Jerome to an entire army of ghosts of black boys who have met violent ends, all seeking justice and peace.
THOUGHTS: This book is perfect for kids who aren't quite ready for The Hate U Give or Dear Martin. It pulls no punches, but its main characters as well as its intended audience are slightly younger, and the issues, questions, and fears it addresses are just right for late elementary and middle school students.  Very highly recommended.
Realistic Fiction ("Before" section)          Maggie Bokelman, Cumberland Valley SD
Fantasy Fiction ("After" section)                       
---
Reynolds, Jason. Sunny. Atheneum Books for Young Readers, 2018. 159 p. 978-1-481-45021-8.  $16.99. Grades 5-8.
Sunny is a winner on the track.  But he feels like a murderer–of his mother, who died after giving birth to Sunny. His father (not Dad, but Darryl) makes Sunny run because his mother ran–and won. And Sunny runs so fast, he always wins his races. But it's becoming a heavy burden. He loves being part of the Defenders track team, which includes newbies Ghost (Ghost, 2016), Patty (Patina, 2017) and Lu (Lu, forthcoming 2018). So what's the problem? Sunny dislikes running. Even when he wins, he'd rather be dancing (something else his mother loved). His dad does not understand, but his homeschool teacher, Aurelia, does; they dance together for local hospital patients. When the pressure builds, Sunny quits mid-race. His coach brilliantly finds a new fit: Sunny can utilize his dance skill as the team's first discus thrower. But what will be the fallout at home? Sunny writes his thoughts to "Dear Diary," not a journal, not a notebook, and his vocabulary blooms in onomatopoeic words and phrases that help readers to feel the pulsing rhythms in his mind. Tickboom, whoosh, "happy to me feels like tweep, tweep, beedy bip bop booyow. That's happy" (57). Sunny is going (new) places, and readers will enjoy getting to know him.
THOUGHTS: The novel is third in the very successful Track series; each of the novels can be read alone.   
Realistic Fiction          Melissa Scott, Shenango Area SD
---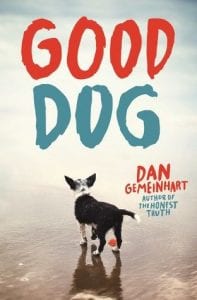 Gemeinhart, Dan. Good Dog. Scholastic, 2018. 290 p. 978-1-338-05388-3. $16.99. Grades 5-8.
Brodie was a good dog. And now he's in dog heaven. Memories of earthly life take a while to re-form, and while Brodie loves this new place of dogs, energy, running, and peace, something is bothering him. He quickly comes to realize that his boy, Aiden, is in trouble, and Brodie has to help him. The Monster (Aiden's dad)–the shouter, the hitter, the drinker, the kicker (144)–is still determined to hurt Aiden. The other dogs say returning to earth can't be done ("you're done with the world, and it's done with you")–but they take him to Tuck, the oldest dog there, who says that while it can be done, it never ends well for boy or dog. But Brodie is a good dog. And Brodie is determined. And when he goes, Tuck accompanies him, for Tuck, also, has something left undone. When they arrive, Brodie and Tuck are quickly tracked by hellhounds (bad dogs desperate for any bit of soul of a dog, and Brodie and Tuck are literally shining examples, glowing with new soul). They also attract a street-smart, sarcastic cat named Patsy, who teaches them only some things they need to learn. Brodie knows his time is limited, and the suspense rings true as he tries to find Aiden and determine how to help, while still outrunning the hellhounds and continuing to be a good dog.
THOUGHTS: A fantastic fantasy tale with a strong focus on heroism, devotion, sacrifice, and forgiveness. Can a good dog make a difference? The answer is a resounding yes. Are angels real? You decide. Gemeinhart does a fine job exposing the good and the bad in many of the animal psyches (Brodie, Tuck, Patsy, Darkly), but misses a chance at showing the same in the human characters, who are all good or all bad. Brodie is the kind of friend every kid wants by his or her side. Share with readers who love fantasy, or dogs, or a good cry. The violence and threat of violence is strong, so recommend to older readers who are ready to handle it.
Realistic Fiction          Melissa Scott, Shenango Area SD
---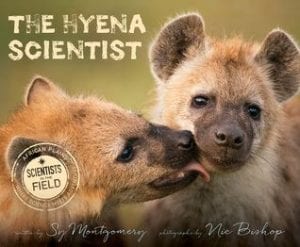 Montgomery, Sy. The Hyena Scientist. Photography by Nic Bishop. Houghton Mifflin Harcourt, 2018. 72 p.  978-0-544-63511-1. $18.99. Grades 5-8.
Hyenas have a bad reputation.  Throughout history, they've been regarded as the dirty, ugly and mean (1).  But Zoologist Kay Halekamp has worked for over three decades in Kenya's Masai Mara wildlife reserve, and she sees so much more to these mammals.  They're not hateful scavengers, but rather skilled hunters. They are extremely smart, social, clean and, unlike most of the mammal world, the females rule over all.  Females are more aggressive, and Kay and her team have tracked and named different behaviors which show detailed attention to hierarchy in the hyena clans. So many questions arise from observing these creatures, but they also inspire awe.  In fact, Kay sees even their skulls as an amazing "swiss army knife," useful for breaking open bones and eating really fast–to avoid the ever-present lions, who steal more of the hyenas' kills than vice versa.
THOUGHTS: Montgomery specializes in making scientists' work and living creatures' habits truly inspirational, and she does not disappoint here.  She shares not just Kay's background, but also the brief stories of current members of her team: assistant and data manager Dee White; UC Davis grad Ciara; Michigan-born and Australia-bound Jared; and young Californian Amy, who tried for years to earn a position in Kay's hyena program. The inclusion of their stories shows the variety of involvement a person can have as a scientist.  Many well-captioned photographs by Nic Bishop fill the pages, and each page gives a new reason for interest in these animals. This is a fantastic addition to middle school library shelves and to the Scientists in the Field series.
599 Mammals          Melissa Scott, Shenango Area SD
---
Chapman, Fern Schumer. Three Stars in the Night Sky: A Refugee Family's Separation and Reunion. Gussie Rose Press, 2018. 48 p. 978-0-996-47254-8. $18.95. Grades 5-8.

Chapman's earlier titles have focused on the Holocaust and her own mother's story in surviving it. This book turns to Gerda Katz, a Jewish girl that her mother met and became friends with as they fled persecution alone, apart from their families. Helen and Gerda lost touch, but after reading Chapman's novel of her mother, Is It Night or Day?, an eighth-grade class made it their mission to reunite these friends. Chapman details that reunion in Like Finding My Twin, and now tells Gerda's story in her latest book. Gerda's family (parents, two brothers, a sister) saw the dangers of the Nazi regime and, after her brothers spent time in a concentration camp (one was killed), her brother Fritz made it his mission to save his family. His efforts secured twelve-year-old Gerda emigration to the United States, specifically, Seattle, where she would remain for the duration of the war, horribly homesick and worried for the fate of her family. They wrote weekly letters, then the letters stopped. For five long weeks, Gerda waited. Then a letter came from Fritz explaining that he, their sister and parents were part of the 100,000 Jews granted asylum in the Dominican Republic. Their lives were saved, but their way of life was gone, lost in a hot, agrarian culture whose dictator desired the Jews solely for lightening the skin color of his countrymen. Gerda's story is well-explained with maps and plenty of primary source materials.
THOUGHTS: At 48 pages, this unintimidating title will attract readers. It is worth reading to marvel at Gerda's brother Fritz, of whom Gerda says, "I don't know any other man like him. We'd be dead if it weren't for Fritz (33). This is a good look at the strength of immigrants.
940.53 WWII Holocaust          Melissa Scott, Shenango Area SD
---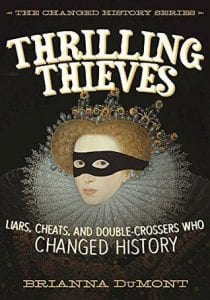 DuMont, Brianna. Thrilling Thieves: Liars, Cheats, and Cons Who Changed History. (The Changed History Series) Sky Pony Press, 2018. 177 p. 978-1-510-70169-4. $16.99. Grades 5-12.
DuMont chronologically focuses on big-time thieves in her third book in the Changed History series.  She begins with the Venetians, who famously stole Constantinople's bronze horses (they were later stolen from Venice, then re-stolen by the Venetians, who kept a better hold on them the second time) and many further treasures to make themselves a world-class city.  Moving through time, she focuses on Elizabeth I, whose thievery through Sir Francis Drake on the high seas helped to build foundering England into a mighty naval power–and also doomed many into slavery. Robert Smalls appears as a thief of a ship used to earn himself and other slaves their freedom.  Madame Cheng proved women could handle a pirate ship–and some 70,000 men under her rule on the high seas–and inspire fear in all nations (all in about three years). Each entry is written in engaging tones easy for a middle schooler to read (and often humorous). In fact, the writing hurts itself by not sounding more research-oriented; but DuMont includes her sources and additional reading.
THOUGHTS: A strong nonfiction choice that should attract attention to the other titles in the series, including Famous Phonies: Legends, Fakes and Frauds Who Changed History (2014) and Fantastic Fugitives: Criminals, Cutthroats, and Rebels Who Changed History (While on the Run!) (2016).   
920 Collective Biography          Melissa Scott, Shenango Area SD
---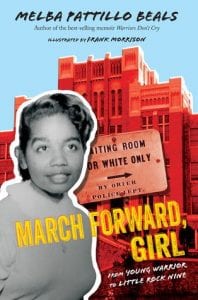 Beals, Melba Pattillo. March Forward, Girl: From Young Warrior to Little Rock Nine. Houghton Mifflin Harcourt, 2018. 214 p. 978-1-328-88212-7. $16.99. Grades 5-12.
In Warriors Don't Cry (1995), Melba Pattillo Beals has written movingly about her difficult and life-changing experience as a 15-year-old teenager, one of the nine African-American teenagers chosen to integrate the all-white Little Rock High School in 1957.  In this book, she details her growing up years until the year she attended Little Rock High School, and shows readers a picture of a precocious girl understanding far more than she was given credit for, and constantly questioning why treatment of African-Americans was so unfair, where did the rules come from (were they in a rule book issued from heaven?) and why didn't God put an end to it now?  If we're all supposed to share, why don't the white people share anything?  Melba was also prone to anxiety, especially as she overheard stories of the Ku Klux Klan in her neighborhood, or worse yet, witnessed them herself (as she did at age five, when four Klansmen entered their church and hanged a man from the rafters); she felt safe only in her home and church, and after the hanging, only at home.  Her own abduction and escape, at age 11, by Klansmen, is appropriately frightening without detailing the sexual threat which she herself did not understand at the time. She knew that "unless things changed a lot–unless we had a big, big Little Rock miracle, I had to get out of that city if I ever wanted to be somebody and be free" (147).   Her grandmother (whom she calls her best friend, and who homeschooled Melba through asthma episodes) exhibited a strong Christian faith when she counseled Melba with her questions, and Melba relied on that faith to make it through her questions and her amazing experience in fighting segregation. From her grandmother she learned strength and faith: "There is no crying, no whining, no complaining.  There is just march forward, girl. You have to make sure that you are contributing to our journey forward, not sitting on the side of the road whimpering" (155).
THOUGHTS: This is a powerful depiction of Southern life under Jim Crow, from an insightful young girl who lived it. Melba has simultaneously published an adult version of this title, entitled I Will Not Fear (2018).  Any of her works is worth putting into the hands of students; this title is well-suited for middle schoolers.
Biography         Melissa Scott, Shenango Area SD
Readers are taken back to the 1940s and 1950s when the author grew up in Little Rock, Arkansas. There are primary photographs and detailed artwork to support the text throughout the twenty chapters. Joys include family moments, gardening, listening to music, and attending Bethel African Methodist Episcopal Church. Unfortunately, when Beals was five the Ku Klux Klan (KKK) ruined their safe location and placed Mr. Harvey, a church member and their friend, around a rope to die a painful death. Events like grocery shopping were difficult because Beals and her family were not treated with kindness simply due to the color of their skin. Beals did not understand all of the "whites only" signs and yearned to be treated equally. Another terrifying time was when Beals was walking home from Gilliam Park at eleven years old and was picked up by Klansmen, forced to ride in the back of their truck, then go to a party with at least 50 Klansmen, where one wanted her for his "dessert." While Beals wants the best schooling, the results of Brown v. Board of Education in 1954 helped to put this in motion. The epilogue provides an insight to when Beals was one of the nine students who were part of the integration at Central High School in 1957. The book concludes with a note to the readers and acknowledgments.
THOUGHTS: Chances are that your faculty and staff will remember the powerful memoir Warriors Don't Cry. March Forward, Girl introduces younger students to the experiences and time period when Melba Pattillo Beals was a child. This book is a necessity for our students and library collections.
Biography          Beth McGuire, Hempfield Area SD
---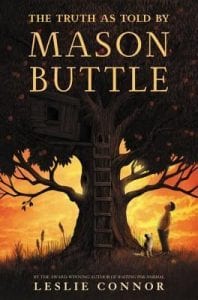 Connor, Leslie. The Truth as Told By Mason Buttle. Katherine Tegen Books, 2018. 328 p. 978-0-062-49143-5. $16.99. Grades 5-8.
Twelve-year-old seventh grader Mason Buttle stands out in his school–for his severe dyslexia, his overactive sweat glands, and his large size and height. These trouble him, but his internal struggles trouble him more. Since his mother died in a car accident, Mason lives in "the crumbledown" house with his grandmother and uncle Drum on their family's disused apple grove, parts of which his uncle has sold to developers. Both grandma and Uncle Drum have loads of experience and common sense which have been flattened by depression in the face of loss. School provides endless bullying, especially from neighbor Matt Drinker and friends, who daily pelt Mason with lacrosse balls and/or mushy apples. And, fifteen months ago, his best friend Benny Kilmartin died when he fell from the treehouse he and Mason enjoyed so much. Lieutenant Baird "of the Pee Dee," continues to question Mason about the accident, certain that Mason (who is as honest and loyal as the day is long) isn't telling the complete story. With the help of school social worker Mrs. Blinny and her speech-to-write software, Mason is slowly writing more for the Lieutenant. Mason makes a new friend in a completely opposite kind of boy, the tiny, curious, indoor-loving Calvin Chumsky (another bully target). The two create a new, secret hideout from the Buttle's abandoned root cellar, decorating it to resemble the caves of Lascaux complete with wall paintings. Then Calvin goes missing, and Mason is again suspected. More than anything, he wants to know what happened to Benny and to Calvin. How the positive parts of his life overcome the darkness is the subject of this insightful book, where friends and family do make all the difference.
THOUGHTS: Connor expertly crafts a unique menagerie of characters who impact Mason's life and finally pull together in the aftermath of tragedy. Despite the heaviness of Mason's reality, this is ultimately an uplifting tale of how truth and loyalty win the day.
Realistic Fiction          Melissa Scott, Shenango Area SD