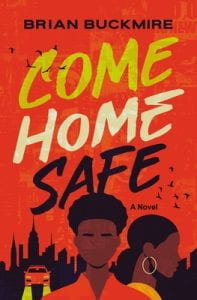 Buckmire, Brian. Come Home Safe. Blink YA Books, 2023. 978-0-310-14218-8. 224 p. $17.99. Grades 7-12. 
Reed and Olive are brother and sister, and they've heard from their father, a public defender, all about the reality of police interactions with people of color in their city. Their father has schooled them in how to respond to police officers, how to firmly and respectfully stand up for their rights, what is an arrestable offense, how to refuse to speak until their attorney is present, and much more. His overriding message is to stand up for yourself, but know when you're in too deep, and above all, come home safe. So far, Reed and Olive have had no direct interactions with police, and so far they have been able to come home safe.  But each has an encounter with individuals and police for which they need all of their father's knowledge and advice. The two-part book offers first Reed's story, then Olive's story, both based on real-life scenarios Buckmire himself, as attorney, has experienced or defended. For Reed, the trouble occurs on a day when, after soccer practice, he walks his sister home from school, using the subway for part of their route. As they enter the subway, they notice some loud African-American teenagers sliding through without paying; they offer Reed a joint, and with Olive's intervention, Reed declines. Reed wonders if the boys will be on their train and bothering passengers. But once he and Olive are seated in a quiet car, Reed begins to watch some captivating soccer videos. Suddenly he finds two police officers questioning him about his friends' whereabouts, their car-jumping and robbing someone, and asking for his ID. Immediately, Olive begins videoing the interaction, remembering her dad's instruction that if it's your word against the police's word, or if it wasn't seen by others, it didn't happen. We experience with Reed the confusion, the fear, and how he tries to remember the rules, the law, and wonders how to stand up for himself or if he's in too deep… In the second story, Olive buys a soda and takes a seat with her phone outside a coffee shop to wait for Reed. She witnesses a white woman rush into the store frantically looking for her phone, then accusing Olive of stealing and currently using her phone.  As the woman's insistence escalates, Olive, like Reed, tries to remember her dad's instruction and advice. Readers experience her fear, anger, and struggle to stay calm. In both stories the facts are clear, the bias is clear, and their dad's wise advice guides Reed and Olive through troubling police interactions.
THOUGHTS: At a brief 224 pages, this is a quick read about all-too-possible occurrences that can shape a young person's life in likely negative ways. Readers will be glad for Reed and Olive's dad's wise instruction and wish they had such guidance in their own lives–hence this book by attorney Buckmire. Though it can seem a tad didactic, Buckmire packs in the legal assistance through events and through his characters' thoughts. Readers will be left thinking and debating the choices made as the characters seek to come home safe.  This could be an eye-opener for sheltered young people and an insightful way to open conversations with any generation.
Realistic Fiction