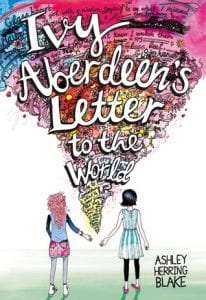 Blake, Ashley Herring. Ivy Aberdeen's Letter to the World. Little, Brown and Company, 2018. 978-0-316-51546-7. 307 p. $16.99. Gr. 4-7.
Ivy Aberdeen lost everything weeks before her thirteenth birthday.  She lost her house to a tornado; she lost her mom to her twin baby brothers; she lost her family (they sent her to live at her best friend's house); and she lost her notebook – her precious notebook full of her own drawings, drawings that share her family, friends, and inner-most thoughts. Ivy is confused by her feelings, feelings she's had but hadn't thought about until she met June Somerset. Now Ivy doesn't know how to share her feelings; she doesn't know how to verbalize the emotions within her. All Ivy can do is draw, but she's afraid that her drawings will end up in the wrong hands and be confused or judged. With help from a friend, Ivy works through her confusion and finds her voice.
THOUGHTS: Ivy Aberdeen is what middle grades fiction needs. She is a strong protagonist who is confused by her emotions and feelings for others. She always knew something was different, but it wasn't until she met June that she got "that feeling," the feeling of a crush. Ivy is beautiful, innocent, smart, confused, and talented. She is exactly what readers need and should be on all middle grade shelves.
Realistic Fiction          Erin Bechdel, Beaver Area SD
---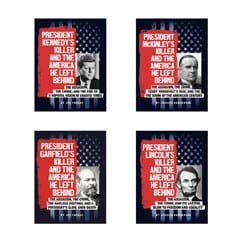 Assassins' America. Capstone, 2018. $29.99 ea. $91.96 set of 4. 64 p. Gr. 4-8.

Gunderson, Jessica. President Lincoln's Killer and the America He Left Behind: The Assassin, the Crime, and Its Lasting Blow to Freedom and Equality. 978-0-756-55716-4.
Gunderson, Jessica. President McKinley's Killer and the America He Left Behind: The Assassin, the Crime, and Teddy Roosevelt's Rise, and the Dawn of the American Century. 978-0-756-55714-0.
Tougas, Joe. President Garfield's Killer and the America He Left Behind: The Assassin, the Crime, the Hapless Doctors, and a President's Slow, Grim Death. 978-0-756-55715-7.
Tougas, Joe. President Kennedy's Killer and the America He Left Behind: The Assassin, the Crime, and the End of a Hopeful Vision in Chaotic Times. 978-0-75655-713-3.
The Assassins' America series explores the lives of the four men who assassinated U.S. presidents. The men's lives and motivations for the actions are examined and put in the context of social and economic times in which they lived. Each volume also examines the life and political actions of the president they assassinated. The aftermath of the assassination, including the consequences faced by the assassin as well as the political consequences, are also presented. The text is complemented by inclusion of numerous photos and images.
THOUGHTS: This series would be a worthwhile addition to elementary and middle school collections. Though slim (48 pages), each volume offers a complete overview of the lives of the key characters and the times in which they lived. Hand these titles to fans of American history and to researchers.
973 American History          Elizabeth Henry, Lampeter-Strasburg SD
---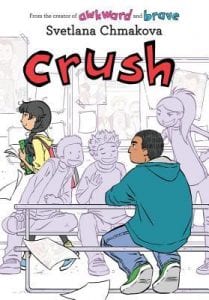 Chmakova, Svetlana. Crush. Yen Press. 2018. 978-0-316-36319-8. $11.00. 235 p. Gr. 6-9.
Let's face it, middle school can be full of drama. In fact, it seems that everyone is interested in either drama or relationships, something that Jorge is just not here for. Big and strong, Jorge is able to make sure that everyone is getting along. After all, people assume that he is mean just because he is a large middle schooler. But really, Jorge is just here in middle school trying to survive like everyone else but out of the drama. With his two best friends, Olivia and Garrett, Jorge can make it through anything. Although it seems like Garrett is working way too hard to impress James, the "all-star" football player. Jorge doesn't want any part of dealing with him. He would rather continue on his way… until he meets Jazmine, who he admittedly has a crush on. Things are about to get very interesting in middle school.
THOUGHTS: This is another great piece by Chmakova, following her previous graphic novels Awkward and Brave. The illustrations and flow of this graphic novel follow in her previous books' footsteps. The plot line of this story is one that many middle school students will relate to: survival of school, drama, and crushes. A great read for middle school students.
Graphic Novel                                                                Rachel Burkhouse, Otto-Eldred SD
---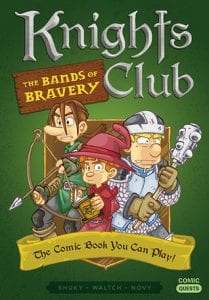 Shuky. Knights Club: The Bands of Bravery. Quirk Books. 2018. 978-1-68369-055-9. $9.99. Gr. 4-8
What is better than digging in compost, watering plants, and harvesting? Almost anything, especially becoming a knight! Three brothers, each with different abilities have had enough of working in the fields and are ready to go to knight school! Travel on this journey with them, as they begin their quest of bravery to becomes knights!
This is a choose your own quest novel, comic book style! Take part in the adventure by choosing one of the brothers' rank. Using a tally sheet provided in the book, readers can mark their points and ranks as they make decisions for their characters. Using the panels and numbers, have your character travel throughout the land, making choices to help them on their way toward knighthood!
THOUGHTS: I love the idea of a comic book style choose your own adventure. This story allows readers, both male and female, really to become involved in the story. Readers not only have to make decisions for their character, but they can actually mark points and ranking, allowing them to "level up" within the book. A new idea for an original book type!
Graphic Novel          Rachel Burkhouse, Otto-Eldred SD
---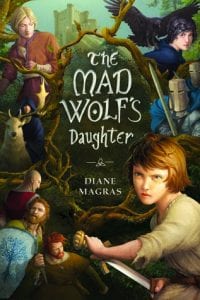 Magras, Diane. The Mad Wolf's Daughter. Kathy Dawson Books, 2018. 978-0-735-22926-6. $16.99. 265 p. Gr. 4-7.
Drest's medieval Scottish world is turned upside down in an instant. A band of knights attacks the camp of the small war-band formed by her father and older brothers. As Drest watches, her family is taken captive and loaded into a boat, sailing for who-knows-where. But Drest is the Mad Wolf's daughter, and she knows it is up to her to rescue her clan. An injured knight left behind knows where the captives are headed, and offers to guide Drest there, if she helps him make the journey. The ill-matched pair are soon joined by a young boy looking for a quest. As they journey along, Drest learns of her father's reputation in the area, both good and bad. Some folk view the Mad Wolf as a protector against the cruelty of the overlord, while others tell tales of horrible acts committed by the war-band. But Drest continues on her mission to save her family, with unexpected results. Drest is a delightful character; she follows the war-band code but with a panache all her own. She takes on all battles, because that's what a warrior does, but learns that words can be as mighty a weapon as the sword. By the end of her journey, she is a legend is her own right.
THOUGHTS: Dripping with Scottish atmosphere and packed with adventure, this book won't stay on the shelf long. Readers will be captivated by plucky Drest from the first page.
Action/Adventure          Nancy Nadig, Penn Manor SD
---
Lupica, Mike. Team Players. Simon and Schuster, 2018. 978-1-481-41007-6. $16.99. 291 p. Gr. 5-7.
Cassie and her friends Gus, Teddy, and Jack are thrilled summer is here – that means baseball and softball season. Cassie, an outstanding softball player, knows her team has a chance to be very good this summer, but is dismayed to witness her team fall apart and friendships strain when Sarah, a talented player with autism, joins the team. Sarah's awkward interactions with teammates bring a friction to the team that Cassie just cannot figure out how to fix. Meanwhile, Gus, Teddy, and Jack are dealing with a new coach, one who is verbally abusive. Can the four friends find a way to make sports fun before the summer is over? This addition to Lupica's Home Team series presents likeable characters, if a bit mature for their years, and lots of baseball action. Cassie is a great female athlete character and leader, and the portrayal of Sarah gives readers an insight into the world of autism. However, Lupica's efforts to Make People Understand Autism rarely get out of the way of the plot, and may wear thin for some readers.
THOUGHTS: While this does not seem to be a comfortable age level for Lupica, and the writing at times feels awkward, it is a good sports book with male and female athletes, and the careful explanations of autism are extremely illuminating, if a bit didactic.
Action/Adventure          Nancy Nadig, Penn Manor SD
---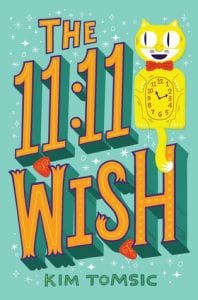 Tomsic, Kim. The 11:11 Wish. Katherine Tegan Books, 2018. 978-0-062-65494-6. $16.99. 361 p. Gr. 4-7.
Megan is determined to make a new start at her new school. She will have friends! And be popular! But when she is dared to make something exciting happen on her first day of middle school, she panics. Reaching back to a story her grandmother taught her, she whimisically makes an 11:11 wish on a cat-shaped clock in her classroom. Only after she receives a delivery from a magical supply shop, and a hurried phone call to her grandmother, does Megan begin to understand that she has unwittingly unleashed a force she may be unable to contain. This warm-hearted book deftly deals with middle school drama enhanced by the recent death of a parent. Who wouldn't have loved a bit of magic to get through middle school? But Megan finds that being herself is the best answer to life's little ups and downs.
THOUGHTS:  The message might be trite, but the approach is fun. Megan is a likeable character readers will root for as she stumbles along finding her way.
Realistic/ Fantasy (magic)          Nancy Nadig, Penn Manor SD
---
Bertman, Jennifer Chambliss. The Alcatraz Escape. Henry Holt, 2018. 978-1-627-79963-8. $16.99. 262 p. Gr. 4-7.
Friends Emily and James return in the third entry in the Book Scavenger series. Everyone they know is eagerly anticipating literary gamester Garrison Griswold's newest challenge, "Unlock the Rock," taking place on Alcatraz island, but Emily is feeling the stress of her past success. Ever since she and James solved the Unbreakable Code, she has become a legend in Book Scavenger circles, admired by some, envied by others.The pressure and expectations are taking the fun out of the game for Emily, especially when she and James receive threatening notes. Once the players are on Alcatraz, Emily realizes the game is deadly serious for one of the contestants, and her brother, James, is being framed. Bertman has added another delightful book to her series, with no let down in the fun. Filled with literary references and historical information about Alcatraz, this book should delight fans of the series.
THOUGHTS: Although it concentrates more on the mystery than on the puzzles this time, this may be the best book in the series.
Mystery          Nancy Nadig, Penn Manor SD
---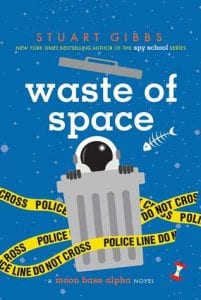 Gibbs, Stuart. Waste of Space. Simon and Schuster, 2018. 978-1-534-43166-9. $16.99. 321 p. Gr. 4-7.
Dash Gibson, teenage resident of Moon Base Alpha, is shocked when the base commander assigns him to determine who recently attempted to kill one of the moon base residents. Unfortunately, everyone on Moon Base Alpha detested billionaire space tourist Lars Sjoberg, including, possibly, his own family, so suspects abound. But Dash, having already solved several other crimes in space, starts poking around asking questions. The urgency increases when it is revealed the moon base habitat is losing pressure, and plans are made to evacuate everyone back to Earth. But will Dash live to see home again? This final book in the series is a fun mystery mixed with some deep philosophical questions courtesy of Zan, the alien being who befriended Dash in the first book of the series. Charged with determining the fate of Earth, Zan frequently communicates with Dash, trying to understand humankind. Can Dash manage to convince Zan that despite trying to kill each other, humanity is worth saving? An afterward provides a gratifying conclusion to the series.
THOUGHTS: While I am sad to see the series end, Gibbs wraps it up with a bang. The mystery is satisfying, and the gentle moralizing is appropriately on level to get young readers thinking.
Mystery          Nancy Nadig, Penn Manor SD
---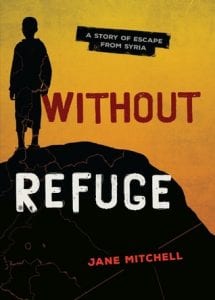 Mitchell, Jane. Without Refuge. Carolrhoda Books, 2018. 978-1-541-50050-1. $16.99. 269 p. Gr. 5-8.
Ghalib and his cousin Hamza have as normal a childhood as possible in war ravaged Syria. While much of the city of Kobani is in rubble, Ghalib still lives with his parents, brother, sister, and grandmother in an intact apartment. Ghalib's father works as a  pharmacist, assisting those injured during bomb attacks. But normal for Ghalib and Hamza is being recruited by the Protection Units and dodging bombs to scavenge merchandise to sell to black marketeers. When the two youths are injured during a nighttime bombing, the family makes the painful decision to leave Syria. Through Ghalib and his family, the book details the experience of refugees fleeing Syria, the fear of being caught by ISIS before crossing into Turkey, the anger against refugees they encounter, life in a refugee camp, and being scammed by individuals promising to convey the refugees to Greece. While the plot is sometimes lost to the overwhelming amount of information the author is trying to convey, it is a worthy sacrifice. When you are 13 years old and leaving home, what do you pack? An extremely relevant, thought-provoking book.
THOUGHTS: A must-have for middle grade/middle school collections. A clear look at the situation in Syria, as well as migrants from many countries. A glossary and further information add to the impact of the book.  
Realistic Fiction          Nancy Nadig, Penn Manor SD
---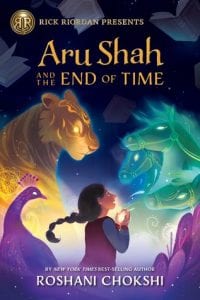 Chokshi, Roshani. Aru Shah and the End of Time. Rick Riorden Presents, 2018. 978-1-368-01235-5. $16.99. 343 p. Gr. 4-7.
What middle schooler, when desperate to impress classmates, hasn't resorted to setting an evil demon loose in the world? Aru Shah may not have exactly planned this sequence of events, but she did light the Lamp of Destruction in her mother's Museum of Ancient Indian Art and Culture when taunted by three students from her school. To her horror, there really is a demon in the lamp, and time freezes as he is unleashed. Lucky for Aru, the lamp also sends forth Boo, a sarcastic, yet helpful,  pigeon, to guide and educate her. She learns she is the incarnation of one of Pandava brothers of Indian mythology, and soon meets Mini, another Pandava, who will help her on her quest to stop the Sleeper before he frees the Lord of Destruction and the time freeze becomes permanent. While somewhat reminiscent of Percy Jackson (the girls must be claimed by their godly fathers), this book stands solidly on its own. Aru and Mini are endearing, spunky girls, both of whom feel like outcasts at school. While their relationship gets off to a rocky start and hits a major bump when Mini eventually realized Aru is responsible for lighting the lamp, they end up fast friends. Boo the pigeon suffers mightily while trying to guide his young charges, and there are some laugh-out-loud scenes, such as the godly Costco shopping trip. Aru and Mini save the day and unfreeze time, but are answering the call for another adventure as the book ends.
THOUGHTS:  A delightful introduction to Indian mythology and culture with two dynamic, yet realistic, heroines. A can't-put-down book that holds your interest from the first page, with plenty of adventure and humor.    
Fantasy (mythology)          Nancy Nadig, Penn Manor SD
Aru Shah spends more than a visit in the Museum of Ancient Indian Art and Culture as he mother works as a curator there. She does not expect the Lamp of Bharata to react to her, but it starts the adventure of a lifetime ensuring that the universe continue. From The Palace of Illusions and The Bridge of Forgetting, it is not easy to save the world. Shukra has killed his wife because she loved him and made his ugly appearance fade. He curses the daughter of Indra and says that she will forget at the worst time. Aru is shocked to learn that the Sleeper had loved his mother. Can Aru stop time from ending?
THOUGHTS: Readers will not want the adventures to end. They are in luck because there is already a second book planned called Aru Shah and The Song of Death.
Adventure          Beth McGuire, Hempfield Area SD
---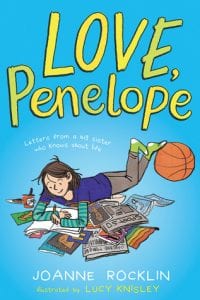 Rocklin, Joanne. Love, Penelope. Amulet, 2018. 978-1-419-72861-7. $16.99. 255 p. Gr. 4-6.
Penny (NOT Penelope) has a lot on her plate for a 5th grader, all of which she shares in this diary addressed to her unborn sibling. Penny lives with two moms, and issues of legalized gay marriage in the state of California and the same-sex marriage case addressed by the Supreme Court are covered, as well as prejudice against her family from various acquaintances. She and her friends are rabid Golden State Warriors fans, and Penny lives and dies with the team as they march to the NBA championship. Penny experiences jealousy as a new girl at school enters her cozy friendship with her best friend Gabby, as well as guilt as she lies to her favorite teacher in order to impress him, then cannot extricate herself from the lie. In addition, issues such as Black Lives Matter and a student with an incarcerated parent are casually dropped into the narrative alongside lessons on fetal development, as well as a discussion between the 10-year-old girls on how babies are conceived. There are so many lessons trying to be taught in this book that it barely has time to develop a plot. It could have worked well as a depiction of an alternate family, but gets lost in too many side issues.  
THOUGHTS:  A well-meaning book bogged down by trying to be too much.  
Realistic Fiction          Nancy Nadig, Penn Manor SD
---
Olson, Tod. Lost in the Amazon: A Battle for Survival in the Heart of the Rainforest. Scholastic, 2018. 978-0-545-92827-4. 162 p. $7.99. Gr. 4-8.
On Christmas Eve, 1970, a flight took off from Lima, Peru. Among the 86 passengers of Flight 508 were seventeen year old Julia Koepcke and her mother. They were looking forward to spending the holiday at their research station home in the remote jungle where Julia's zoologist parents conducted their research. Shortly after clearing the mountains, however, Flight 508 encountered intense storms and was struck by lightning causing it to break up in mid-air. Julia found herself strapped into a row of seats, tumbling two miles to the jungle floor below. She awoke the next morning, injured and alone in the remote rainforest. She quickly determined that in order to survive, she would need to begin moving. Drawing upon lessons imparted by her father and her years of experience living the the remote jungle, she began to follow a waterway, keeping aware of dangers in the rainforest and battling her deteriorating physical condition. Finally, on the tenth day of her journey, she came across a remote cabin and was rescued by three forest workers. Taken to safety, she learned that she was the sole survivor of the plane crash.
THOUGHTS: This book is more than an amazing story of survival. Olson weaves information on Amazon history, jungle plant and animal life and the search effort to find survivors of Flight 508 around the story of Julia's experiences. The result is a complete picture of the events surrounding the crash and the insurmountable odds Julia faced. Readers will found themselves hard-pressed to put this title down! Highly recommended.
363 Survival          Elizabeth Henry, Lampeter-Strasburg SD