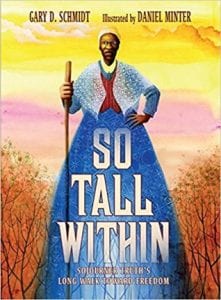 Schmidt, Gary D. So Tall Within: Sojourner Truth's Long Walk Toward Freedom. Roaring Brook Press, 2018: 978-1-626-72872-1. 48 p. $18.99. Gr. K-3.
This lyrical recounting of Sojourner Truth's many accomplishments begins when she is a young slave girl named Isabella. Growing up, she watches as her brothers and sisters are sold away, and she too is sold time and time again. As a young mother, she finally runs away and gains her freedom. The book also details how Isabella changed her name, successfully sued her former master for the safe return of her son, and how she was reunited with her brothers and sisters. It also describes her decision to begin walking across the country, sharing the truth about slavery to people everywhere. From meeting with President Lincoln, to collecting food and clothing for freed slaves and soldiers, to teaching former slaves how to live on their own, Sojourner Truth stood tall and spoke of all kinds of freedom. This poetic text is complemented by beautiful paintings accented by recurring motifs, including trees, roots, and shadowy figures.
THOUGHTS: This will be a wonderful addition to biography collections. A lengthy biographical note at the end of the book highlights some of Sojourner Truth's accomplishments not included in the text, such as her famous "Ar'n't I a Woman" speech and the publication of her story, "Narrative of Sojourner Truth."
326          Anne Bozievich, Southern York County SD
---
Jenkins, Steve. Look at Me! How to Attract Attention in the Animal World. Houghton Mifflin Harcourt, 2018: 978-0-544-93553-2. 32 p. $17.99. Gr. K-3.
Sometimes animals want to blend in to their environments, and sometimes they want to stand out! This nonfiction title focuses on the many ways animals attract attention when they want to be noticed. Each double-page spread highlights two different animals and describes ways they draw attention to themselves. Some animals, like the Indian bullfrog, inflate sacs on their neck when they want a mate to notice them. Others, like the royal flycatcher, raise a colorful feather headdress to attract a mate. Many sea slugs are vibrantly colored, letting predators know eating them would not be a good idea. Male hippos protect their territory by opening their mouth wide and showing off their tusks. And, pufferfish inflate their bodies to appear larger, sending a signal that they may be difficult to swallow. Jenkins's signature cut-paper collage illustrations present an incredibly detailed look at a wide variety of animals. Most collages are mounted against bright white backgrounds, allowing the details to pop even more. Four pages of endpapers provide additional information about each animal featured in the book.
THOUGHTS: This will be a well-received addition to elementary nonfiction collections. Students will enjoy pouring over the facts about each animal, learning all about eyespots, stink fights, throat pouches, and glowing tentacles. This title will also provide a nice contrast to books about animal camouflage.
591.5          Anne Bozievich,  Southern York County SD 
---
Johnson, Terry Lynn.  Avalanche! (Survivor Diaries). Houghton Mifflin Harcourt, 2018.  104 p. 978-0-544-97039-7. $8.69 ea. Grades 3-5.
—.  Overboard!  978-0-544-97010-6.
—.    Lost!  978-0-544-97118-9.
—.   Dust Storm!  978-0-544-97098-4.
Twins Ashley and Ryan are skiing with their family when they decide to take a detour to see Colt Summit with its untouched snow.  Their arrival on the slope triggers an avalanche, which engulfs the pair. The siblings must use their survival training in order to overcome the bitter cold, strong winds, and an encounter with a bear and a wolverine. The author is a survival expert in real life, and this is evident in the book. The plot moves along quickly with the avalanche occurring in the second chapter. At times, the story reads more like a survival guide than a work of fiction. In fact, there is a list of avalanche and wilderness safety tips in the back matter. Black and white illustrations, some full page, are found throughout the text. The author provides a link to an interactive survival quiz and a card game based on each book. While the story is slight, it is full of action and will appeal to reluctant readers and to those who enjoy the I Survived series.
THOUGHTS: This series is a good choice for libraries where shorter, high interest adventure stories are in demand.
Adventure Fiction          Denise Medwick, West Allegheny SD
---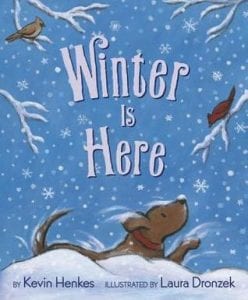 Henkes, Kevin.  Winter is Here.  Greenwillow, 2018. 978-0-062-74718-1.  Unpaged. $17.99. Grades PreK-2.
Kevin Henkes and Laura Dronzek have collaborated once again on this latest offering in their series of seasonal titles (In the Middle of Fall and When Spring Comes). With spare text and full bleed illustrations, the duo explores the wonder and beauty of winter. To begin the story, Henkes describes the snow that can be found on houses and in trees throughout the neighborhood. The author then goes on to create a series of sensory contrasts, such as the soft snow and the hard ice, the quiet of falling snow and the noise of busy snow plows, and the blue versus gray landscape. Henkes packs a lot of figurative language into this short volume, like personification ("Winter is reaching through the branches and crouching in doorways") and similes ("leaves underneath are like stars in glass").  Dronzek uses acrylic paint to create the charming illustrations, which add a very wintry feel to the story. At the end of the text, the advent of spring approaches and the story segues into When Spring Comes.
THOUGHTS: With older students, this book can serve as a mentor text for figurative language. A fabulous readaloud, it is the perfect choice for a winter-themed story time for the younger crowd. Deceptively simple, this winter tale is a must-have for every elementary collection.
Picture Book          Denise Medwick, West Allegheny SD
---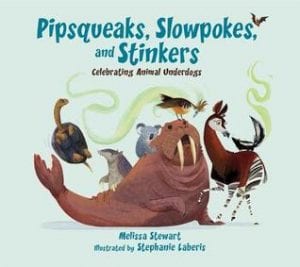 Stewart, Melissa. Pipsqueaks, Slowpokes, and Stinkers: Celebrating Animal Underdogs. Peachtree Publishers, 2018. 978-1-561-45936-0. $16.95. Unpaged. Grades K-3.
Underdogs in the animal world can be just as clever, cute, and talented as the cool cats. However, they often adapt for survival by being smelly, slow, and small. Melissa Stewart poses the questions and wonderings while keeping humor and narrative nonfiction light and easy to enjoy. Learn why the hoatzin reeks and the okapi hides, why the koala sleeps and the naked mole rat is, well, naked! The illustrations by Stephanie Lambert are expressive and detailed; making the us root for the underdogs all the more!
THOUGHTS: This text would pair well with any of the adaptation books by Steve Jenkins or others. Using an online source or an animal encyclopedia to further explore the animals listed in here would be an apt extension. Finally, students could debate between the Davids and the Goliaths of the animal world and argue facts about why they are best suited to survive.
591, Animals          Dustin Brackbill State College Area SD
---
Morales, Yuyi. Dreamers. Neal Porter Books, 2018. 978-0-823-44055-9. $18.99. Unpaged. Grades 1-4.
"We are stories…. We are dreamers, soñadores of the world." Yuyi Morales tells the  story of a mother and her niño daring to travel across the border and into a foreign land to start this brave adventure (based on her own story). Life as immigrants isn't easy, especially with language barriers at every turn. Through mistakes and exploration, the travelers seek their home. Finally, a miraculous place full of stories and ideas and dreams draws them in: a public library! "We learn to read, to speak, to write, and to make our voices heard," she says with the succinct poetic voice that fills the book. The amazing collage artwork with characters, book covers, and colorful memories will bring readers back to dream for generations to come.
THOUGHTS: Dreamers is getting plenty of awards season buzz this year, and justifiably so. A comparison of this to her other award winning work (Viva Frida; Niño Wrestles the World) would make for a wonderful Hispanic art class. Of course, looking at the list of inspiring literature that she provides in the end notes would also be a valuable exercise.
818, Autobiographical Literature          Dustin Brackbill State College Area SD
---
Mattick, Lindsay. Winnie's Great War. Little, Brown, and Company, 2018: 978-0-316-44712-6. 227 p. $16.99. Gr. 3-6.
In this companion to the Caldecott-winning picture book Finding Winnie, readers learn more about the life of Winnipeg, the black bear cub who became the inspiration for A.A. Milne's Winnie the Pooh stories. Winnie's tale begins in the Canadian woods, which she loves exploring with her mother. But, after her mother is caught by a trapper, Winnie is taken in by the trapper's kind-hearted grandson. When it becomes clear Winnie won't make a good housepet, the trapper takes her to the train station in hopes of selling her. This is where she meets Lieutenant Harry Colebourn, a soldier in the Canadian Army Veterinary Corps. Alongside Harry, Winnie becomes the unofficial mascot of the Second Canadian Infantry Brigade. She stays with the soldiers and their horses during their training in Valcartier, crosses the Atlantic Ocean, and drills with them on the Salisbury Plain in England. Winnie's sense of adventure and big heart help her make friends wherever she goes, and she realizes her duty is to make others feel better. Although it's difficult, when it's time for Harry and the soldiers to see action, Harry drives Winnie to the London Zoo where he knows she'll be taken care of during the War. Even though she misses Harry constantly, Winnie still manages to spread hope and cheer to the Zoo's many visitors, including Christopher Robin Milne. This beautifully written story is bookended by the author's conversations with her young son, both of whom are real-life relatives of Harry Colebourn. Excerpts from Harry's diary lend historical context to the story as well help ground Winnie's tale in larger events unfolding on the world's stage. Sophie Blackall's detailed double-page and spot illustrations charm readers and perfectly complement Winnie's remarkable tale.
THOUGHTS: This book is a thoughtful celebration of bravery, friendship, and loyalty, and it champions making the best out of life's difficult situations. Share this title with animal lovers and students who enjoy stories rooted in history.
Fiction          Anne Bozievich, Southern York County SD
---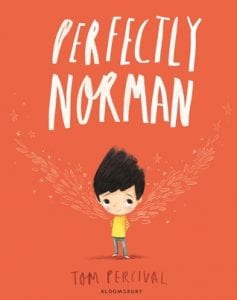 Percival, Tom. Perfectly Norman. Bloomsbury, 2018: 978-1-681-19785-2. 32 p. $16.99. Gr. K-3.
Norman has always been a perfectly normal boy – until the day he grows a huge, colorful pair of wings. He immediately tests them out and discovers how much fun it is to fly and soar through the air. But, Norman isn't sure what other people will think of his wings, so he decides to cover them up under a puffy jacket. Norman soon discovers that wearing the jacket all the time negatively affects his daily routines. From bath time to bed time to swimming time, everything is more difficult with the jacket. Norman begins wishing he never grew the wings at all, but he ultimately realizes it's the jacket that's making him unhappy, not the wings. At his parents' urging, he peels off the jacket, spreads out his wings, and leaps into the air. While he's flying around, he notices a few other children with jackets on too. After seeing him flying around, they too remove their jackets, and the world is filled with soaring children! Norman finally understands that there's no such thing as normal, but there is something to be said for being yourself. In the digitally-rendered illustrations, Norman appears in vibrant color, and the rest of the world and the people in it are shades of black and white. Only the final double-page spread, when all the children spread their wings and show their true personalities, appears in full-color.
THOUGHTS: This is a charming story championing acceptance and individuality. Share this title with guidance counselors, or use it to jump-start class discussions about what "normal" really means.
Picture Book          Anne Bozievich, Southern York County SD
---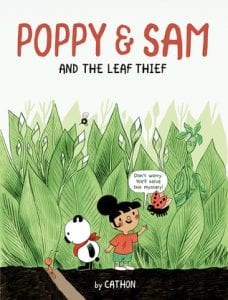 Cathon. Poppy and Sam and the Leaf Thief. Owlkids Books. 2018. 978-1-771-47329-3. $16.95. Gr. K-2.
Poppy and Sam are out in their strawberry field waiting for the strawberries to ripen when they hear a scream. Poppy and Sam run to find out that someone had taken a bite of Mrs. Basil's leaf! As she exclaims that someone is eating her precious leave, Poppy and Sam decide that they will help Mrs. Basil find out who this mysterious eater is. The pair begin to ask everyone where they were at the night before, and everyone seems to be innocent. As Poppy and Sam begin to make plans to solve the case, they continue to be stumped by the culprit. Can they figure out who is eating Mrs. Basil's leaves?
THOUGHTS: This picture book is an excellent introduction to the mystery genre for young children. The book is full of new vocabulary words and the characters are all different components of a garden. A cute read for a young mind looking for a mystery book.
Picture Book          Rachel Burkhouse, Otto-Eldred SD
---
Latimer, Alex. Am I Yours? Peachtree Publishers. 2018. 978-1-682-63044-0. $16.95. Gr. K-3.
Millions of years ago a breeze blew across the land and blew an egg out of a nest. This little egg rolled and rolled until it landed on level ground. As the cold night ends, the little egg hears feet and calls out, "Am I yours?" Dinosaurs travel to the egg, describing themselves and asking if the little dinosaur inside matches. As several dinosaurs come and meet the egg, the egg grows sadder realizing that it does not belong to anyone. Night draws to a close, and the sun shines on the egg, creating a silhouette, allowing the dinosaurs to find the little egg's match!
THOUGHTS: This is a cute dinosaur book for young children. This book uses accurate names that many children will recognize, with rhyming text to help find the mother and father of the little dinosaur inside the egg. The illustrations are colorful and accurate in making connections to dinosaurs that children know.
Picture Book          Rachel Burkhouse, Otto-Eldred SD
---
Cummins, Lucy Ruth. Stumpkin. Atheneum Books for Young Readers. 2018. 978-1-534-41362-7. $17.99. Gr. K-3
A few days before Halloween, a group of pumpkins are placed on a shelf in a store. The pumpkins are scared when they see their one of their friends taken away, but are delightfully surprised to see him reappear across the street in a window as a jack-o-lantern. The pumpkins are all excited to be taken away, except for one who notices he's a little different. Where his stem should be, he has a stump. Stumpkin. He continues to watch all of the other pumpkins be taken away, including a gourd! Stumpkin hopes for his time to come to have a home in the window across the street and wonders if that will ever be.
THOUGHTS: The design and coloring of this book are beautifully done, with simple black and white pictures and a small splash of orange. The story line is a sad one, with a sweet ending of acceptance and understanding of one's place in life. A cute Halloween read!
Picture Book          Rachel Burkhouse, Otto-Eldred SD
---
White, Dianne. Goodbye Brings Hello. Houghton Mifflin Harcourt. 2018. 978-0-544-79875-5. $17.99. Gr. K-3.
With each goodbye in life, we are introduced to a new hello! As the world is changing, we see how sometimes an end can create a brand new beginning. Sometimes things are scary, such as hugging your teddy before leaving him behind for school, but there is a great beginning on the other side, such as making a new friend! From changing shoes, crayons, and even your hair, each goodbye brings a hello.
THOUGHTS: This picture book is a good read for all ages, as it can help us get through some of the hard times in life. A goodbye doesn't always mean the end but can often lead to a hello of something new. This is a great book that illustrates this concept to children, using simple language and situations that they will understand.
Picture Book          Rachel Burkhouse, Otto-Eldred SD
---
Day, Nancy Raines. Pirate Jack Gets Dressed. Beach Lane Books. 2018. 978-1-4814-7664-5. $17.99. Gr. PreK-2.
Pirate Jack needs to wake up and get dressed! Pirate Jack takes each of his unique articles of clothing and makes sure that the colors are all different, making him look ready for his pirate crew! Each article of clothing is something important he needs, but each needs to be different in order to be colorful and ready for his adventure!
THOUGHTS: This unique pirate color book is a great choice for young children. The book is illustrated in a unique way, allowing children to learn colors and articles of clothing. A story my first graders really enjoyed!
Picture Book          Rachel Burkhouse, Otto-Eldred SD
---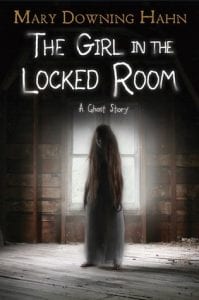 Hahn, Mary Downing. The Girl in the Locked Room. Clarion Books, Houghton Mifflin Harcourt, 2018. 193 p. $16.99. Gr. 3-6.
Jules and her family just moved to old, rundown Oak Hill–once a beautiful, grand farm and mansion, Oak Hill has fallen into disrepair. It's owners, Henry and Laura Bennett, were mysteriously killed over a hundred years before, but no one knows what happened to their young daughter Lily. Jules immediately begins to see and feel strange things that no one else can see. After some research with a new friend, she discovers that Lily's ghost still lives at Oak Hill, never leaving her father's third floor painting studio where her parents ordered her to hide on the fateful night that they were killed by angry hired help. Jules and Maisie, both bookworms, get an idea from their favorite fantasy series about a way that Lily may be able to change the fate of her family on that night over a hundred years earlier. Students likely won't pay much attention to a few tidy coincidences that allow the story to move easily. Jules and Lily alternate chapters, each telling part of the story, and nothing terribly scary or graphic happens, but it's a very satisfying creepy story which will please any reader who loves a good ghost story.
THOUGHTS: Another great middle grade ghost tale by Mary Downing Hahn. Pick it up!
Mystery/Horror          Lindsey Long, Lower Dauphin SD
---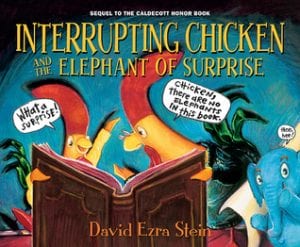 Stein, David Ezra. Interrupting Chicken and the Elephant of Surprise. Candlewick Press, 2018. 978-0-7636-8842-4. Unpaged. $16.99. Gr. K-2.
Chicken just learned about the "elephant of surprise" from her teacher and is anxious to find the "elephant" in each story during storytime with her papa. He gently tries to help Chicken understand that she probably learned about an "element of surprise," but if you know Chicken you know that she is quite strong-willed! She and Papa make their way through The Ugly Duckling, Rapunzel, and The Little Mermaid, and Chicken manages to find an elephant in each story. Stein's story is similar to Chicken's first tale, with Chicken popping into each story and making it her own, and his illustrations are just as whimsical as those in the Caldecott Honor-winning original Chicken story Interrupting Chicken.
THOUGHTS: Fans of Chicken and new readers alike will enjoy this clever and silly story.
Picture Book          Lindsey Long, Lower Dauphin SD
---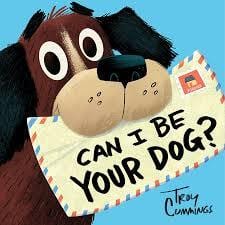 Cummings, Troy. Can I Be Your Dog? Random House, 2018. 978-0-399-55453-7. Unpaged. $16.99. Gr. K-2.
Homeless dog Arfy lives in a box on Butternut Street, and he's desperate to find a loving family. He sends a letter to the Honeywell family explaining his excellent qualifications as a family dog and asks if they will adopt him…no luck. He moves on to the butcher shop, fire station, junk yard, and deserted house on Butternut Street, each time sending a slightly more sad and desperate letter delivered by an increasingly alarmed mail carrier. After several rejection letters, Arfy receives a lovely letter with an offer for him! Mitzy Whipple, letter carrier, writes Arfy and asks "Can I be your person?" Arfy is overjoyed, and he and Mitzy live happily ever after. Eagle-eyed readers will enjoy Cummings' colorful illustrations and will notice Arfy and Mitzy's matching distressed expressions as Arfy receives rejection after rejection. Front endpapers showcase dog-themed stamps, and back endpapers show a birds-eye view of Butternut Street along with a note about how readers can help homeless animals.
THOUGHTS: A delightful story, sure to be enjoyed by dog lovers young and old.
Picture Book          Lindsey Long, Lower Dauphin SD
---
Higgins, Ryan T. Santa Bruce. Disney Hyperion, 2018. 978-1-484-78290-3. Unpaged. $17.99. Gr. K-2.
Bruce's life is certainly different than it used to be. Not only is he a goose mother, he's family to a trio of plucky mice who refuse to leave their former hotel (known as Bruce's home). Bruce fondly recalls his days of hibernating and skipping right past the holidays, but "…his family wanted to enjoy a cozy, now-filled Christmas together." While the geese and mice are decking the halls and making eggnog, Bruce dons his red long underwear and warm hat to shovel snow and is once again mistaken for someone else…this time, Santa Claus! Poor Bruce, once again the victim of mistaken identity. His mice family is happy to support the idea and even tell the parents of woodland children that Bruce will happily deliver gifts that night! Bruce, of course, grumpily agrees, all the while wishing he was in his bed. Higgins' Bruce is a delightful scrooge, always frowning and grumping at everyone while somehow still agreeing to do all the things that delight his family and friends.
THOUGHTS: Another enjoyable installment in the life of curmudgeonly Bruce and his family.
Picture Book          Lindsey Long, Lower Dauphin SD
---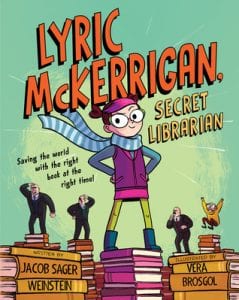 Weinstein, Jacob Sager. Lyric McKerrigan, Secret Librarian. Clarion Books, 2018. 978-0-544-80122-6. Unpaged. $17.99. Gr. K-2.
Criminal mastermind Dr. Glockenspiel has escaped and is demanding "one billion trillion dollars," or all the world's books will be eaten by his army of giant moths. Oh no! The world's top secret agents are captured by Glockenspiel's henchmen, and it seems that the end of books is near…enter Lyric McKerrigan, secret librarian! Lyric has a knack for both disguises and pairing readers to just the right books, and she uses both talents to foil Dr. Glockenspiel and his team. The story itself is creative and enjoyable, but it's Vera Brosgol's graphic-style illustrations that really steal the show. While thought of by many as a picture book, I decided to put this book in my easy graphic novel section because it's truly a perfect introduction to graphic novels. Brosgol's style combines multi-panel pages (usually 2-4 panels) and basic use of speech bubbles with some two-page spread illustrations and boxed text. It's a very easy-to-read graphic style that can introduce young readers to graphic novels with a super fun, action-packed story. I hope that Weinstein and Brosgol team up for more adventures of Lyric Kerrigan–she's a new favorite of mine!
THOUGHTS: An enjoyable, action-filled story combined with fantastic graphic-style illustrations–something for many readers to enjoy.
Picture Book          Lindsey Long, Lower Dauphin SD
---
Trimmer, Christian. Snow Pony and the Seven Miniature Ponies. Simon & Schuster Books for Young Readers, 2018. Unpaged. $17.99. Gr. K-3.
Must read! As you may have guessed, Snow Pony and the Seven Miniature Ponies is a horse-filled retelling of the classic Snow White fairy tale, although this version has tons of great changes. Snow Pony is a beautiful horse, beloved by children and fellow horses alike, with a particular child friend (Charmaine) and her dog (Hunter… "don't be fooled by his name–the only thing Hunter hunted was belly rubs"). One day, jealous pony Queenies lures Snow Pony away from the farm with a trail of delicious apples, and she finds herself in the woods with no idea how to get home. She stumbles upon a small stable that's home to seven miniature ponies, each with a special name and job (such as gathering water, taking care of bees, or delightfully enough, being a tax attorney). Snow Pony's story ends with a happy reunion with Charmaine and Hunter, rather than a more traditional meet-up with a prince, with miniature ponies in tow.  Trimmer writes with humor for both children and adults, and this retelling will be enjoyed by boys and girls of many ages. Jessie Sima brings her signature illustration style (Not Quite Narwhal, Harriet Gets Carried Away) to Snow Pony and the result is a fabulous mix of cartoonish ponies, fairy tale trimmings, and clever humor.
THOUGHTS: Trimmer and Sima are a perfect pair–this one will fly off your shelves.
Picture Book          Lindsey Long, Lower Dauphin SD
---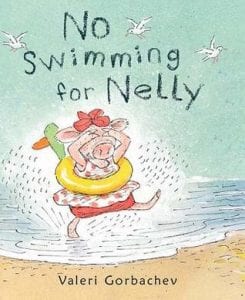 Gorbachev, Valeri. No Swimming for Nelly. Holiday House, 2018. Unpaged. $17.99. Gr. PreK-2.
A short and sweet tale about Nelly and how she overcomes her fear of water. While she adores her new swimsuit and enjoys wearing it to play basketball or go out to dinner, she's afraid of waves and getting water in her nose and decides that swimming is not for her. Luckily, Nelly's grandma is a champion swimmer and a very patient grandma. She never pushes or forces Nelly, but simply shows her how much fun swimming can be and supports her small steps towards swimming success (easing into the water, blowing bubbles, etc.). Valeri Gorbachev creates a story perfect for little ones just learning to swim or any kid needing some encouragement in a fearful situation, especially when a supportive adult is there to help out.
THOUGHTS: A fun summer read aloud for little ones.
Picture Book          Lindsey Long, Lower Dauphin SD
---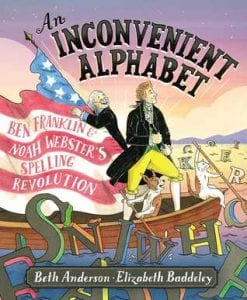 Anderson, Beth. An Inconvenient Alphabet: Ben Franklin & Noah Webster's Spelling Revolution. Simon & Schuster, 2018. Unpaged. $17.99. Gr. 2-4.
If ever an author/illustrator team could take a dry topic and turn it into something fun and interesting, Beth Anderson and Elizabeth Baddeley are it! An Inconvenient Alphabet tells the true tale of Ben Franklin and Noah Webster's effort to reform the English language in America. Why do 26 letters make 44 sounds? People spelled and pronounced words incorrectly every day thanks to our "inconvenient alphabet," and both Ben and Noah worked hard for years to make American English a more accessible, easy language. After several failed attempts, the two teamed up for a joint effort, but "…after eight years of war, people had no patience for changing the alphabet every which way. They just wanted life to return to normal." Ben continued to encourage Noah's efforts and Noah eventually went on to create his famous American dictionary. Though most of these entries still contained the same old "inconvenient alphabet," Noah did contribute several lasting changes to American English (such as eliminating the letter "u" in "colour" and "honour"). The story is told in upbeat, accessible language and supported by an extensive Author's Note and a section with notes on research (including a lengthy Bibliography of primary and secondary sources). Baddeley's illustrations are exceptionally colorful and eye-catching; they often show Ben or Noah physically interacting with language by rearranging the letters of words or handing letters to colonists. Humorous illustrations add a tremendous amount of meaning to the text. An Illustrator's Note explains Baddeley's use of pet "sidekicks" to keep the story interesting and to help with pacing. Beautifully done.
THOUGHTS: Exceptional partnerships are found in the history and creation of this story. A great book to share with students learning about language.
428.1 Spelling          Lindsey Long, Lower Dauphin SD
---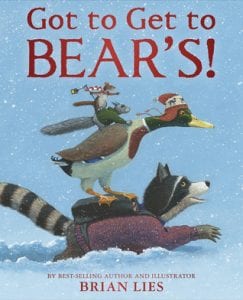 Lies, Brian. Got to Get to Bear's! Houghton Mifflin Harcourt, 2018. Unpaged. $17.99. Gr. PreK-2.
"Heartwarming" perfectly describes this woodland friendship tale. Brian Lies, well-known for his Bat stories, sticks to his strengths and tells the beautiful story of little creatures struggling through nature, trying to make it to friend Bear's home in a blizzard. Bear sent chipmunk Izzy a note, "Please come at once!" Izzy knows that Bear "…never asks for anything," and sets off despite the snowflakes. When the going gets too hard, friend Scritch the squirrel offers to give her a ride, which eventually becomes treacherous as well. Eventually, four friends including Bingle the duck and Snaffie the raccoon stand atop one another in a perilous but determined attempt to make it to Bear's to ensure that she is alright. Bear is surprised but delighted that they all arrived for Izzy's surprise birthday party! The five friends enjoy a celebration together and Bear helps everyone home the next day as the friends sing, "No matter how steep or tough the climb, a friend is worth it, every time!" The story is sweet, but the real strength of the book falls in Lies' gorgeous acrylic paintings. Every animal's face is wonderfully expressive and textures seem to jump off the page (the tiny hairs on Izzy's tail, the snow-covered birch tree, Bingle's cozy hat).
THOUGHTS: A fun winter read aloud, especially when celebrating friendship or the cold weather birthday of a special child.
Picture Book          Lindsey Long, Lower Dauphin SD