Woodson, Jacqueline. Harbor Me. Nancy Paulsen Books, 2018. 978-0-399-25252-5. 176 p. $17.99. Gr. 4 and up.
Hayley has a secret that she's not quite ready to share, but she soon learns, so do all of her classmates. When Ms. Laverne, their teacher, introduces the class to ARTT (A Room to Talk), Hayley learns about her classmates, Esteban, Tiago, Amari, Ashton, and Holly, and the struggles they deal with each day. Struggles with race, immigration, economics, bullying, family, grief, and loss. As each student shares his or her story, Hayley realizes that she is not alone. Everyone struggles and has fears. It's not about the individual struggle but about how one finds strength to overcome the struggle and be a harbor, for those struggling.  Soon she understands what Ms. Laverne means when she tells the students to "be a harbor" and protect someone else. ARTT and each other are her harbor, and she is theirs.
THOUGHTS:  This book could not be more timely. From the perspective of fifth and sixth graders, the stories of deportation, bullying, fear of being shot, family dynamics, death, and not fitting in are heart-wrenching and too true.  Woodson masterfully shares real stories from a child's perspective, a perspective that does not usually have a voice. This is a must-have for all school libraries. Although recommended for middle grades, it is a worthy read by all ages. Woodson puts it perfectly when she writes, "I know in my heart, Tiago whispered, the language we like to speak is music and poetry and even cold, sweet piraguas on hot, hot summer days. But it feels like this place wants to break my heart. It feels like every day it tries to make my mom feel tinier and tinier, like the size of Perrito's head in my hands" (129). These kids will not be broken, and this novel gives everyone strength to persevere.
Realistic Fiction          Erin Bechdel, Beaver Area SD
---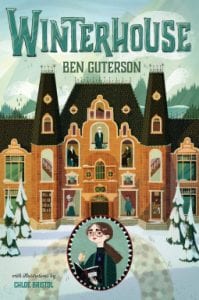 Guterson, Ben. Winterhouse. Christy Ottaviano Books, Henry Holt, 2018. 978-1-250-12388-6. 370 p. $22.50. Gr. 4-6.
Elizabeth Somers is not happy when her aunt and uncle inform her that she must spend the Christmas holidays on her own at an old hotel called Winterhouse. To her surprise, Winterhouse is a beautiful rambling sort of place full of secrets. She makes a friend of her own age, a boy called Freddy, and the pair pass the time solving puzzles, exploring and competing in word ladder competitions. It soon becomes clear that not all is as it seems in the old hotel as they find the owner Norbridge Falls in the library searching through books as if looking for something in particular. Added to this mix of interesting characters is a helpful librarian and a scheming bookseller couple, who are also seeking this special book. Elizabeth believes she has found this sought after text, which appears to have magical qualities when a hidden message is revealed on its pages. This message is one that means life and death for one character and a new beginning for another. This book is part adventure, mystery, fantasy, and even ghost story all in one. While the initial pacing of the plot is slow, readers who persist with this title will be rewarded with an exciting climax and resolution. The whimsical illustrations by Chloe Bristol add an Edward Gorey-like atmosphere to this work. The attractive cover contains a drawing of the house with its windows cut out to reveal the book characters and a glimpse of the hotel's interior. Guterson has penned a sequel called The Secrets of Winterhouse, which is scheduled for release in December, 2018.
THOUGHTS:  This book will appeal to middle grade readers who like a longer book. Those who enjoyed the Floors series by Patrick Carman will want to read this one. 
Mystery/Fantasy Fiction          Denise Medwick, West Allegheny SD
---
Yang, Kelly. Front Desk. Arthur A. Levine, 2018. 978-1-338-15779-6. 304 p. $16.99 Gr. 4-7.
The rollercoaster ride of hopes, dreams, and disappointments that characterizes the lives of so many immigrants is at the heart of Front Desk, a book informed by Yang's own childhood. 10-year-old Mia Tang's parents jump at the chance to manage a hotel in Southern California, only to find that they will be on call 24/7, and the job isn't as lucrative as promised. Mia, who's more than willing to help out at the front desk, is disappointed to learn she's banned from the hotel pool and that her parents won't earn enough for trips to Disneyland. Although the novel's tone is breezy, neither the reader nor Mia is sheltered from learning the harsh realities of life for Chinese immigrants in the 1990s, which include racism, loan sharks, and homelessness. Mia dreams of being a writer, but her mother discourages her because she's not a native English speaker. However, Mia's talent becomes evident when she writes letters for family friends in desperate situations, saving the day with her boldness and ingenuity.
THOUGHTS: Mia is a funny, feisty heroine whom kids will love. Recommended for upper elementary and middle school libraries; the fact that it is an "own voices" book about the Chinese immigration experience is a bonus.
Realistic Fiction          Maggie Bokelman, Cumberland Valley SD
---
Holm, Jennifer. The Third Mushroom. Random House, 2018. 978-1-52471-980-7. 217 p. $16.99 Gr. 4-7.
Holm's satisfying sequel to The Fourteenth Goldfish reunites Ellie with Grandpa Melvin, a cantankerous 77-year-old living in the body of a teenager, thanks to the miracles of science. This time around, Ellie talks Grandpa Melvin into entering the science fair with her, and the the duo work with fruit flies to pursue the possibility of growing new body parts. The project leads to a surprising (and welcome) development for Melvin. Meanwhile, Ellie deals with typical middle school friendship issues: She and Raj go on a date, and their easy relationships takes an awkward turn, but she also learns the value of shared memories and reconnects with an old friend. On a somber note, Ellie must come to terms with the fact that science cannot fix everything, as she deals with the loss of a beloved pet. Themes of taking chances, making mistakes, and reveling in the unexpected are woven throughout the novel and connected to STEM topics, but never in a didactic or preachy manner. Backmatter provides additional resources for students interested in further exploring the scientists and concepts introduced in the book.  
THOUGHTS:  Like its predecessor, this science fiction story will also appeal to fans of realistic fiction and can stand on its own. Highly recommended for late elementary and middle school libraries. The Third Mushroom is that rare book that is easy to read, easy to relate to, and highly thought-provoking.
Science Fiction          Maggie Bokelman, Cumberland Valley SD
Change is never easy or expected, even for Ellie who lives with her teenage grandfather! In the sequel to The Fourteenth Goldfish, we revisit the blended and ever interesting family as they try a new experiment and face many of life's challenges. Melvin is the grandfather who is learning to adapt to his reverted age while also knowing the facts of life ahead. He and Ellie engage in a science experiment that could be the next great discovery for regeneration. Ellie also deals with changes to her mom's world, her pet's life, and her best friends' relationships. Nothing is easy for a teenager, but trying new things (like the titular mushrooms) could lead to unexpected results!
THOUGHTS: Jennifer Holm hits the feelings of Ellie and her world with captivating ease. The bonus is her ability to bring in famous scientists and some scientific inquiry concepts. Though not plot-perfect or entirely plausible, The Third Mushroom makes a suitable sequel and gives resolution to some inevitable discoveries.
Realistic/ Science Fiction           Dustin Brackbill State College Area SD
---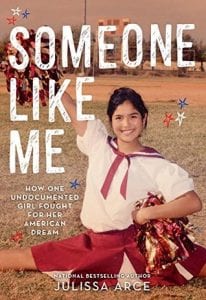 Arce, Julissa. Someone Like Me: How One Undocumented Girl Fought for Her American Dream. Little, Brown and Company, 2018. 978-0-316-48174-8. 223 p. $16.99. Gr. 5 and up.
Having been born in Mexico in a bathroom stall two months early, Julissa's indomitable spirit carries her throughout her life. She begins telling her story on her presentatcion de los tres años, the day she turned three years old. Throughout her childhood, Julissa's parents travel to festivals all over Mexico, selling cantaritos. In the close knit town of Taxco, Julissa and her two older sisters have many relatives to help watch after them; though, they primarily are cared for by their beloved nanny Cande. Eventually, Julissa's parents gain work visas and begin traveling to the States to sell their Taxco's sterling silver. While Julissa's parents spend most of their year in America, Julissa and her sisters visit for summers on tourist visas. When Julissa's sisters return to Mexico at the end of the summer before she enters middle school, her mom informs Julissa that she'll be staying in Texas with them. Thrilled to be with her parents and her baby brother Julio (born in America), Julissa is enrolled in a Catholic school, though there is no ESL program. With an understanding teacher and one classmate who speaks Spanish, Julissa begins her American education. Met with many challenges and frustrations over the next several years, Julissa perseveres with hopes of eventually achieving her American Dream. 
THOUGHTS:  Through descriptions of her life in Mexico and America, Julisssa's story helps readers understand why families want to achieve an American Dream, even when they're not born in America. This "own voices" story is an excellent addition for middle or high school libraries where heartfelt memoirs are popular. 
305.48 Memoir          Maryalice Bond, South Middleton SD