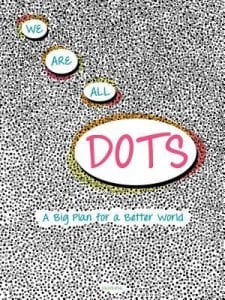 Macri, Giancarlo, and Carolina Zanotti. We Are All Dots: A Big Plan for a Better World. Universe Publishing. 2018. 978-0-789-33429-9. $17.95. Unpaged. Grades K-3.
When a dot shows up on the page to tell one side of the story, all seems well. Indeed, they can create homes, entertainment, and food with their many friends. But then we see the empty dots on the other side who need a hand. What transpires next is a simplified discussion starter about immigration, borders, and cooperation. With a little compassion and ingenuity, both sides can find inspiration and a better world. The art work is so simply thoughtful, and the text is approachable for all ages. If we are all Dots, I hope we can find the same harmony.
THOUGHTS: This book was originally published in Italy in 2015, but the US English version was just released in 2018. I have used this to make connections with multiple elementary grades, and they are drawn into discussion. It is also part of a One Book celebration in Bellefonte, PA.
Picture Book          Dustin Brackbill, State College Area SD
---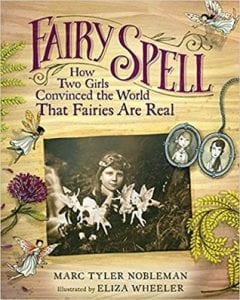 Nobelman, Marc Tyler. Fairy Spell: How Two Girls Convinced the World That Fairies Are Real. Illustrated by Eliza Wheeler. Clarion Books, 2018. $17.99 978-0-544-69948-9. Grades K-3.
During the ending days of World War I, Elsie Griffith and her cousin Frances Wright would spend their days exploring the wooded grounds of the family home. Each day upon returning, the girls would insist they saw fairies and begged to use the family camera to prove it. After Mr. Wright finally relented, the girls captured a photo and managed to convince their parents and some well known people, including Edward Gardner, a lecturer and Arthur Conan Doyle, the creator of Sherlock Holmes, that the images were real. The story became a sensation in England, with the newspaper printing the photos selling out in record time and the girls becoming the focus of a great deal of attention. It was not until much later the truth came out.
THOUGHTS: A good nonfiction choice for early grades, this sweet story of two children's imagination that caught the attention of an entire country should hold the attention of young readers today. Lovely watercolor illustrations capture the beautiful landscape of the English countryside and integrates the original illustrations of fairies from the 1914 book that inspired the girls.
398.2 Fairy Tales          Nancy Summers, Abington SD
---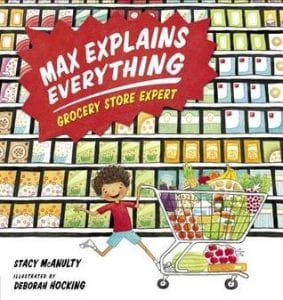 McAnulty, Stacy. Max Explains Everything: Grocery Store Expert. G.P. Putnam's Sons, 2018.  Unpaged. 978-1-101-99644-7. $16.99. Grades K-2.
Max is a young boy whose mother asks him to accompany her to the grocery store. This is not his favorite activity, so when they run out of milk or bread, he will say that he can substitute water and crackers. But when the family runs out of toilet paper, the boy and his mother head off to the store. Max makes the most of his time there as he visits the various sections of the store. He tries to talk his mom into buying cookies, baked goods, and dog food (in the hope of getting a puppy). At home, after sharing a candy bar, Max and his mother suddenly remember that they forgot to get the toilet paper. The illustrations by Deborah Hocking are done in gouache and colored pencil and are both whimsical and appealing. The blurb on the jacket states that this is the first in a series called Max-Kid Expert.
THOUGHTS: This book makes for a good read aloud, and young readers will enjoy the humorous bits of the story. Children will be able to identify with Max's antics and will likely admit to acting like Max on their grocery store visits. A nice addition to elementary collections.
Picture Book          Denise Medwick, West Allegheny SD
---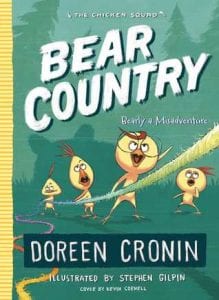 Cronin, Doreen. Bear Country: Bearly a Misadventure. Atheneum Books for Young Readers, 2018.  978-1-534-40574-5. 101 pages. $12.99. Grades K-3.
This humorous story of four zany chicks and their animal friends is the latest in "The Chicken Squad" series. The story is introduced by J.J. Tully, the dog detective from an earlier series by Cronin. The four chickens are in search of the owner of a neighboring hamster after he reports her missing. The group looks in various places and learns from other animals, such as a cat and a little bird, that there are reports of a headless bear and some mysterious sounds in the area. Eventually, the animals find that there is a Homecoming Parade in town for the local sports team called the Grizzlies, whose mascot is featured in the parade along with a marching band.
THOUGHTS: Cronin has penned a short chapter book that is a good choice for newly independent readers. The text contains just enough silliness to hold their interest.
Fiction          Denise Medwick, West Allegheny SD
---
Calabrese, Keith. Lena's Shoes are Nervous: A First Day of School Dilemma. Atheneum Books for Young Readers, 2018. 978-1-534-40894-4. Unpaged. $17.99. PreK-1.
Lena's first day of kindergarten is here, and she is excited. She gets dressed and tells her father that while her dress and headband are ready to go to school, her shoes are nervous about the event. Lena's father suggests that she talk to her shoes, but Lena does not think that will work. She decides that her headband can have that discussion and learns that her shoes are concerned that school will be "loud and different." The headband reminds Lena of similar events that she made her anxious, like going to the doctor, watching a scary movie, or meeting a large dog. Lena realizes that things worked out then and that sometimes "the best things happen when we're nervous." Off she goes to kindergarten with her shoes joining in on all the fun. By transferring Lena's anxious feelings to the shoes, Calabrese has cleverly portrayed the worry that young children might feel on the first day of school. Medina's digital illustrations are done in both full color and simple black and white. For instance, on the page depicting Lena's bedroom, only the dress, socks, and socks are in color, while the bed, bookshelves and other items are seen as line drawings.
THOUGHTS: This book is a great addition to the "first day of school" canon. Young students will identify with the concerns of Lena when beginning school or facing anything that causes anxiety. Elementary and preschool libraries should consider adding this one to their collections.
Picture Book          Denise Medwick, West Allegheny SD
---
Shuttlewood, Craig.  Awesome! Capstone, 2018. 978-1-684-46013-7. Unpaged.  $15.95. Grades K-2.
A moose named Marvin and a beaver named Woody are best friends. One day Marvin rescues a squirrel from a pond and is hailed as a hero. The two friends work together to enhance the moose's superhero persona. Woody sews a costume complete with cape and helps Marvin with physical training. As Marvin and his feats become more popular, Woody feels left out and begins a sabotage campaign in the forest. The beaver steals a wooden statue of Marvin with the idea that he will be known as a hero when he "finds it." Unfortunately, the wagon carrying the statue careens down the hill into the path of the forest animals. Both Marvin and Woody must act quickly and work together to save their friends. The pair have a discussion, and Woody explains his actions. They decide to make a new statue, and this one features them both. Shuttlewood's illustrations are whimsical and appealing. In this book, the author has created a story that explores the emotions of jealousy and feeling left out.
THOUGHTS:  Children will be drawn to this story of two friends. A great read aloud, this book will lead to a discussion about how to deal with such feelings in a more positive way.
Picture Book          Denise Medwick, West Allegheny SD
---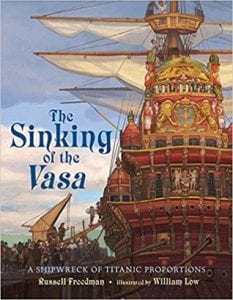 Freedman, Russell. The Sinking of the Vasa: A Shipwreck of Titanic Proportions. Henry Holt and Company, 2018. 978-1-627-79866-2. Unpaged. Grades 3-6. $18.99.
In one of his last published works, the late Russell Freedman has once again created another work of narrative nonfiction that is sure to interest the reader. The author explores the sinking of the Swedish warship called the Vasa, which sunk in 1628 in Stockholm Harbor after sailing only 1300 meters. Its construction was ordered by King Gustav II Adolf, and it took two years to build. He wanted the ship to be so mighty and "fearsome" that the country's enemies would be frightened at its very sight. Not only was the ship large, it was also a work of art with its many sculptures and carvings. A key element of the ship's design were the 64 bronze cannons located on the gun decks. Shortly after setting sail, the ship capsized, most likely due to the weight of the cannons. Freedman discusses the investigation of the catastrophe, as well as the salvage operations, the raising of the ship in 1961 and the preservation efforts. The Vasa is now housed in a museum in Stockholm. William Low's digital full bleed illustrations show a lot of detail. The endpapers show sketches of the vessel, but there are no photographs of the ship in its current condition or author note.
THOUGHTS:  Another great work by a master storyteller of history, hand this one to those who seek out books about the Titanic and other shipwrecks.
910.9485 Ocean Voyages          Denise Medwick, West Allegheny SD
---
Lies, Brian. The Rough Patch. Greenwillow, 2018. 978-0-062-67127-1. Unpaged. $17.99. K-3.
Evan and his dog are best friends who do everything together. One of their favorite activities is working in Evan's garden. When his best friend suddenly passes away, Evan becomes angry and depressed. He takes his frustration out on his garden, cutting everything to bits. He soon learns, however, that nothing stays empty forever–neither his garden, nor the void he feels inside. When his garden produces a magnificent pumpkin, he carts it off to the fair and ultimately ends up finding hope and healing through a new friendship. A touching story of love, loss, and hope, this is a must-have for elementary collections.
THOUGHTS: Lies has eloquently handled a delicate subject for young readers. Hand this book to students who have experienced a loss or are going through their own rough patches; it will give them hope that there is light at the end of the tunnel. It also shows young readers that it is totally normal to feel a wide array of emotions when something devastating happens. If they want to further explore emotions after tragedy, pair this title with Cori Doerrfeld's The Rabbit Listened. This is a beautiful guide to grief for young readers.
Picture Book          Julie Ritter, Montoursville Area SD